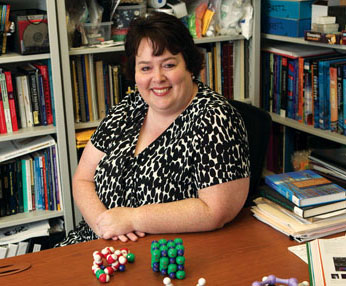 Jan 20, 2021
Stacey Lowery Bretz elected chair of the American Chemical Society Division of Chemical Education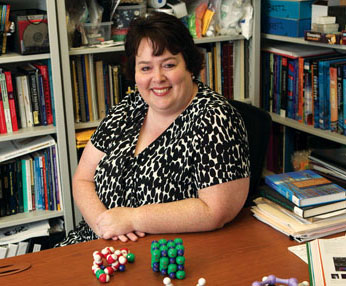 Stacey Lowery Bretz (photo by Jeff Sabo)
Stacey Lowery Bretz, University Distinguished Professor of Chemistry and Biochemistry, has been elected chair of the Division of Chemical Education in the American Chemical Society for 2021.
The American Chemical Society (ACS) is one of the world's largest scientific organizations with members in more than 130 countries.
The Division of Chemical Education (DivCHED), with more than 6,000 members, is one of the 32 technical divisions within the ACS.
Bretz is recognized as one of the most significant leaders in the field of chemistry education research. She has helped advance high-quality assessment in chemistry in hundreds of chemistry departments around the country. The assessment tools developed by Bretz and her research students at Miami are used in more than two dozen countries.
In 2020 Bretz was honored by the ACS with its prestigious Award for Achievement in Research on Teaching and Learning of Chemistry and by Miami with the Benjamin Harrison Medallion, Miami's most prestigious career faculty honor.
Her three-year term as chair-elect/chair/immediate past chair spans 2020-2022.
She chaired the board of trustees for the ACS Exams Institute from 2009-2014 and is currently a member of the editorial advisory board for the Journal of Chemical Education.