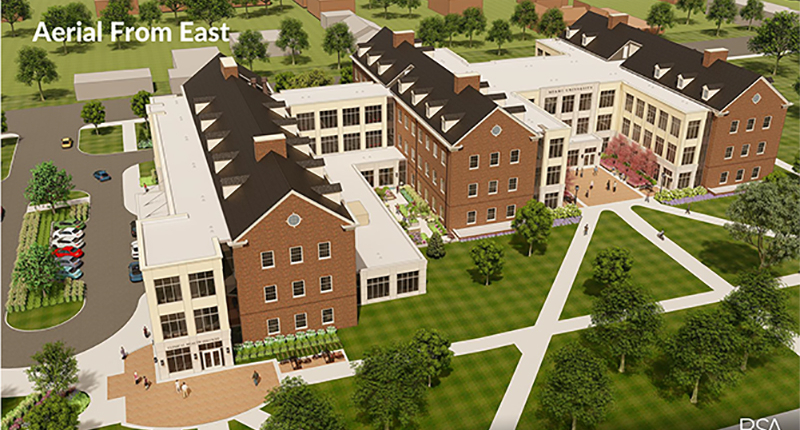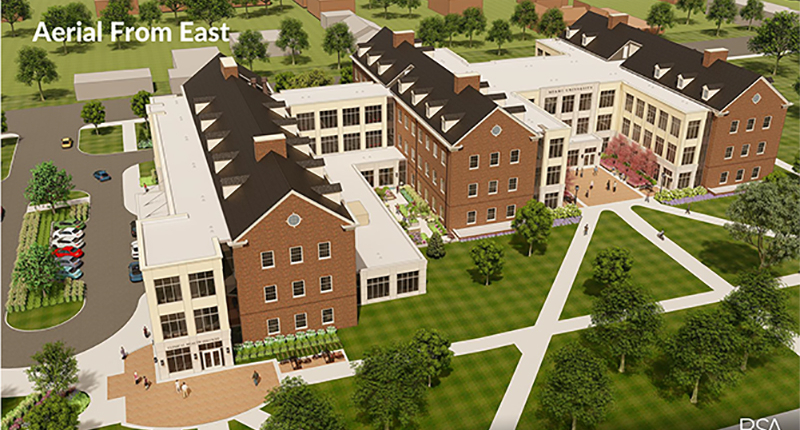 Looking towards Campus Avenue (bird's-eye view from Phillips Hall), the Clinics wing is at left (south), adjacent to the South Parking Garage; the Academic wing is at right (north) facing Nellie Craig Walker Hall.
Photo: Building renderings by BSA LifeStructures
Apr 07, 2021
Clinical Health Sciences and Wellness facility will enhance the collaborations that define Miami
Clinical Health Sciences and Wellness facility
Facts
$96 million (includes costs of renovation of Harris Hall to accommodate the Employee and Student Health Centers during construction)
165,000 gross square feet.
3 wings, or bars, connected by a "wellness ribbon" corridor.
South bar - Clinics
Employee and Student Health Centers/Tri Health, first floor.
Student Counseling Center, second floor.
Miami University Speech and Hearing Clinic, third floor.
 Middle Bar – Offices, speech pathology research labs
Faculty and staff offices.
Speech pathology and audiology faculty research labs, third floor.
 North bar - Academic wing
Physician associate studies program
Nursing, Oxford cohort and workshops for new graduate programs in nursing.
Speech pathology and audiology undergraduate and graduate programs.
Wellness Center and Wellness Studio.
When:
Ground broke for construction December 2020.
Substantial completion by March 2023.
Physician associate studies (MMSc) program startup May 2023.
All other programs expected to start by August 2023.
Master of Medical Science MMSc/Physician Associate Studies program
114-credit hour, 27-month, full-time only program. First 15 months on-campus/academic, followed by 12 months of clinical rotations.
Director: Christopher Howell, DSc., associate teaching professor. 
Part one of Building Connections: A series about Miami's new building and renovation projects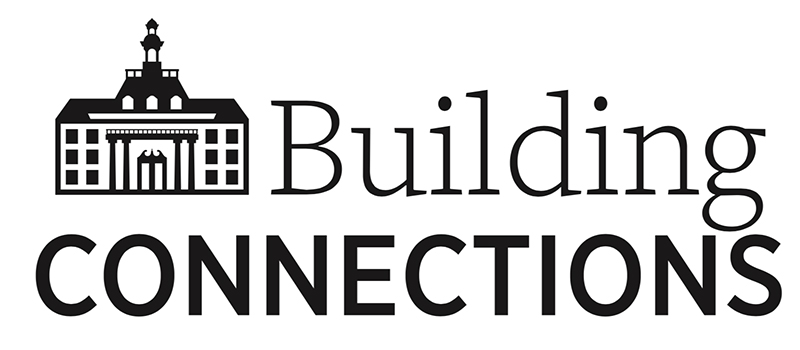 By Susan Meikle, university news and communications
 The new Clinical Health Sciences and Wellness facility will be part of Miami University's first "corridor of excellence," said Steve Large, assistant vice president for health and wellness and a member of the planning committee for the facility.  Located on Campus Avenue, its proximity to Miami's Recreational Sports Center, Phillips Hall, and the Goggin Ice Arena creates a corridor that will naturally promote cross-divisional partnerships in order to advance holistic wellness efforts for our campus and local communities, Large said.
The Clinical Health Sciences and Wellness (CHSW) facility will comprise three wings, connected by a "wellness ribbon," or corridor, connecting three academic programs and three clinics both figuratively and collaboratively, said Marilyn Heflin, project manager for the facility.
The south wing will house Miami's TriHealth employee and student health centers, the student counseling service, and the speech and hearing clinic.
The middle wing will house faculty and staff offices, inter-professional lounges and research labs for speech pathology and audiology faculty.
The north wing will house three academic programs: speech pathology and audiology, the Oxford cohort for the BSN nursing program and the new Master of Medical Science (MMSc)/Physician Associate studies program, an initiative supported by the Boldly Creative academic development fund.
Planning together from square one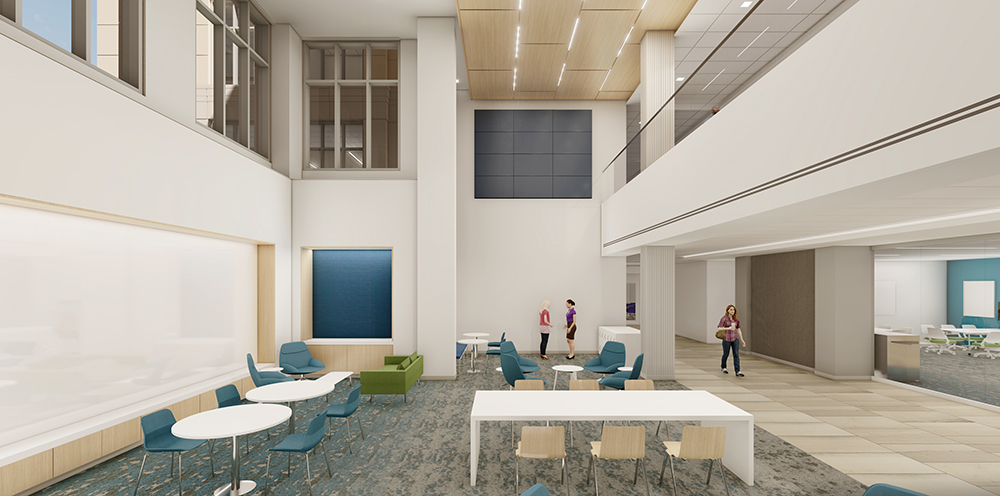 Academic wing, lower-level inter-professional collaboration spaces. Innovation lab is at right. Large windows and the open floor plan bring in natural light.
It is not uncommon to see nursing programs and physician associate (PA) programs vying for spaces, according to Jeff Wanko, a member of the CHSW facility planning team and associate provost for academic affairs and professor of teacher education.
"Since our Oxford nursing program is very new and our PA program is just getting off the ground, it has given us an opportunity for these two programs to plan together from square one," he said.
Leaders of the two programs have been designing spaces together that will benefit both of their programs and establish new norms for how their students will interact, Wanko said.
Spaces in the north academic wing, such as an inter-professional lounge and a café where students will be able to collaborate, will help extend students' learning outside of the classrooms.
Large added that the building is "teeming with opportunities for intentional cross-disciplinary and co-curricular engagement."
A wellness studio— located directly off the main wellness corridor in the academic wing — will provide students with opportunities to practice and benefit from the very concepts they are learning about in the classroom, Large said. Some students may also consider completing a clinical placement or internship in one of the building's three clinics.
Physician associate program and new facility design foster innovation in teaching
Christopher Howell, DSc, associate teaching professor and director of the new physician associate studies program, said the PA curriculum and the new facility are designed in such a way that the entire pre-clinical, academic experience can be facilitated within the building.
More than 16,000 square feet of education space in the academic wing will support the ambitious program demands, Howell said. The space exceeds the program demands "in a way that fosters not only innovation in teaching but is able to address a variety of student learning styles," Howell said.
The space supports all of the PA program needs, including interdisciplinary collaboration for future clinical professionals, Howell said. Features include:
Eight-bed gross anatomy lab.
18-bed physical examination lab.
Standardized patient training examination center.
Enhanced innovation lab with digital cadavers.
Cutting-edge simulation (SIM) center.
Seven classrooms.
Inter-professional lounges.
An "exciting time" to be a Miamian with an interest in healthcare 
The first cohort of MMSc/physician associate program students will begin in May 2023.  Current undergraduate students interested in the program may apply starting in fall 2022.
Students have had a chance to learn about the facility and the new program over the past two years, during the planning phases.
Nina Ventura, a junior biology major and pre-medical studies co-major and neuroscience minor, noted Howell's passion about his career as a physician associate and his pride in serving as a mentor for future healthcare professionals. "It is evident that Dr. Howell took everything into account when designing this program. I am confident that Miami's physician associate program will truly stand out from the rest," she said.
Janie Moore, a junior German and information systems and analytics double major, said Howell has worked to specifically craft a program that will prepare students to be "beyond ready to join the field."
"I especially liked the thoughtful way that the schedule is going to be set to allow students to have lots of opportunities for repetition and to build confidence through hands-on learning. I think prospective students should also be excited about the all-inclusive nature of the program, to ensure that students are set up for success," she said.   
First-year kinesiology, nutrition and health major Caleb Perry said he was ecstatic when he heard about the new program. He is looking forward to when the building opens and the PA program begins in two years. "It's definitely an exciting time to be a Miamian with an interest in healthcare," Perry said.
Nursing: Oxford BSN cohort, workshops for new graduate nursing programs

Jennifer Rode, associate professor of nursing and director of the new nursing graduate programs, is also excited about the new facility and how it will contribute to the expansion of nursing programs.
The facility will house the Oxford cohort of undergraduate nursing (BSN) students. The nursing graduate programs will have a presence across both the Hamilton and Oxford campuses in terms of faculty and lab resources, she said.
The new Masters of Science in Nursing (MSN) and Doctor of Nursing Practice (DNP) programs will be mainly online, but certain required on-campus workshop components will be held in the CHSW facility's simulation labs and collaborative classroom spaces. All nursing graduate students will have access to the lab space for skill development as needed, Rode said.
The third floor of the academic wing will house a nursing skills area with eight simulation (SIM) labs including OR/trauma; obstetrics; ICU; pediatrics; three adult exam rooms; and a home health apartment model. 
Speech pathology and audiology program, Speech and Hearing Clinic (Clinics wing)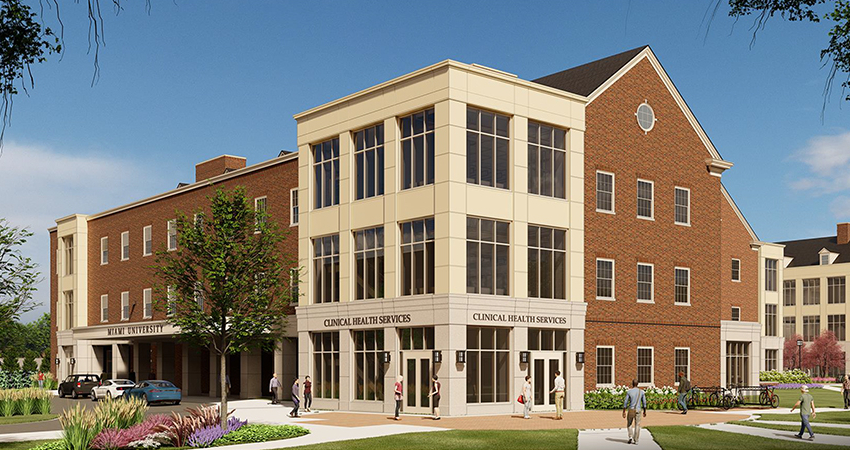 View of the Clinics wing (looking across the lawn from the back of Goggin Ice Center).
Miami's speech pathology and audiology department, now housed in Bachelor Hall, will move into the academic and middle wings of the facility. Miami's Speech and Hearing Clinic, also currently located in Bachelor Hall, will move into the south clinics wing.
The Speech and Hearing Clinic, which is committed to providing cost-effective services, also serves as "an important training ground" for future speech-language-hearing professionals," said Susan Baker Brehm, chair and professor of speech pathology and audiology.
For nearly 65 years, the clinic has met the speech and audiology needs of tri-state residents as well as the Miami community. More than 1,700 visitors, ranging from infants to the elderly, visit the clinic annually.
Annika Shaffer (Miami '19), a second-year master's student in speech pathology, hopes that the move to a new location will encourage more students and community members to seek out services they may not have known existed.
Although she will not directly reap the benefits of the new facility, Shaffer said it is exciting to see and hear about the project. "The benefits of having health science professionals and students together in one building are endless," she said. "I am excited to see the progression of this project and return to see the final product as an alumna."
Graduate student Karly Landis (Miami '19) said having had both her undergraduate and graduate experiences with Miami's speech pathology and audiology program makes her "ecstatic" about the new building. "I've seen the ideas for the new building and the new Speech and Hearing Clinic, and I've been able to give my input for design from both a student and a clinician view," she said. "I think this opportunity is incredible for future SLP (speech-language pathology) students to collaborate with peers, professors, and other related disciplines." 
A "truly unique opportunity" to exemplify the partnerships and collaborations that define Miami
Heflin, the project manager, is excited about how the new facility is bringing so many different groups together. The planning team kept collaboration at the forefront, she said.
As a result, Wanko said, the three academic departments and one student support area (Student Wellness) have decided to co-locate their main offices, allowing the chairs and directors to interact on a daily basis.
This represents an opportunity to bring together departments from two academic divisions, a unit from Student Life, and external partner TriHealth in ways that we have not done before at Miami, he said.
 "Couple that with the south wing of the building that will house three different clinics for student, employee and community support, and we have a truly unique opportunity to exemplify the partnerships and collaborations that define Miami University," Wanko said.
---
University Hall renovations will create a new Regionals Nursing Innovation Hub to open this fall
University Hall on the Hamilton campus is being renovated and transformed into a Nursing Innovation Hub to accommodate the growing nursing program. 
The $10 million renovation will be open and ready for classes by fall 2021. Read more about it on the department of nursing website.