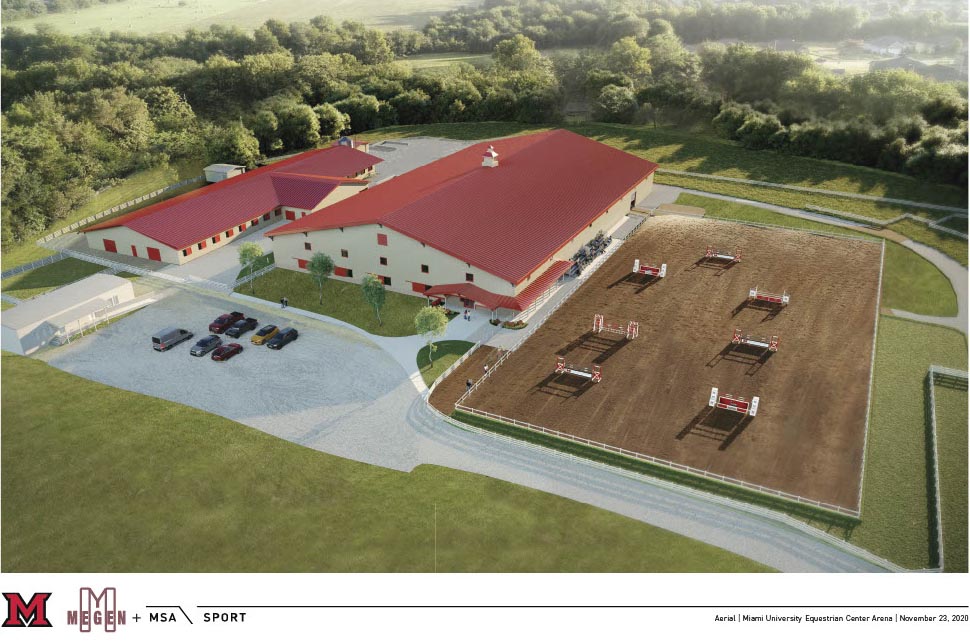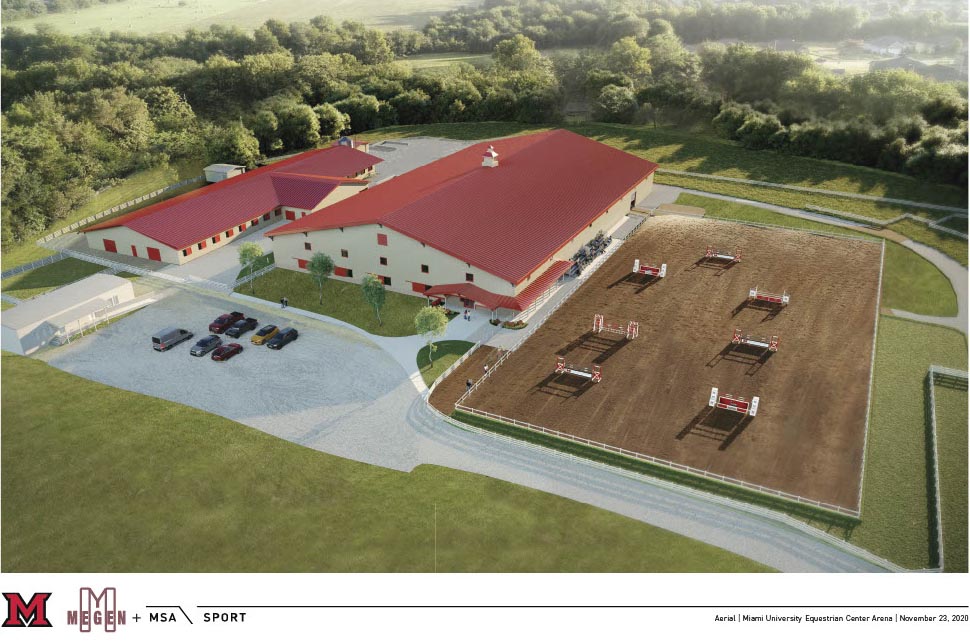 Architect's rendering of the new indoor equestrian center, scheduled to be completed this summer.
May 05, 2021
Miami's new Indoor Equestrian Center will expand K-12 outreach and student opportunities
Part two of Building Connections: A series about Miami's new building and renovation projects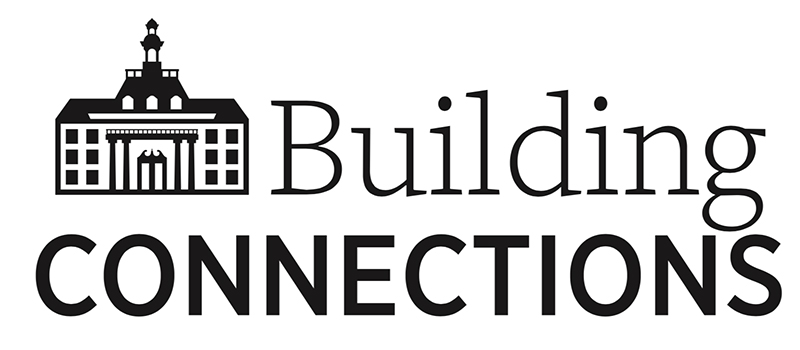 Read part one of the Building Connections series here: Clinical Health Sciences and Wellness facility enhance the collaborations that define Miami.
By Jessica Rivinius, university news and communications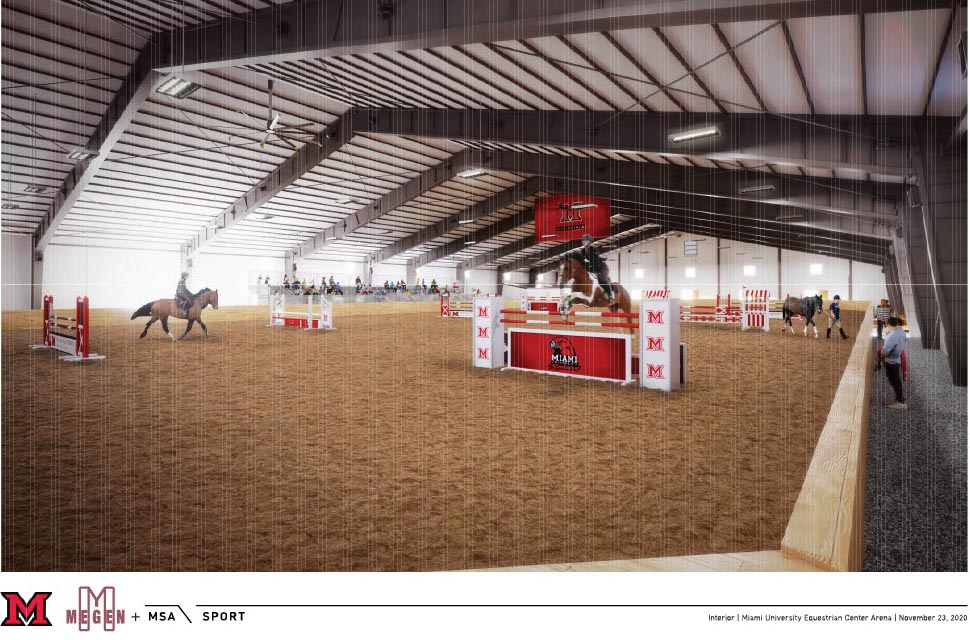 Architect's rendering of the inside of the new indoor equestrian center.
Miami University's new indoor arena at the equestrian center, located on State Route 73 at the campus entrance, is scheduled to open this summer. The 125-by-250 square foot riding surface within the arena will allow for year-round educational and outreach programming for the university community and year-round training for the club equestrian team and academic classes.
The indoor arena, which broke ground in November 2020, is funded by donor gifts to the equestrian facility fund. 
Though the equestrian center had two outdoor rings, it often had to cancel events and instruction during inclement weather. Each winter, the equestrian team had to rent a facility 20 minutes away to continue training. 
Heather Pinnick, Miami's director of riding, said, "The ability to offer consistent training is important, but we are also looking forward to being able to better open our programming up to the community." 
Each year, pre-pandemic, the equestrian center offered summer camps for dozens of kids across the region. The staff always had to worry about what they would do if it rained. The expansion to an indoor space will allow these community programs to grow and serve more children. The equestrian center also hosts several Cincinnati and Dayton school groups each year, often providing children with their first "up close" interaction with a horse.
"Being able to share our passion and love of horses is really rewarding," Pinnick said. "Watching the children interact with the horses whether they have ridden in the past or it is their first up close introduction to horses is really rewarding. The entire staff is passionate about sharing their love of horses with future equestrians." 
Pinnick said the equestrian center's proximity to campus makes it unique. "Students can walk to the barn, stop by after class or bring a friend by to introduce them to the horses."
The proximity to campus also allows for students to more easily work at the barn and care for the more than 50 Miami horses, Pinnick said. 
More than 400 students each semester ride in a two credit-hour class offered by the department of sport leadership and management, according to to Pinnick. 
The nationally-recognized club equestrian team has more than 100 members.
Back in the saddle: Senior Maggie Niesen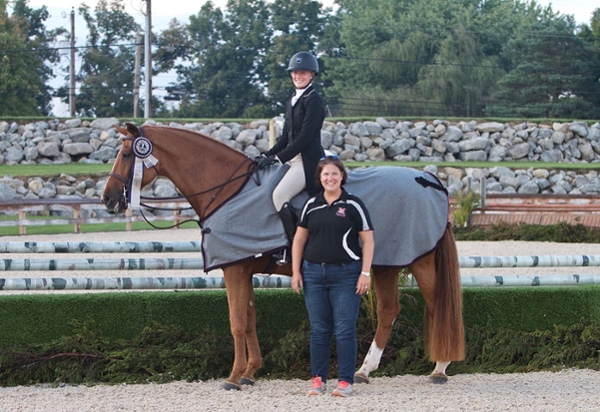 Senior Maggie Niesen on Charlie, with Heather Pinnick, director of riding (image courtesy Niesen).
When her trainer passed away six years years ago, Miami University senior Maggie Niesen hung up her saddle and said goodbye to the sport she had loved for most of her life. What was supposed to be a momentary pause stretched into a long break. She didn't ride competitively for two years. 
"I fell out of love with the sport," Niesen said. "I wasn't myself."
That changed when she started looking at colleges and learned more about Miami's equestrian center. The glossy brochure and online images stirred her love of riding and her memories of her beloved trainer and mentor, Mindy (McMinn) Darst '82, who was on the equestrian team at Miami. 
Niesen knew she missed the sport, but wasn't sure how to get back into it and back to being herself. She asked  Pinnick how she could get involved in the program. Pinnick suggested "Miami Bound: Equestrian," an orientation program for first-year students who love horses. 
That program reignited her interest and by the start of Miami's fall semester, Niesen was back in the saddle. 
"Like most people, I am happier when I'm around animals — it's a serotonin thing," Niesen said. "And for me specifically, my mental health is way better when I'm riding. It never feels like a bad day — even when I do not ride my best — when I'm around horses or having quiet time in the barn."
Peace in the pandemic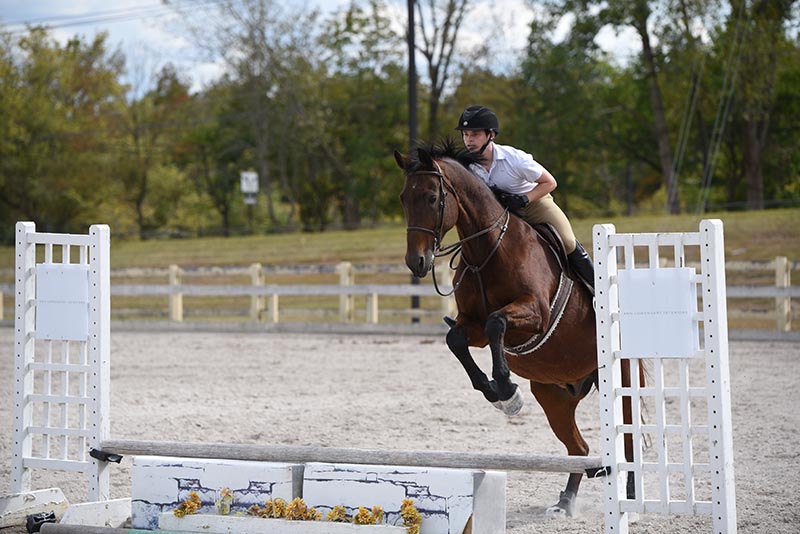 Equestrian team member Jonathan DeBlasi jumps with his horse Russell (image courtesy DeBlasi).
Niesen said the equestrian center provided a respite from pandemic life this past year. While restrictions forced the barn and program to close from March through August 2020, Niesen and her teammates bonded in that time. They sent old videos of their "rider fails" to group chats, posted "What I love most about Miami" images and videos to Instagram and played virtual equestrian team bingo, in which they all tried to mark off squares for pandemic activities they had done. 
But what brought them closest together was the shared sense of loss: missing the horses and missing out on key moments.
"The horses are a part of the team here," Niesen said. "You love them all, but everyone has their favorite. For me, that's Charlie. He's on my phone. He's my screen saver. I've never had a horse of my own, but Charlie, he's 'my' horse." 
Niesen's teammate, Jonathan DeBlasi, found solace in the equestrian team after the pandemic put an abrupt end to his chance to compete on a national stage for English riding.
"It was a tough pill to swallow," DeBlasi said. "I had hoped for a redemption after my previous experience in nationals didn't go well, so it took me a while to come to terms with it. But the team got me through it."
DeBlasi didn't ride horses before coming to Miami. He had taken a guided trail ride while on a family vacation when he was younger, but that was it. His first year of college, he decided to step out of his comfort zone and took a class in Western riding his first semester. 
He was hooked. He credits that to his mother — she and her horse, Zeus, were blue ribbon award winners when she was his age. 
"I like to think I inherited a lot of her talents for riding, in addition to my love for it," he said. "The equestrian team has been THE college experience for me. The team is what got me out of my comfort zone, it boosted my confidence as a person and really is the reason I'm the person that I am today."