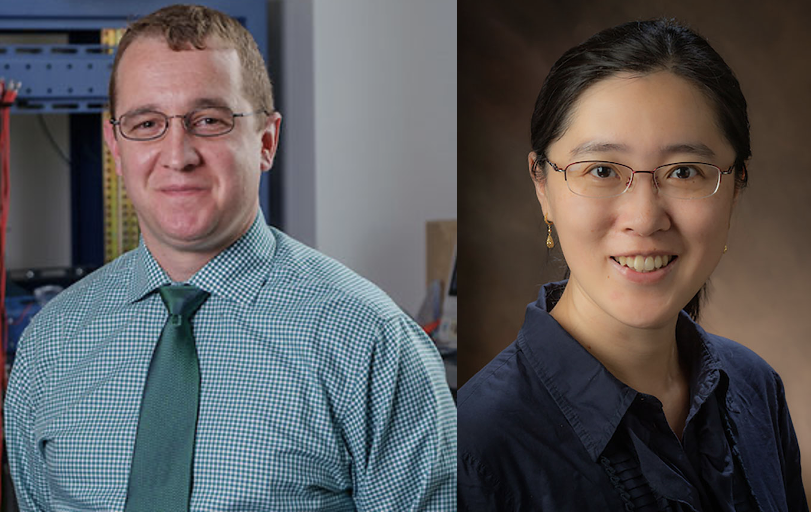 Oct 27, 2021
Miami engineers, multi-institutional teams launch $2M national security projects funded by state
The Ohio Federal Research Network awards $9.9 million to seven Ohio organizations to advance aerospace innovation in Ohio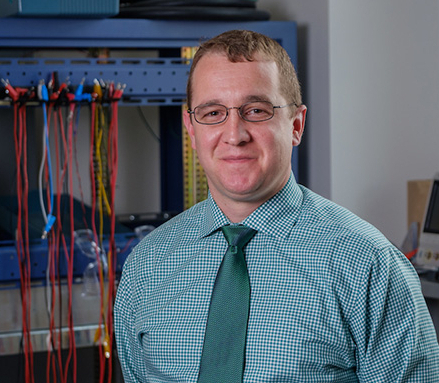 Mark Scott (photos by Scott Kissell)
By Jessica Rivinius, university news and communications
With more than $2 million in funding from the Ohio Federal Research Network (OFRN), Miami University College of Engineering and Computer Science (CEC) faculty and their multi-institutional teams are launching two new projects to advance science and technology innovation to support U.S. national security initiatives.
Led by Mark Scott, assistant professor of electrical and computer engineering, researchers will develop commercial airliner and military aircraft's power electronics that have lower weight and improved performance over existing technology. On a second OFRN-funded project, Miao Wang, assistant professor of electrical and computer engineering, and her team will develop electronically dimmable protective eyewear that is ready to be mass produced. 
"Miami is honored to collaborate with researchers and scientists throughout Ohio and the nation to contribute to cutting-edge research," said Beena Sukumaran, dean of CEC. "We are fortunate to be partnering with OFRN as we expand our research footprint and we hope to build on these successes for continued and expanded engagement with OFRN."
"Working with OFRN allows faculty like Mark and Miao to have a positive impact on society and the support allows them to do the research they are passionate about with undergraduate and graduate students," she said. "They are both leaders in our college and in their fields, and we are proud to see their scholarship, research, and entrepreneurial spirit recognized in this way."    
Mark Scott's team: Power electronics
Scott's team, which includes scientists from Miami, Ohio State University, GE Aviation Systems, PC Krause & Associates and Power Converters Future, has built a new circuit topology that maximizes semiconductor materials to achieve their goals of reduced weight and increased performance of power electronics. They will gradually test the power electronics at higher power levels with more complex loads to demonstrate their technology.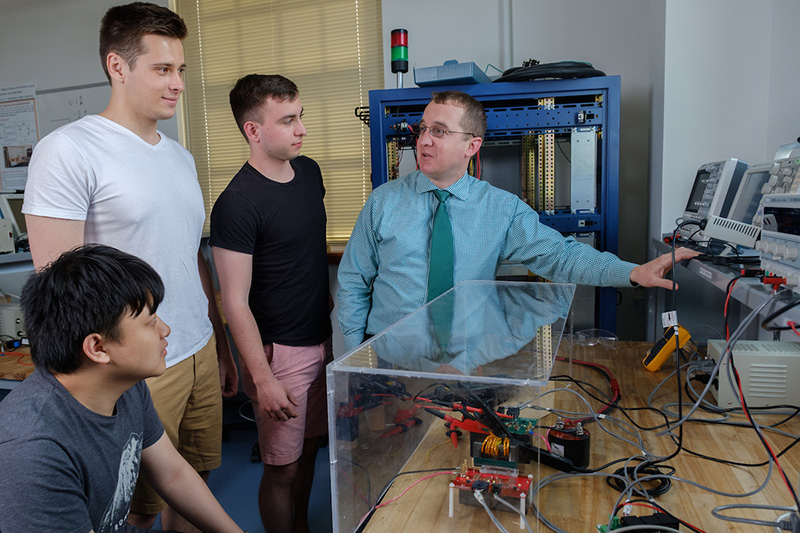 Scott with students in his lab in 2018, when he was selected as Miami's ASG Professor of the Year.
"This is such an incredible opportunity and we are grateful to the state of Ohio for supporting our research," Scott said. "It's an opportunity to bring a concept to life, and that is the best part of being an engineer."
The team is building on work from a previous project that improved the efficiency of power electronics of hybrid electric transit buses, vehicles that have power electronics interfacing with both high- and low-voltage systems.
"The history of aviation involves increased electrification," Scott said. "The engineering community expects hybrid and all-electric aircraft propulsion systems before the end of the century. We hope our project can play a small role in that transition." 
The team will continue to refine and experiment with the technology over the next 18 months, with a goal of having a full-power prototype in 2023 and a cohort of experienced undergraduate and graduate student researchers. The OFRN award to Scott's team will support one graduate student and many undergraduate research positions.
"The State of Ohio wanted to make sure university students were included in this project to build an engineering workforce for the aerospace industry," Scott said. Scott, who was  named the 2018 ASG Professor of the Year, has a passion for sharing the practical potential for power electronics with his students. 
Miao Wang's team: Dimmable protective eyewear
Two other Miami graduate students and undergraduate students will be working on the dimmable protective eyewear project with Wang and her colleagues from AlphaMicron, Bowling Green State University and Kent State University.
The Miami team will develop electronic drivers and wireless communication hardware.
"It is our honor to collaborate on this project that has such real-world implications," said Wang, who joined Miami in 2018. "Also, we are quite excited to learn from our incredible partners. I am thrilled that our student trainees at Miami will have unique opportunities to receive interdisciplinary training.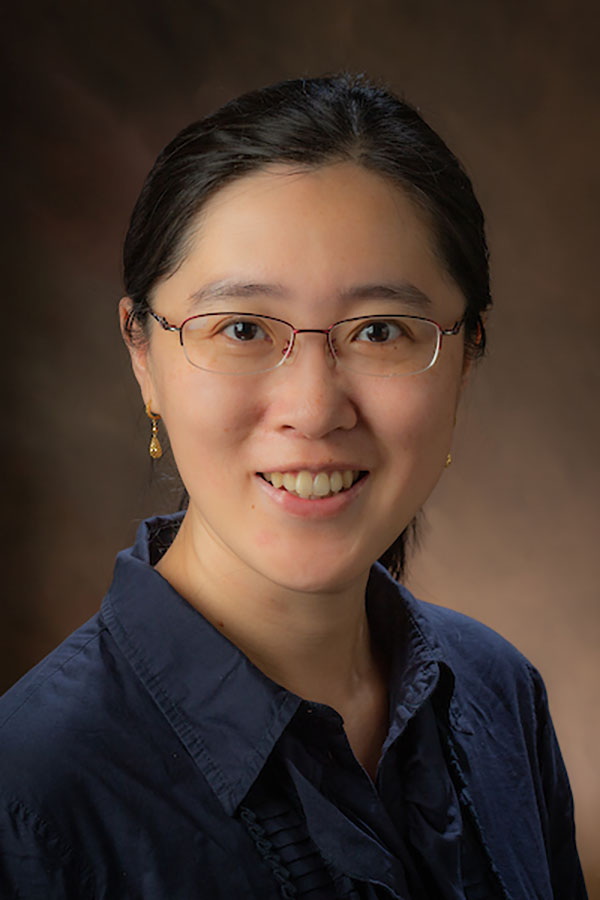 Miao Wang
The OFRN funding for Miami is part of a $9.9 million awarded to seven Ohio organizations and their collaborators for science and technology innovations in Ohio that align with the following areas of interest: unmanned aerial systems (UAS), artificial intelligence, human factors, data analytics, space commercialization, quantum communications, and advanced power systems.
The Ohio Department of Higher Education (ODHE) funds OFRN, which is focused on expanding Ohio's research and development capabilities across the state's academic institutions and businesses in support of Ohio-based federal partner needs, which promotes Ohio's economic growth.
The OFRN Round 5 awardees and their research and development projects are:
Flightprofiler, The Ohio State University, and Ohio University's "Low Altitude Weather Network (LAWN)"

The Ohio State University, Sinclair Community College, University of Dayton, SK Infrared LLC, and L3Harris Space & Sensors' "Affordable LIDAR Technologies for Integration and Unmanned Deployment (ALTITUDE)"

Asymmetric, Lockheed Martin Procerus, The Ohio State University, and Ohio University's "Autonomous Capabilities for CASEVAC and Resupply in Urban Environments (ACCRUE)"

AlphaMicron, Bowling Green State University, Kent State University, and Miami University's "Electronically Dimmable Protective Eyewear"

The Ohio State University, University of Dayton, and Gooch & Housego Ohio's "Thin-film Crystals for High-speed Optical Modulation"

Safran, Youngstown Business Incubator, The Ohio State University, and Youngstown State University's "Advanced High Voltage Direct Current Generator System for Aerospace with Rapid Dynamic Response"

Miami University, The Ohio State University, GE Aviation Systems, PC Krause & Associates' "High Reliability, Low EMI, Wide Bandgap Power Conversion for Air & Space Applications"
"We pride ourselves on advancing Ohio's impactful and cutting-edge research and development capabilities, and its innovators like those selected in this OFRN round who help us articulate that Ohio is an innovation hub where high paying, high-tech jobs and economic opportunities are available," said Matt Bush, Parallax Advanced Research program manager for the Ohio Federal Research Network.
---
Research and Innovation 
Teamwork fuels a million dollar idea
Jessica Rivinius: The note arrives in my email that Mark Scott has just won a million dollar grant for his research, but before I can even send a congratulatory message (and request for interview) to him, he sends a note of gratitude to his colleagues and research partners. It is clear that this is a team effort, and as I interview him, that is made clearer.
"It's like being on a football team -- your running back may score the game-winning touchdown, but 10 other players were on the field in the right place at the right time to make it happen," Scott says. "Our proposal would not have been accepted without the contributions of our partners at AFRL, GE Aviation Systems, The Ohio State University, PC Krause and Associates, and Power Converters Future.

It's not just the named research partners that Scott credits with helping bring home the large award. He is effusively grateful to his colleagues throughout CEC and the Electrical and Computer Engineering (ECE) Department for their support and expertise as he established a power electronics research program.

"Our department chair, Professor Qihou Zhou, is amazing," Scott says. "He gave me two valuable assets, time and opportunity, as I grew into my role at Miami. He also helped me acquire the necessary laboratory space and equipment to conduct this research."

He says his team wouldn't have been able to accomplish the OFRN deliverables without those resources, or the support of CEC Dean Beena Sukumaran and former Dean Marek Dollár.

"The ECE department has a very collegial team; everyone wants everyone else to succeed," Scott says. "I think this is unique to our university."

Also unique to the university: a dedicated team in the Office of Research and Innovation.

"I cannot thank the Office of Research and Innovation enough: CaTia Daniels and Anne Schauer provided needed guidance and they were so generous with their time," Scott says. "They went out of their way for me on more than one occasion for this grant and others. We are very fortunate to have them at Miami."