Miami gathered in a brainstorming session to generate ideas for the 2015-2016 Year of Creativity and Innovation. (Photos by Peg Faimon)
Jan 29, 2015
Creativity and Innovation: With ideas generated, the hard work begins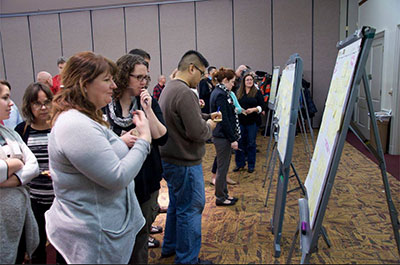 Participants begin the process of narrowing down their ideas during the Jan. 23 brainstorming session for Miamideas.(Photo by Peg Faimon)
written by Carole Johnson, university communications and news
Hundreds of ideas were generated during last week's brainstorming session for Miami's 2015-2016 celebration of creativity and innovation. What's next?  Hard work.
Alumnus John Foster (Miami '85) reflected on the Jan. 23rd morning's activities after more than 50 faculty, students and staff gathered to answer three questions:
1. What is Miami doing well already in the areas of creativity and innovation?
2. What can Miami do better with respect to creativity and innovation?
3. How best should Miami accomplish those goals?
Answering the last question, Foster stressed the importance of continued participation from the Miami community.
"We started the heavy lifting, and now it's time for the hard work. The committee is charged to make this happen. We've now set them up to do it," he said.
The timing for all of this is perfect according to Foster, whose expertise in creativity and innovation led him to a career in helping organizations grow.
With the yearlong celebration to kick off in the upcoming academic year, he is confident that some of the project ideas gleaned from last week's session can be set in motion by August.
Glenn Platt, co-chair of the Miamideas committee, explained the next step in the process is to synthesize the ideas generated last week into what makes sense given resources, time frames and the mission of the university
"We are working from two major themes," he said.  "The first is that this is not a top-down directive. The second is that ideas, processes and institutional change come from within. We are very much committed to this process."
Creating an ideas/innovation portfolio is also recommended according to Foster, who encourages organizations to create this tool for future planning and implementation. The ideas generated now become stories organized into common themes.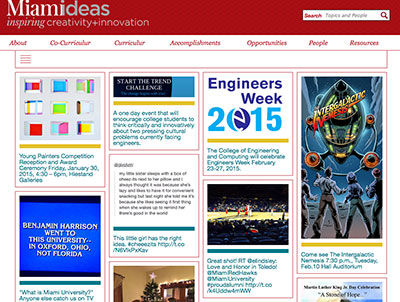 The new Miamideas website needs your feedback.
Foster uses the analogy of the television show "Iron Chef "where the competitors take known ingredients and make something into five-star quality.
"Making things better means sometimes having to confront competing commitments and, of course, having the skill to bring out that wow."
An idea already in the works is the Miamideas website. The committee shared the site during the brainstorming session. Now they want feedback.
The website already has some exciting tools. The question now: How can this new website generate enthusiasm and be useful as part of the Year of Creativity and Innovation?
Prototypes like this website are exactly what should come next as the planning for next year continues, Foster said. Ideas can be transferred to briefing statements and shared with the community for feedback and potential implementation.
"This process calls for participation above and beyond," Foster added.
How can you get involved?
Visit the Miamideas website
Like the Miamideas Facebook page
Contact co-chairs: Peg Faimon, professor and chair of the department of art, or Glenn Platt, C. Michael Armstrong Chair and director of interactive media studies.