Posing on one of Miami's nature trails
Jun 04, 2015
Walk your way to a Healthy Miami: Summer's a great time to schedule your screening
by Becky Stephenson, human resources

What do walking and Healthy Miami have in common? Taking a daily walk on "the most beautiful campus that there ever was" can lead to better health.
Summer is a good time to sign up for biometric screenings and schedule doctor appointments for the Healthy Miami Premium Discount Program. The deadline for completing all the steps is Nov. 15, 2015.
Summer also is a great time to take advantage of Miami's beauty. There are predetermined routes on campus that appeal to the nature enthusiast and the history buff.
Explore Miami's natural areas. Learn Miami's history with a self-guided walking tour. Check out Miami's Fitness 4 Life, free classes and workshops offered by Miami's benefits and wellness program.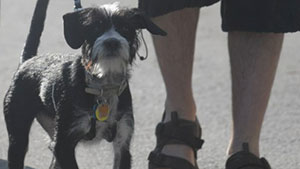 Keep you and your pet healthy and walk the nature trails at Miami.
The American Heart Association provides examples of how you can incorporate walking into your workday:
1. Walk during your lunch break. Get some fresh air or hit the track at the Miami Rec Center; come back to your desk refreshed and ready to tackle the rest of the day.

2. Park and walk. How many times have you circled the parking lot to find "the" spot? Spare yourself the stress and gain more energy by parking far away and walking farther to your destination.

3. Take the stairs. The elevator may go up — but it doesn't make your heart rate climb. Take the stairs instead. You may huff and puff at first, but over time, your body will thank you.

4. Walk and talk. Even if you're glued to your phone for work calls, you don't have to be glued to your seat. Make it a habit to talk and walk.