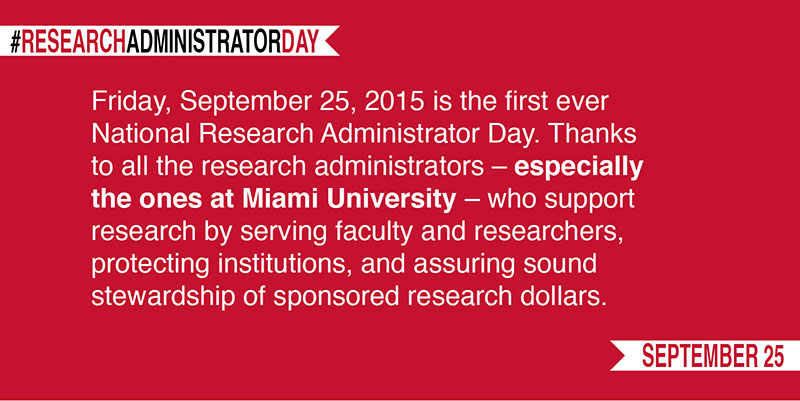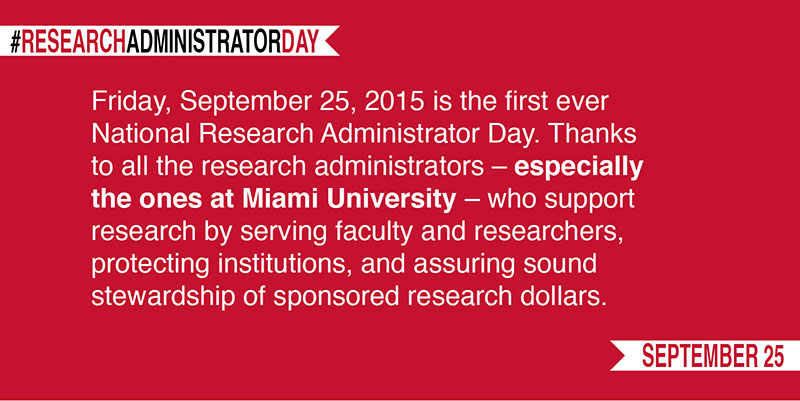 Miami celebrates National Research Administrator Day
Sep 24, 2015
Celebrate National Research Administrator Day
by Tricia Callahan, office for the advancement of research and scholarship (Read more at Tricia's blog.)

Although the field of research administration has been recognized as a profession for more than 50 years, the first ever National Research Administrator Day is set for Friday, Sept. 25, 2015.
At Miami University there are two primary offices involved with research administration: OARS (office for the advancement of research and scholarship) and Grants and Contracts.  There is also a staff member from the Regional Campuses who reports to advancement.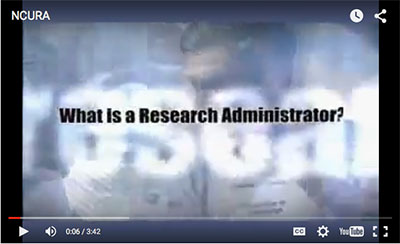 The National Association of Research Administrators produced a video in honor of the first national day celebration. You can find the video on Tricia's blog.
OARS: The OARS mission is to encourage, facilitate and support the Miami community in its effort to obtain external funding for all forms of research, education, scholarly, creative, service and outreach activities.
Tricia Callahan — director of proposal development.
Vanessa Gordon — administrative assistant.
Heather Johnston — associate director and information coordinator.
Jim Oris — vice provost for research and scholarship.
Anne Schauer — director of research and sponsored programs.
Reid Smith — director of technology and business partnerships.
Neal Sullivan — director of research compliance.
Jennifer Sutton — associate director of research compliance.

Grants and Contracts: Conducts the centrally organized administrative, business and financial functions related to post-award grant and contract administration and assists faculty, principal investigators and their administrators in the management of individually sponsored projects consistent both with Miami University's academic and research policies and with the stewardship requirements of and obligations to external sponsors.
Cindy Green — senior grants accountant.
Kathy Kihm — grants accountant.
Linda  Manley — grants and contracts manager.
Paula Murray — grants accountant.

Regionals:
Amy Stander — regional director of grant development.

In addition, employees in Miami's schools, colleges and departments work with sponsored-research related items.