The police working dog is used as an investigative tool to enhance the capabilities of the police officer. Due to their enhanced olfactory capabilities, the police canine can assist officers in locating suspects that flee or hide and evidence that may help in the investigation of a crime. Police canine teams may be trained to locate explosives, narcotics, accelerant's, cadavers or survivors of natural disasters and terrorist attacks.
In order to remain proficient, the team must train weekly in areas such as obedience, tracking, detection and apprehension. The team utilizes other officers in order to serve as decoys for the canine. Wearing protective clothing, the decoy can simulate any situation that may be faced in the field. The team also trains weekly on scent work, utilizing decoys to simulate fleeing suspects and all types of explosives for detection. The Miami Police Department Canine Unit serves the entire community as one of three explosives detection canine units in Butler County.
In 2021 due to the retirement of K-9 Figo, K-9 Leo took over the role of Explosives Detection Canine at Miami University. K-9 Leo is a German Shepherd trained and certified to locate explosives. He was born in Hungary and imported as a prospective working dog by Houston K9 Academy. During the "storm of 2021" in Texas Officer Hibbard travelled to Houston and tested available dogs at the kennel. Leo exhibited a high level of search drive and he was highly social making him the perfect candidate for our MUPD community. After returning from Houston Officer Hibbard and Leo attended Police K-9 school with other handlers in Cincinnati under the guidance of trainers from UCPD and HCSO. Leo completed training and has adjusted well to his new assignment at MUPD. 
Ptl. Hibbard and K-9 Leo primarily patrol Miami University in Oxford but are often called upon to assist other agencies. As one of three Explosives Detection K-9 team in Butler County they respond to call outs to assist the Butler County Sheriff's Office Bomb Squad. In addition to assisting the Butler County Bomb Squad, Ptl. Hibbard and K-9 Leo are also assigned to the twelve county Tri-State region of SOSINK (Southern Ohio, Southern Indiana, Northern Kentucky), and Urban Areas Security Initiative region designated by the Department of Homeland Security. As one of the Explosive Detection K-9 teams of SOSINK, the team deploys alongside other Explosive Detection K-9 teams of the region in response to explosive related incidents.
Call-outs and requests for assistance are handled through the Miami University Police Communications Center 24 hours a day at 513-529-2222. Questions about the canine unit, requests for demonstrations or other information should be addressed to Ptl. K. Hibbard by email hibbarkm@miamioh.edu or phone 513-529-0639.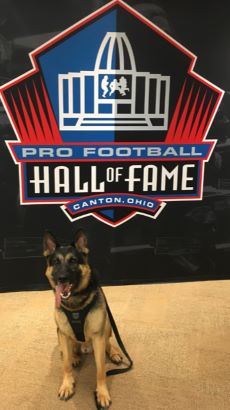 German Shepherd
8 months of service