High School and Transfer Partners
Our Results Speak for Themselves
1 of 18
Most Affordable Bachelor of Liberal Studies Programs in the Midwest Regional Analysis
Stacker.com
98.4%
of 2021-22 bachelor's degree graduates were employed, furthering their education, serving in the military, or in a service program
Miami University Data
739
Miami University CLAAS Degrees Awarded in 2022
Miami University Data
Staff Visit Opportunities
Friday, November 3, 2023
8- 11 a.m.
University Hall at Miami University Hamilton


Opportunities for your Students
Looking for a personalized on-campus visit experience? Attend one of our hour-long Talk and Tours. These visits happen multiple days and times throughout the week. You will have the opportunity to chat with an Admission Counselor about Miami University Regionals, get your questions answered, and explore the campus. 
Students spend a couple of hours learning about our services, student life, exploring degree programs, and enjoying a tour of campus. Students will be able to apply for admission and financial aid during the event.
Students can schedule a one-on-one appointment with an Admission Counselor! Register below to sign up to meet with a counselor virtually or in person.
Haven't had a chance to visit Miami Regionals? Live too far away to come to campus? Join us for a Virtual Info Session! 
With over 30 majors, it's hard to choose just one! Check out our Department Info Sessions to learn more about some of our most popular majors. During these information sessions, you will be able to learn from the experts, faculty, and advisors!
Admission Process
First-time new students are automatically admitted. Transfer students must have a 2.0 GPA and be in good standing at their former institution(s).
Official Transcripts
Send official high school transcripts and all official college or university transcripts electronically or by mail to the Miami University Regionals Office of Admission.
ACT/SAT Scores
Official ACT or SAT scores can be sent directly from the testing agency or included in the official high school transcript.
* High school transcripts and test scores may not be required for transfer students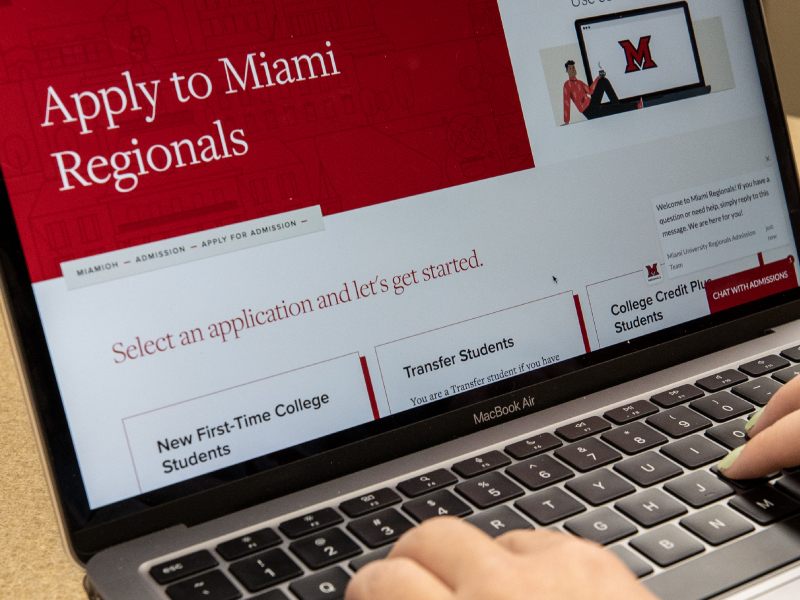 Key Dates
Fall Application Deadline- August 1
Nursing Application Deadline- December 1 
Spring Application Deadline- January 5 
First-Time New Merit Scholarship- February 1
Transfer Merit Scholarship Deadline- June 1 (Fall) and December 1 (Spring)
Completed Admission applications received by the deadline will be considered for merit scholarship awards. There is no separate application.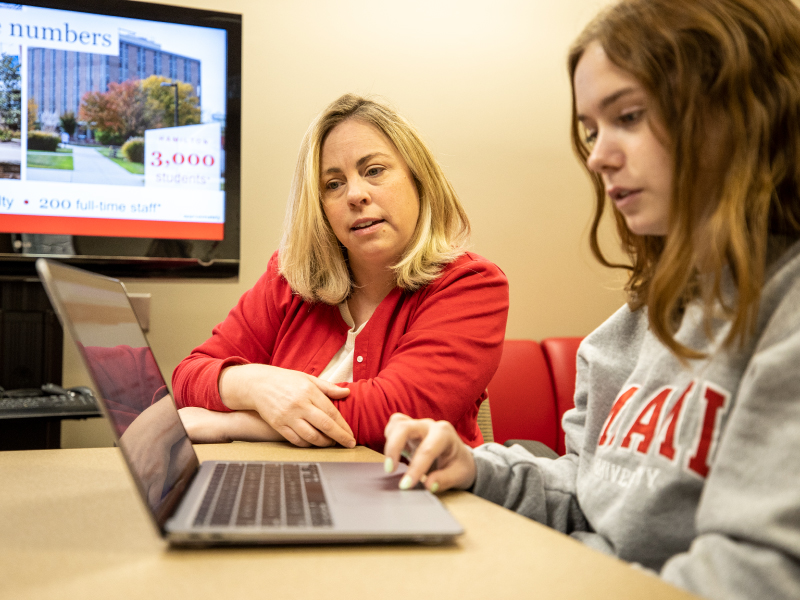 School Codes
FAFSA Code
003077 (Note: All Miami Campuses have the same FAFSA code)
SAT/ACT Codes
Hamilton: ACT code: 3303 / SAT code: 1526
Middletown: ACT code: 3299 / SAT code: 1509