Faculty Corner: Tricia Neu, BSN, DNP, RN, CDCES, CNP
Assistant Professor Tricia Neu on the launch of new graduate degrees.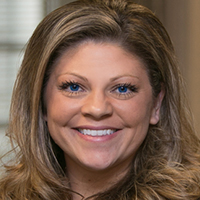 Many things about Miami University Regionals' Nursing program have changed over the past few years, and Assistant Professor Tricia Neu, BSN '14, has been an integral part of one of them: the launch of graduate degrees in the discipline.
"The Nursing program has evolved since 2014 through the expansion to the Oxford campus (the first cohort from the Oxford campus just graduated this past spring), increased focus on simulation, and through the addition of the graduate program," Neu said. "We now offer our students the opportunity to continue their educational journey after they obtain their Bachelor of Science in Nursing (BSN). They can apply to one of our graduate programs to pursue their Master of Science in Nursing with a focus in Family Nurse Practitioner (FNP) studies, Nurse Executive Leadership, or Nursing Education, all of which can be completed online in less than two years."
This fall, Miami welcomed its first cohort of graduate students to its master's programs. Neu directs the FNP track, which is designed to prepare graduates to become advanced practice providers with a primary care, family population focus. A graduate of Ohio State University's FNP program, Neu continues to serve as a primary care provider at Monroe Medical Center with a focus on diabetes care and chronic disease management.
"Monroe Medical Center is a primary care practice and I see a panel of patients, many of which have diabetes, as this is my area of expertise," Neu said. "My collaborating physician and office staff are very supportive of my teaching role and provide excellent patient care.
"My clinical experience has informed my teaching as I can draw from this experience as I plan lectures, discussions, and case studies," Neu continued. "Furthermore, the National Organization of Nurse Practitioner Faculties requires that all nurse practitioners who teach clinical management courses continue to remain active in clinical practice."
All students in the FNP program are required to complete 630 clinical hours in a healthcare setting. According to Neu, these clinical rotations set Miami apart from its competitors, as students will be required to care for a diverse patient population with preceptors that are assigned by the graduate clinical placement coordinator. Another selling point is the fact that students can also pursue a Master of Business Administration from Miami while simultaneously earning their master's in Nursing. 
The changes to Miami's Nursing program don't stop there. In the fall of 2024, Miami will launch its Doctor of Nursing Practice (DNP) program. According to Neu, who earned her DNP degree from Frontier Nursing University in 2021, graduates of Miami's MSN program will be able to progress seamlessly into the terminal DNP degree program.