Study Rooms and Meeting Spaces
Study Rooms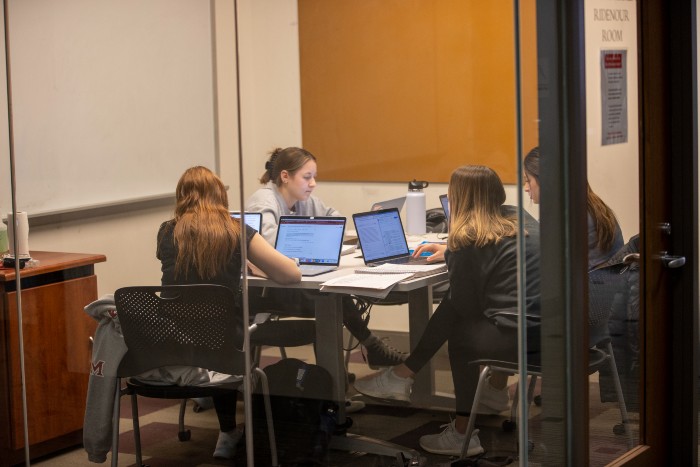 Study rooms are available for current Miami University students to use for quiet study and group projects. Reservations for Group Study Rooms and Meeting Rooms (for study use) are available online through the University Libraries reservation system. Reservations can be made for a max of two hours per day and can be made two weeks in advance. The below link can be used to reserve study rooms. 
Policies & Procedures
Study room use is limited to current Miami University students (both undergraduate and graduate).
Faculty and staff are not permitted to make reservations for designated study rooms, but are welcome to reserve the spaces as Meeting Rooms through EMS Web App for university, departmental, or scholarly business (Note: faculty/staff will be charged a room rate for meeting room reservations).
Study rooms are not to be used for regularly scheduled classes.
In order to receive the key for the Study/Meeting room, please visit the Information Desk and present your Miami ID card. Keys must be picked up within 15 minutes of the reservation time – failure to do so may result in forfeiture of the reservation.
Room keys may not leave the Armstrong Student Center at any time; if the key is lost or not returned, the student who checked out the key will pay for the cost of replacing the room key core and replacement keys.
Upon entering the room, immediately report any visible damage to staff at the Information Desk.
All personal belongings must be removed, and trash appropriately disposed of, before leaving the room.
At the end of a reservation time, all students must lock the Study/Meeting Room and return the key to the Information Desk.
Study/Meeting Rooms are not soundproof; conversations should be kept at an appropriate level.
Smoking, vaping, and the use of chewing tobacco is strictly prohibited.
All students must follow the Miami University Student Code of Conduct when using University facilities; violations include, but are not limited to: vandalism, threatening behavior, unauthorized use of computing resources, violation of copyright laws, misuse of a Miami ID, etc.
Reservations
Reservations for Group Study Rooms and Meeting Rooms (for study use) are available online through the University Libraries reservation system. (Note: Reservations may not be made through the Crestron panel located near most study/meeting rooms).
Rooms designated as small meeting rooms (maximum capacity of 10 and under) are given priority for meetings scheduled through EMS Web App for Student organization meetings/events. These meeting rooms may only be used for study if a meeting is not scheduled for the space. Student organizations wishing to reserve a meeting room for an organizational meeting must do so through EMS Web App.
Individual or group reservations are limited to 2 hours (max.) per day. 
A room may only be scheduled up to 2 weeks in advance.  
If you do not plan to fulfill your reservation, please cancel using the scheduling system. Failure to do so limits study room availability for other students and may result in banning from the system.
A Study/Meeting Room may only be renewed if there are no subsequent reservations, and are subject to the approval of the Armstrong staff. Renewals may be made only within the final 30 minutes of the reserved time by notifying the Armstrong Information Desk.
If a reserved room is empty 30 minutes prior to the next reservation time, the room may be checked out early by the next student reservation.
Please notify an Armstrong Building Manager if assistance is required.