2019 PDSA Recipient - Megan Zahneis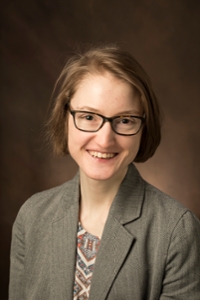 Megan Zahneis
West Chester, Ohio | Interactive Media Studies and Journalism Double Major
Megan is the managing editor of The Miami Student and editor of The Miami Student Magazine, has completed an internship with The Chronicle of Higher Education, and is a prolific contributor to our student-produced community paper, the Oxford Observer. Megan is also completing her year as an undergraduate fellow through the Altman Program in our Humanities Center. Through this fellowship, the highest undergraduate honor through the Humanities Center, Megan has worked with a small team of faculty and graduate fellows to explore advanced research in humanities.
Megan is a founding member and current co-president of our Students with Disabilities Advisory Council (SDAC), through which she started Coffee and Conversations panels, where students with disabilities share their Miami experience with faculty members. SDAC received the 2017 Best New Student Organization Award due in large part to Megan's leadership. She has worked closely with staff from our Miller Center for Student Disability Services and the College of Education Health & Society to create an accessible classroom in McGuffey Hall, where many special education classes are now held. Through this work and much more, including serving as an undergraduate teaching assistant for a disability studies course, Megan is an intellectual leader in resisting ableism on campus and in society.
One nominator summed it up by writing that through Megan's leadership there has been a culture shift on campus with respect to viewing disability as a facet of diversity and bringing disability related topics into everyday campus conversations.