Apply for LEAF (Leadership Enrichment Access Fund) Award
The TRIO Foundation LEAF is awarded to support a second-year student or above seeking personal and professional growth, the development of leadership skills, and exposure to diverse, global perspectives through co-curricular activities but, due to significant financial need, would otherwise be unable to afford to participate or would incur undue financial hardship to do so.
LEAF award is dependent on the amount requested; however, typically two to three awards are offered with the average award between $2000-$5000.
Previous Awards have funded:
Study abroad programs
Independent research projects
EMT Certification
Sorority dues
Miami Mock Trial participation
The qualities and characteristics of LEAF recipients should include:
Demonstration of financial need
Personal accountability for financial self-sufficiency and fiscal responsibility
Highest standard of ethics and integrity
Broad and active view of citizenship
Reputational sensibility
Exemplary academic record
Record of working to pay for all or a portion of their college costs
Campus and/or community involvement
The 2021 LEAF Award application window has closed. Look for the 2022 award announcement in late Fall semester or early Spring semester.
Questions? Feel free to reach out to the Wilks staff with questions, or to discuss eligibility wilksleadership@miamioh.edu.  
---
The Office of Community Engagement and Service is nationally recognized for providing outstanding community engagement and Service-Learning experiences that benefit our campus and community constituents.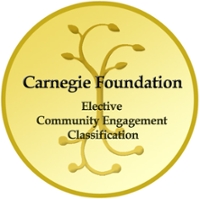 Miami was one of 361 universities to receive the prestigious Carnegie Classification for Community Engagement in 2015. The classification is effective for 10 years.
---
Miami has been named to The President's Higher Education Community Service Honor Roll from 2007-2015. In 2012, Miami was recognized as one of only five recipients of The Presidential Award (Special Focus: Early Childhood Education). And in 2013, Miami was named to the Honor Roll with Distinction.
---

In 2017, Miami was named a NASPA Civic Learning and Democratic Engagement (CLDE) Lead Institution. The Lead Initiative is a network of 84 colleges and universities committed to encouraging and highlighting the work of student affairs in making CLDE a part of every student's college education.
---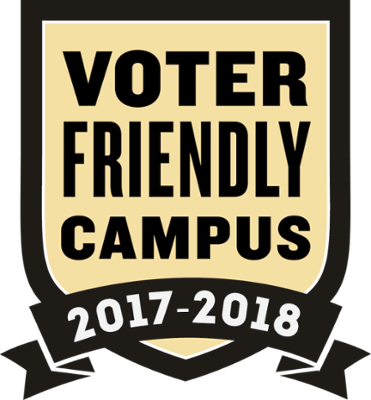 Miami University has been named a Voter Friendly Campus by NASPA and the Campus Vote Project. This designation is awarded to colleges and universities who develop and execute effectively on a collaboratively developed Campus Action Plan aimed at helping students register and turn out to vote. NASPA and the Campus Vote Project evaluate how well campuses execute on their plans and award the designation accordingly.
---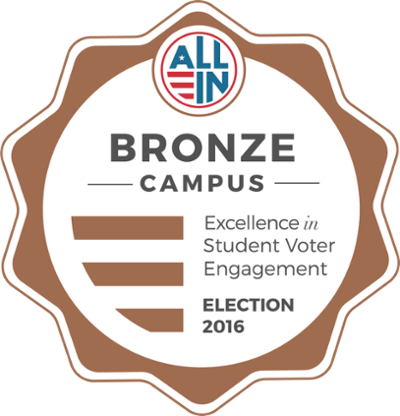 At the first-ever ALL IN Challenge Awards Ceremony, Miami University received a bronze seal for achieving a student voting rate between 50% and 59%. Miami University also received the "Most Innovative Program Award" for Dr. Ann Elizabeth Armstrong's Freedom Summer App.