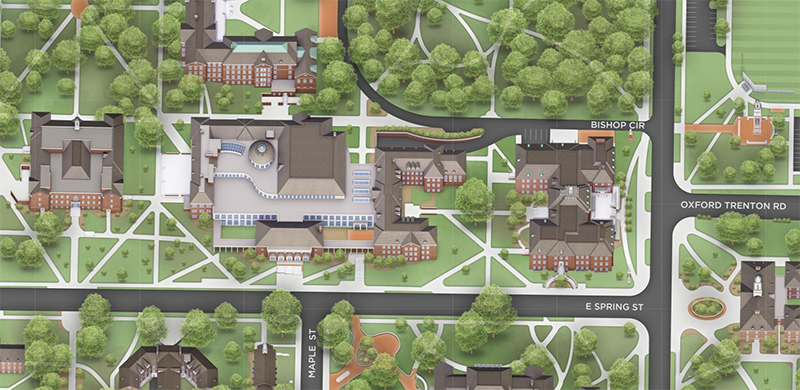 Oxford Campus Map
Miami's Interactive Campus Map
You will find a wealth of categories to choose from, whether you're searching for an academic building, an accessible entrance ramp, or the closest parking lot.
Simply choose a location category and click through the options to find your desired destination along with additional information such as pictures and descriptions for further identification.
Clicking the WAYFINDING button in the map's upper-left corner can help you navigate campus by displaying the walking path between a starting and ending location.
Instructions
Using the Mobile Version
To search for a location, click the "hamburger" menu in the upper-left corner of the screen. To show additional information on the location, swipe up or click the caret that appears above the name at the bottom of the screen.
Printing from the Interactive Map
In the map's upper-right corner, click the print icon and "Generate Print Map." Once the "Generate Print Map" column appears to the left, choose your printing options and click the red "Generate print map" button.
Once your map has been generated, a copy of the chosen file type will automatically download to your computer.
Questions or Comments?
You can use the red "Feedback" button in the map's upper-right corner or submit your feedback here.
Resources for Campus Visitors
---
For All Campus Visitors
The safety and comfort of everyone on our campuses is our highest priority — including students, faculty, and staff as well as visitors. Our Visitor Policies ensure everyone's Miami experience is as secure as possible, and we invite you to review them closely before planning your trip.