Self-Guided Walking Tour
The path in red on the map below is a one-hour walking tour of central campus. A brief description of each stop (indicated by a circled letter) is included here. If you have any questions, please stop and ask someone on campus. Enjoy your tour!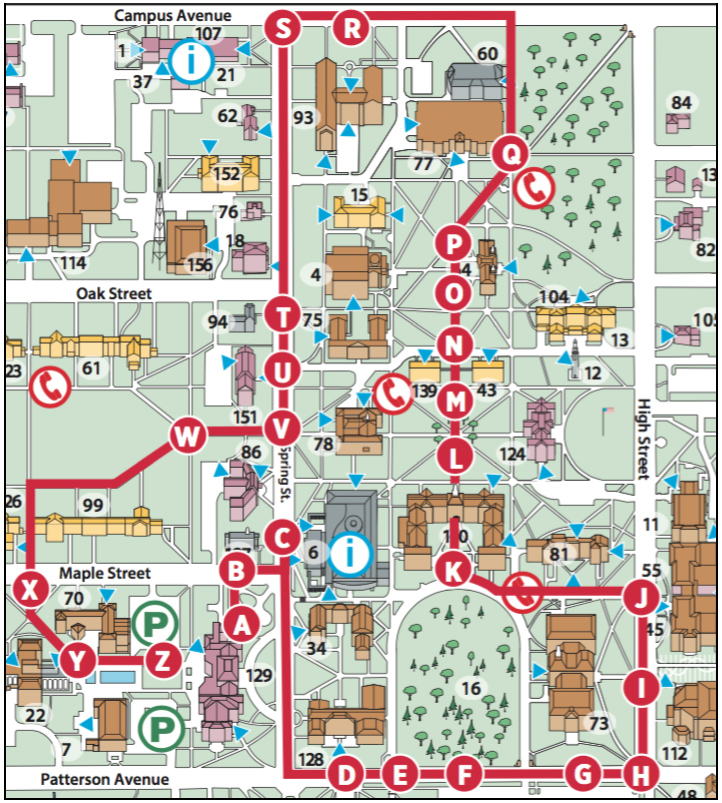 ---
A Shriver Center, named for Phillip R. Shriver, president of Miami from 1965 to 1981, houses the Office of Housing Options, Meals & Events, the box office, and Miami's bookstore. The Shriver Center offers a wide variety of accommodations for conferences, banquets, lectures, weddings, and other special events year-round.
B Sesquicentennial Chapel was a gift from alumni and friends in observance of Miami's 150th anniversary. The chimes were a gift of Delta Zeta, the first sorority on campus.
C Armstrong Student Center was designed as the true family room on campus and provides students with meeting rooms, quiet study rooms, dining, lounge space, and student organization offices, as well as signature event spaces.
D Shideler Hall is home of the departments of geology and environ- mental earth science and geography, the Limper Geology Museum, and the Institute for the Environment and Sustainability.
E Verlin L. Pulley Carillon and Clock Tower houses a 50-bell carillon system and four large clock faces. The 50 cast bronze bells offer a range of four octaves and play music throughout the day.
F Bishop Woods and the Bishop Gates were built in memory of Robert Hamilton Bishop IV, the great-grandson of Miami's first president, and the Bishop Family. The woods recently underwent restoration to preserve its ecosystem.
G Hughes Laboratories, a modern research and teaching facility, houses the department of chemistry and biochemistry.
H Farmer School of Business, named for Miami alumnus and business leader Richard T. Farmer, is the first facility on Miami's campus to earn the Leadership in Energy and Environmental Design (LEED) certification. The building's classrooms, technology features, and common areas were designed to support our goal of providing a world-class education to our students.
I Pearson Hall houses the biology and microbiology departments. Named for zoologist Paul G. Pearson, Miami president from 1981 to 1992, the building contains a mosaic mural by nature artist Charley Harper. Directly behind Pearson Hall sits the Psychology Building.
J Engineering Building includes Garland Hall, named for James Garland, Miami's 20th president (1996-2006), and Benton Hall, named for Guy Potter Benton, Miami's 12th president (1902-1909). These connected buildings comprise the home of the College of Engineering and Computing.
K Upham Hall is home to our College of Arts and Science and houses the Hefner Museum of Natural History. Professor Alfred Upham (1928-1945), Class of 1897, wrote a book of Miami's history for the 1909 centennial and is credited with writing the Alma Mater. Tradition says that sweethearts who kiss beneath the arch light at midnight will marry.
L The Miami University Seal, located in "the Hub," was first drawn in 1826. The seal contains the motto Prodesse Quam Conspici, "To accomplish rather than to be conspicuous." Tradition says that stepping on the seal ensures failure of your next exam.
M Elliott Hall (on your right) and Stoddard Hall (on your left), our Scholar Leader residence halls, are two of Miami's oldest buildings. They are both geothermally heated and cooled.
N Beta Bell Tower was given to the university in 1939 on the centennial of Beta Theta Pi, founded at Miami as the first fraternity west of the Allegheny Mountains.
O Irvin Hall (on your left) is home to our foreign language departments and Ogden Hall (on your right) is a residence hall and home of one of Miami's popular dining facilities, Bell Tower Place.
P Harrison Hall (on your right), home of the political science department, was named for Benjamin Harrison, Class of 1852 and U.S. President (1888-1892). The domed Alumni Hall (on your left), built as the university library with the assistance of Andrew Carnegie and alumni funds, now houses the architecture and interior design department, as well as the Wertz Art and Architecture Library. Inside the rotunda is a statue of George Washington, who signed the Northwest Ordinance, laying the foundation for Miami's establishment.
Q The Slant Walk, so named for its diagonal path, leads from central campus to Uptown Oxford and runs alongside King Library, the campus's main library. King serves not only as a repository of books and documents, but also as a central gathering point for individual and group study, complete with the bustling King Cafe. Directly behind King Library is Hall Auditorium, a beautiful lecture and performance venue.
R McGuffey Hall, home of the College of Education, Health and Society, is named for William Holmes McGuffey, Miami professor and author of the Eclectic Readers, standard textbooks from the mid-19th through mid-20th centuries. A statue of McGuffey stands in the courtyard.
S Campus Avenue Building houses the One Stop for Student Success Services, offering assistance for registration, enrollment, financial aid, student records, billing, and payment. Prospective students and their families are also encouraged to visit the Office of Admission, located at the south side of the building.
T The McGuffey Museum, built in the 1800s, is the restored home of T William Holmes McGuffey and a National Historic Landmark. The museum contains original furnishings and a collection of Eclectic Readers. (Open Thursday-Friday-Saturday, 1 to 5 p.m. For a tour, call 513-529-8380.)
U Warfield Hall, housing the student affairs division, is named for Miami's youngest president, Ethelbert Dudley Warfield (1888-1891), who is credited with bringing football to the university.
V MacMillan Hall, the first college hospital in Ohio, served as Miami's student health center until 1996. Currently, it houses the Division of Global Initiatives and other program offices.
W The Sundial, a gift of the Delta Delta Delta sorority, tells time accurately only on the four dates noted on the bronze plate at its base. A Miami tradition is to rub one of the turtle's heads for luck on your next exam. Across the lawn you can see MacCracken Hall, a residence hall in the center of what's known as Central Quad.
X Maplestreet Station is a LEED-certified building with a residence hall atop seven unique dining options.
Y The visual and performing arts complex is composed of The Center for Performing Arts, the Art Building, and Hiestand Hall, which includes gallery space. The complex is anchored by the Schiewetz Fine Arts Plaza, completed in 1995.
Z You are now back at Shriver Center. We hope you enjoyed the tour, and we encourage you to explore the rest of our beautiful campus.
Additional points of interest:
Western College Campus, the easternmost part of Miami's campus, is the former Western College for Women, founded in 1853. It became part of Miami University in 1974 and was named a historic district in 1979. This part of campus is known for its stone structures and connecting bridges.
Art Museum, located on the southeast corner of campus, is open 10 a.m. to 5 p.m. Tuesday through Friday and 12 p.m. to 5 p.m on Saturday. Accredited by the American Association of Museums, it holds a permanent collection of more than 16,000 works and hosts traveling exhibitions in five galleries (gallery open during the academic year only). A dramatic painted steel sculpture by Mark di Suvero is the signature piece of the museum's three-acre sculpture park.
Intercollegiate Sports Facilities, at the north end of campus, are most of Miami's athletic facilities, including Millett Assembly Hall, Yager Stadium, Dauch Indoor Sports Center, Rider Track, McKie Field at Hayden Park, and fields for softball, soccer, and field hockey.
At the south end of campus, the Rec Center features a world-class aquatics center, two-story fitness center, and 40-foot climbing wall. Adjacent is the Goggin Ice Center, home of the Miami RedHawks national powerhouse hockey team and our internationally competitive synchronized skating teams. Public skating hours are available on the center's two full-size rinks.
Conrad Formal Gardens/Dogwood Grove is a park-like area west of Marcum Hotel & Conference Center, located at the northeast end of campus. The Garden is a popular spot for leisurely walks, picnics, and outdoor weddings. Miami's first president, Robert Hamilton Bishop, is buried in the Formal Gardens.
Nature Trails. On the perimeter of campus, the Bachelor Reserve and other natural areas encompass more than 1,000 acres that are preserved and protected for approved uses in recreation, observation, education, and research. The trails are open to the public year-round.
Bachelor Wildlife and Game Reserve—Entrances to north and east loops off Bonham Road; entrance to east loop also at Oxford Milford Road and State Route 73.
Reinhart Reserve—Accessed from the east loop of the Bachelor Reserve.
Silvoor Biological Sanctuary—Entrance on Silvoor Lane off Chestnut near Maple. Parts are on private property and should be respected as such. Connects to Peffer Park.
Peffer Memorial Park—South of campus on Route 27. Offers a one-mile trail of the park perimeter, plus access to Western Woods by following the trail under the Route 27 bridge.
Western Woods—Trail (1.4 miles) connects Four Mile Woodlands, Marcum Loop (enter at Marcum Hotel & Conference Center), and Peffer Park. Pedestrian access also near Cole Service Building from the service drive.