English/Film Studies Course Introduces Large Lecture Format to Students
by Maggie Thomas, CAS communications intern

Miami English department's ongoing plan of creating large lecture style classes was put into action this fall. The department chose to try this format in the hopes of engaging more students.
The course has been retooled as a large lecture format with close to 100 students enrolled. Other academic departments such as History and Comparative Media Studies use this large classroom style as well. Next semester, Dr. Jody Bates and Dr. Jim Porter are scheduled to teach large lecture courses in Creative Writing and Professional Writing. photo credit: Jack Ryan"My course is piloting this effort and the enrollments exceeded expectations," said Dr. Katie Johnson, who teaches English/Film Studies 220: Literature and Film this semester.
Johnson's "Literature and Film" course focuses on debates regarding adaptation within film and literature, which is perfectly captured by the film Adaptation (a postmodern adaptation of Susan Orlean's The Orchid Thief). Throughout the course, students analyze film adaptations from several literary genres, including drama, novels, short fiction, and nonfiction, from Rear Window to The Great Gatsby; and from Melville's Bartelby the Scrivener to Fight Club.
The course appeals to students of all majors, as it works to fulfill several requirements. Besides meeting a requirement for the English Literature major, the course also counts for the College of Arts and Science's, the BIS Understanding Media and Visual Culture concentration, the Film Studies major, and the ENG 4: Literature & Film Thematic Sequence. In addition to these, the course also counts as a Miami Plan Foundation IIB course.
Johnson has been very pleased with the engagement students have expressed in the class. She said that initially she was worried about the size of the class, but has been impressed with the outcome thus far.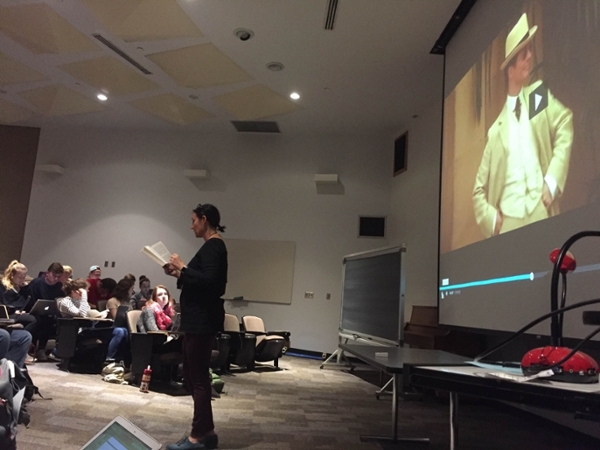 "My teaching pedagogy is very student-driven. The challenge was to incorporate lectures with student participation to make the material engaging. I am loving this class, because even though it's a lecture format, the students are participating and discussing great novels and films," she said.
Since the course is significantly large, Johnson has two graduate assistants (Justin Chandler and Michelle Christensen), along with an undergraduate associate (Jack Ryan) who help her to make the course as engaging and effective as possible for students. Graduate assistants help to engage students with the lecture and lead the breakout section of the course, which meets once a week.
One of the graduate assistants, Justin Chandler, said one of the most rewarding parts of helping with the course is working with Johnson.
"I've learned so much, both pedagogically and in terms of the literary works we're exploring. Early on this semester I even told her I had to remind myself that this wasn't a class I was taking-– that's how engaging it is. Her approach to teaching is definitely informing my own."
Michelle Christensen, another graduate assistant, shared her thoughts on whether students seem to be enjoying the class.
"We had an enormous amount of interest in the class from the beginning and students still seem to be really engaged in the theories, texts, and films we're discussing in class. We try to make lecture and discussion sections as dialogical as possible, and I think students really find this approach more helpful."
Jack Ryan, is the undergraduate associate for the course. He is a junior double majoring in English Literature and Media and Culture, with a minor in Film Studies. Ryan said he finds the class to be an overall success so far. 
"It's rare to see such widespread attention and interest in lecture classes of this size, and this unique level of involvement is really the product of Dr. Johnson's enthusiasm for the course and attention to each individual student."