Professional Writing Alumni Profiles
The Professional Writing major at Miami University was founded in August of 2011, and we are very proud of all of our majors. To provide prospective and current students a snapshot of the diverse and interesting career paths, PW majors take, we offer these profiles of alumni. The information in each is current to the date of the interview with the alumnus.
If you are an alumnus and would like to be profiled, please contact Heidi McKee (mckeeha@miamioh.edu).  
Devin Arbenz, Associate Consultant in Instructional Design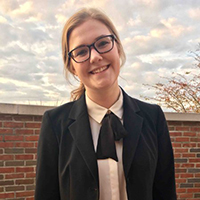 Devin Arbenz graduated from Miami University in January of 2017, with a double major in Professional Writing and Strategic Communications.
She is currently an associate consultant in instructional design at Tier1 Performance Solutions, which is a consulting firm in Covington, Kentucky. Tier1's main purpose is to improve employee performance, and Devin writes content for eLearning modules, as well as other training tools, that are tailored to specific companies.
While she was still at Miami, Devin worked at King Café and was a prominent member of Alpha Psi Omega, a service fraternity on campus. During her time as an executive board member of this organization, Devin felt that she was able to transfer her writing and communication skills from class to communicating effectively with her peers.
Devin says that the most valuable thing she took away from her time as a Professional Writing student was that she learned how to change her voice while writing to suit the needs of her audience. In her capstone, she was able to practice and perfect her ability to write in a variety of ways and settings, and she carried that into her career.
When giving advice to future and current Professional Writing students, Devin was adamant about students branding themselves as strong writers, because it's such a valuable skill set. Even though you have a degree in writing and a resume to prove it, she still insisted that it never hurts to bring up skills you've picked up in editing and proofreading. Her final piece of advice was to always bring writing samples to interviews because you never know how much it could help prove your writing prowess. 
Interviewed February 2017
Christopher "Kit" Collins, Editorial Assistant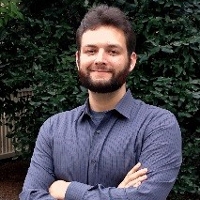 Kit Collins '15 graduated Cum Laude with two Bachelor's degrees in Professional Writing and Psychology, and a minor in Neuroscience.
Kit is currently employed by the Association of Psychological Science (APS) as their Editorial Assistant for the News and Information department - more specifically for their magazine, the Observer.  Kit also writes for their blogs, Minds on the Road and Minds for Business, and his first feature article was just published in the beginning of September. His favorite part of his position at APS is working with a close-knit nonprofit organization and writing for an audience of approximately 24,000 including many academicians and psychologists.
As an undergraduate, Kit took more writing classes than he needed to because he "wanted all the experience Miami could offer." One of his favorite classes was Print and Digital Editing because it provided crucial experiences for both successfully applying and transitioning to his professional career.
Kit's best advice for Professional Writing students is to take advantage of how diverse the Professional Writing Program is by using it to gain the experience you need for your future career path. If you can find the niche of the program that fits your dream job, take any and every class you can that will help you reach your goal. 
Interviewed September 2016
Megan Conley, Content Marketing Strategist
Graduated with Bachelor's degrees in Professional Writing and Journalism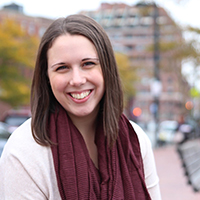 Megan Conley '14 is currently a Content Marketing Strategist at Hubspot, a company located in Cambridge, Massachusetts, that sells and promotes marketing, sales, and customer relation management software.
As a member of Hubspot's content team, Megan wears many different hats. She considers her position to be multimodal, and she often works in content writing, blogging, design, and video production.
Megan says that she still uses several skills she learned in the Professional Writing program, including the ability to churn out well-written pieces quickly, and understanding rhetoric, which is "so engrained in my mind when I sit down to write" she states. She also regularly uses many of her multi-faceted production skills in her daily work as well.
While she was a student at Miami, Megan was a writer and managing editor for the Miami Quarterly, a member of the Society of Professional Journalists, an intern for the communications department of the College of Arts and Sciences, and a video intern at the Bridges Church. Megan was also a synchronized skater. 
Megan's advice to current and future Professional Writing students is to "diversify yourself—I hire post-grads all the time, and it's great to hire someone who's a writer, but you have to get yourself some DIY design or even Excel skills as well." Megan stressed the importance of experiential learning and that students should seek experiences to continue to build their learning beyond the classroom.
Interviewed March 2017
Justine Daley, Strategic Account Manager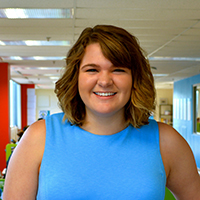 Justine Daley '14 graduated with two Bachelor's degrees in Professional Writing and Psychology, as well as a minor in Interactive Media Studies.
She is currently a Strategic Account Manager at GNGF, a start-up marketing agency out of Cincinnati, Ohio, that creates content and develops marketing strategy specifically for law firms. She has been with GNGF since May of 2014, and she originally started as a content writer, but the fast nature of her start-up allowed her to move up the ladder quickly.
Justine found her company at a Miami career fair, and she also participated in several different types of writing internships in and outside of Miami. Her biggest takeaway from her time as a student at Miami was from group projects, because "it's something you'll be doing in the workplace for the rest of your life, and it taught me a lot about working with different people with different skills, and how to best utilize them."
She also made it very clear that even though her career isn't just writing, she still uses a variety of skills she learned in the Professional Writing program. "When you're in college you take the classes," she says, "but then later you realize that it's skills and ways of thinking that you don't even know you're using."
When asked what advice she would give to Professional Writing majors in the program now, she said "take every class you can, and don't limit yourself to your track—my one regret when I think about school is that I wish I had learned this, or taken that class because everything you learn applies to your future. The program really encompasses a lot of critical thinking and skill."
Interviewed September 2016
LaQues Harrison, Teacher Turned Lawyer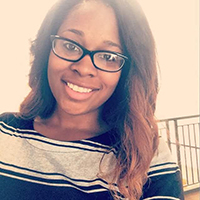 LaQues Harrison '15 graduated with a Bachelor of Arts in both Professional Writing and Sociology. She is currently a student at the Ohio State University Moritz College of Law.
LaQues chose law school after working for Teach for America in Nashville, where she taught both English and History after graduating from Miami. Her experience teaching made her realize that the inequities she saw in the education system and in society at large had to be challenged and changed, and so she decided to enroll in law school. 
Since graduating from Miami, LaQues says everything she's done has been writing-based. She's written lesson plans, taught students, written countless law school essays, legal documents, and presentations that all have a basis in rhetoric and writing that she draws on from her days as an undergraduate in the Professional Writing program.
While she was an undergraduate, LaQues did everything in her power to make sure she got the most out of her education. While she was a senior, she held three campus positions for the Office of Residence Life, for University Communications and Marketing, and for Career Services. She also was the president of three organizations, one of which she founded called Generation Miami.
Her advice is simple—challenge yourself. LaQues says, "Professional Writing is a great major for careers—there are so many options, and a writing background can play into any career, and is a strength that will set you apart from other applicants." She also urges students to take classes outside their comfort zones just to gain experience, because you never know how an engineering class could influence your writing. 
Interviewed March of 2017
Ashley Laughlin, OSU Moritz College of Law Student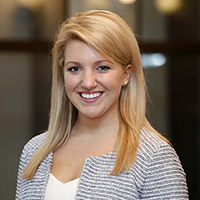 Ashley Laughlin '14 graduated with a major in Professional Writing and a minor in Political Science. She is currently a third-year law student at the The Ohio State University Moritz College of Law. She plans to pursue a career in real estate law in Columbus, Ohio, when she graduates.
Ashley frequently draws on the knowledge and skills from her Professional Writing coursework in her legal studies. From writing briefs and legal communications to making oral arguments and giving formal presentations, she uses rhetoric and the art of argumentation daily.
While at Miami, she was heavily involved on campus. Ashley was a member of Alpha Delta Pi sorority, a freelance journalist for the Miami Student, and a board member for both the state-wide and campus College Republicans. 
If she were to offer advice to current and future Professional Writing students pursuing careers and graduate school, she says to make sure you don't downplay your writing ability. "Send in writing samples, talk up your experiences.  Writing is really valuable--the one skill employers look for that many people don't have," she says. 
Interviewed March of 2017
Bradley Rhodes, Web Coordinator

Bradley Rhodes '16 graduated with a Professional Writing major and a double minor in Interactive Media Studies and English Literature.
He is currently working for Miami University as a Marketing/Communications Web Content Manager, while going to graduate school at the university. He often finds himself referring to his old class websites to assist in his work, and the best part of his job is that it allows him to be creative, while still employing all the skills he learned as an undergraduate, such as design and rhetoric.   
Bradley was attracted to the Professional Writing program because "it's probably the only major where you don't write merely to write." He appreciated the real-world applicability of the major and the diverse understandings of what writing is, including how writing involves coding, images, and other digital media.
His advice to Professional Writing students is simple – keep your options open. Bradley emphasized that while transferring skills learned in class to an actual specific career can be challenging, if you keep your options open and realize how applicable your skills are to a variety of positions, you can take your degree from this program to all kinds of amazing places.
Interviewed September 2016
Samantha Silber, Pre-service Teacher
Samantha Silber '16 graduated with degrees in both Professional and Creative Writing.
Samantha is studying for her teacher's license at Ohio Dominican University. Samantha decided during her senior year of college that teaching was her ultimate passion, after spending her college career studying Professional Writing to improve her communication skills.
In her post-graduate studies, Samantha continues draws on what she learned in her studies at Miami. Samantha encourages herself (and others) to read and write new things outside of your comfort zone, because there's no better way to improve as a writer than by stepping out of your comfort zone.
Her advice to aspiring teachers and writers is to take classes you're interested in. Whether it's design or literature, there are so many Professional Writing classes that are available to students that anything is possible. In Samantha's opinion, "This major is unique because it teaches you valuable communication skills that will help you be successful in any field." She also encourages students to get involved, specifically in all the organizations the English Department has to offer. 
Interviewed September 2016
Scott Sprague, 
Assistant Editor for Motion Picture Advertising Agency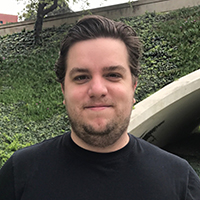 Scott Sprague '13 graduated from Miami with a B.A. in Professional Writing and a B.A. in Interactive Media Studies.
Scott currently works as an Assistant Editor in Los Angeles for Wild Card, a creative advertising company that creates theatrical motion picture campaigns. Recent movie trailers that Wild Card and Scott have worked on include Alien Covenant, War for the Planet of the Apes, and Arrival.
As a junior Professional Writing major at Miami, Scott worked as an intern for a L.A. company called Bandito Brothers where he worked on a number of media projects, including creating promotional videos for the X-Games. After interning in Los Angeles on the production scene, Scott knew that he wanted to return to California to work after graduation. The internship he held in the Professional Writing major helped him secure his current position.
Scott draws on the design and rhetoric skills he gained while studying at Miami because every project that comes across his desk involves rhetoric. Scott says that "Even though I never had classes on video editing, what I learned in the major really helped in learning how to balance that scale of being creative and efficient."
His final words of advice to Miami students are to "pursue things as aggressively as you can." and to not limit yourself to one location, because you never know what kind of careers are out there waiting to be discovered. He found his dream job out in California, an opportunity he got from his Professional Writing internship and from his pursing every chance that came his way.
Interviewed September 2016  
Emily Waldrop, Information Designer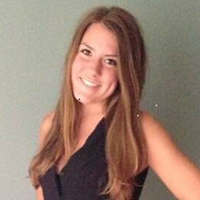 Emily Waldrop '16 graduated Cum Laude with two Bachelor's degrees in Professional Writing and Interactive Media Studies.
Emily works for IBM Corporation as an Information Designer. She collaborates with software designers to develop rhetorically effective product instructions for businesses who use IBM software. As she explained, "I love being the connection between consumers and developers because it allows me to work with many different people who all possess extremely unique passions and skillsets."
As an undergraduate, Emily worked as a consultant and researcher for the Howe Center for Writing Excellence, which ultimately led to the realization that she wanted to pursue writing. She changed her major several times and ultimately knew writing was the best path for her because she could combine it with her other passion – technology.
Emily says she often draws on skills she learned in ENG/IMS 416 Writing for Global Audiences because it "taught the importance of being aware and sensitive to the way people from other cultures both perceive and convey information."
Her best advice to students pursuing internships or careers within the Professional Writing program is to take advantage of every opportunity that Miami as to offer, including pursuing a second major or minor in another area of interest that compliments your Professional Writing degree and that helps expand your career possibilities.  
Interviewed September 2016