Celebrating 50 years of Environmental Stewardship
September 13-15, 2019
Join us to meet with fellow alum, former and current faculty, and current students as we remember our accomplishments and look ahead to our future.
Welcome from the Director
"I am thrilled to announce that IES will be celebrating its 50th anniversary in 2019! We celebrate 50 years of interdisciplinary problem solving and training students to make a difference in the world as environmental professionals. Our Master's program continues these traditions, and we are now growing in our undergraduate programs as well. As I have met more and more alumni over the past few years, I am filled with such pride in being part of an organization that has contributed so much to Miami, Oxford and the world."
- Jonathan Levy, IES Director
Weekend Highlights
We are planning a variety of events and excursions. This includes:
Keynote Speaker - Gina McCarthy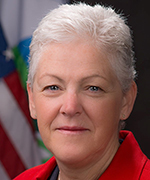 Gina McCarthy, former EPA administrator, will give the keynote address on Friday, September 13, 2019 at 5 pm in Wilks Theater, inside the Armstrong Student Center at Miami's Oxford campus. All members of the public, including students and professionals in environmental science, are invited to attend.
McCarthy was recently appointed a professor of the Practice of Public Health in the Department of Environmental Health at Harvard's T.H. Chan School of Public Health and granted a joint appointment at Harvard's Kennedy School of Government.