Admission
Undergraduate Admission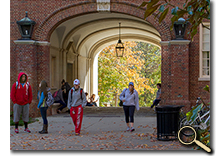 Miami University's admission requirements and procedures vary according to your status as an applicant. Please refer to the specific links below for more information, or visit Miami's main Admission website.
Graduate Admission
Students can apply to the Department of Biology Neuroscience graduate program. Applicants are encouraged to apply early to be considered for scholarships and awards in addition to a teaching or research assistantship. However, it is never too late to apply.
A completed application includes:
3 letters of recommendation
GRE scores
statement of research interests
official transcripts
In order to facilitate the admission process, applicants should identify 2-3 potential advisors, but must identify at least 1 potential advisor in their personal statement. Applicants are encouraged to contact potential advisor(s) for additional information regarding their research programs. Review of applications begins in early February.
For more information, visit Miami's Graduate School website.