Internships and Related Opportunities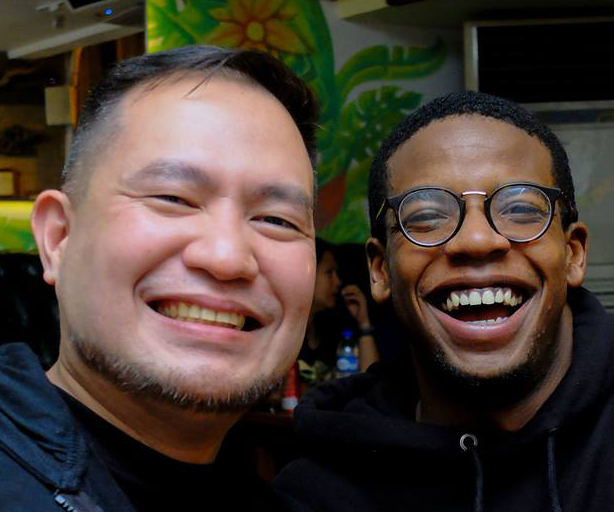 Myles McNeal (right) and friend
Students are encouraged to explore their interest in law by seeking out experiences that will broaden their exposure to the legal profession and community. Students should visit the Henry Pre-Law Center, as well as the Career Center to learn more.
"The work experience for White & Case was awesome. We had such a good time working that it almost did not feel like work but rather fun."

"I believe the trip was well organized. I felt that throughout the trip I was always led in the right direction. I rarely felt lost while I was there. They had our schedules laid out in a way where they were streamlined yet could react to a change if it were to come up. My instructors were awesome."

- Myles McNeal

Some pre-law opportunities include:
Council on Legal Education Opportunity
The Council on Legal Education Opportunity (CLEO), a non-profit project of the American Bar Association, offers a College Scholars Program aimed to identify, motivate and prepare students for a career in the legal profession. The College Scholars program is designed to help low-income, minority and otherwise disadvantaged students become competitive law school applicants through various seminars throughout different parts of the country.
Inside Washington
The Inside Washington program gives students the opportunity to meet the movers and shakers of Washington D.C. and intern in an environment only the nation's capital can provide. The program focuses on topics in Political Science, Communications, and Journalism.
Professional Institute for Management Education (PRIME)
Miami's Professional Institute for Management Education is a 4-week, in-residence summer program designed to introduce non-business majors to fundamental concepts in business. Taught by faculty in the nationally-ranked Farmer School of Business, PRIME students will develop an integrated knowledge of how business works, strengthen their networking and career search skills, and apply these new skills while working on a project for a business client.
Sidley Prelaw Scholars
The Sidley Prelaw Scholars Program is designed to increase diversity in law schools and within the legal profession by helping racially diverse, high-performing college students offset the high costs of LSAT preparation classes and admissions applications. Components of the program include:
coaching on how to complete a successful law school application
scholarship assistance for the senior year of college
pre-law school seminar instruction on the structure of the American legal system, as well as an introduction to the substance of the required common law first-year courses
White & Case/DSM Manila Pre-Law Internship
White & Case and DSM Manila, a subsidiary of White & Case, an international law firm based in New York City with offices worldwide, selects two Miami pre-law juniors every summer for a 7-week paid internship. Students spend a few days in White & Case's NYC office for an orientation, then travel to DSM Manila where they learn what happens behind the scenes of a large, global law firm by rotating through the firm's following business support departments:
Conflicts and New Business Department
Finance Department
Marketing Department or Knowledge Department
Application information will be posted in January each year. Students should contact the Henry Pre-Law Center for additional information.