Thank You to All Who Joined Us for Arts Day 2018!
(Can't wait for Arts Day 2019? Set up a visit at your convenience!)
---
Are you interested in majoring in the arts in college? Are you wondering how to put together a portfolio, or prepare for an audition? Are you thinking about what high school courses will ready you to major in the arts?
Come to Arts Day on Saturday, September 22, 2018
Students in grades 10-12, their parents and Creative Arts teachers are invited to a day of arts exploration. Join faculty, staff, and students in Architecture+Interior Design, Art, Arts Management, Fashion, Interactive Media Studies, and Theatre, in a day dedicated to helping you learn more about opportunities in the Arts at Miami.
If you are interested in Music, please visit Music@Miami to learn more and to register.
By visiting with us on Arts Day, you'll find answers to questions such as:
Why do I need a portfolio?
What makes a good portfolio for admission entry into the Art, Communication Design or Architecture+Interior Design programs?
What exactly is an audition/interview for the Theatre program?
How do I find an arts-related internship at Miami University?
What do Miami's creative arts graduates do after college?
Information about Admissions and Financial Assistance will also be available.
Arts Day is a fun and creative way to forward your quest for knowledge as you prepare for college.
The College of Creative Arts
The College of Creative Arts
Interested in music as a major?
Interested in music as a major?
College of Creative Arts areas and highlights from past Arts Day events
The College of Creative Arts
video
Interested in music as a major?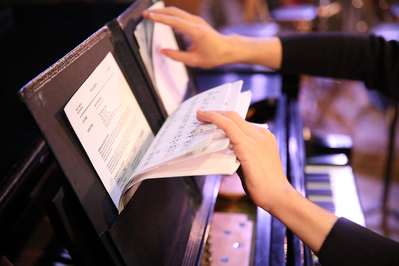 Visit us for Music@Miami Days »
Wed., Sept. 19 | Instrumental focus
Tues., Oct. 2 | Choral/Vocal focus
Students have an opportunity to meet Miami faculty and students, hear performances, attend rehearsals and classes, and tour the facilities.
Save