The Office of Equity and Equal Opportunity (OEEO) ensures that Miami University provides an equitable environment for students, faculty, and staff. This will be achieved with compassion, understanding, and fairness to all parties involved and act as a resource for all members of the university community.
Miami Recognized for Commitment to Diversity and Inclusion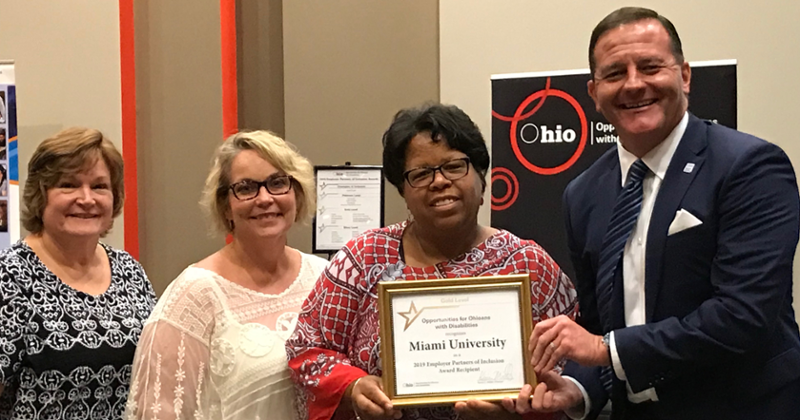 Miami representatives Denise Ison, Mary Jane Leveline, and Theresa Murphy with Kevin Miller, Director of the Opportunities for Ohioans with Disabilities Agency
Miami University has been awarded an Opportunities for Ohioans with Disabilities (OOD) Employer Partners of Inclusion Gold Award for 2019. These awards are given to OOD Employer Partners to recognize their commitment to the inclusion of individuals with disabilities in the workplace, and for being a leader of diversity and inclusion best practices in Ohio. The award honors employers who have hired at least five OOD job seekers in the one-year evaluation period, and have also met specific criteria that demonstrates their level of diversity and inclusion practices.
Visit OOD Employer Partners of Inclusion Awards for information about the awards and the list of winners.
Defining Our Culture
Defining Our Culture