Entrepreneurship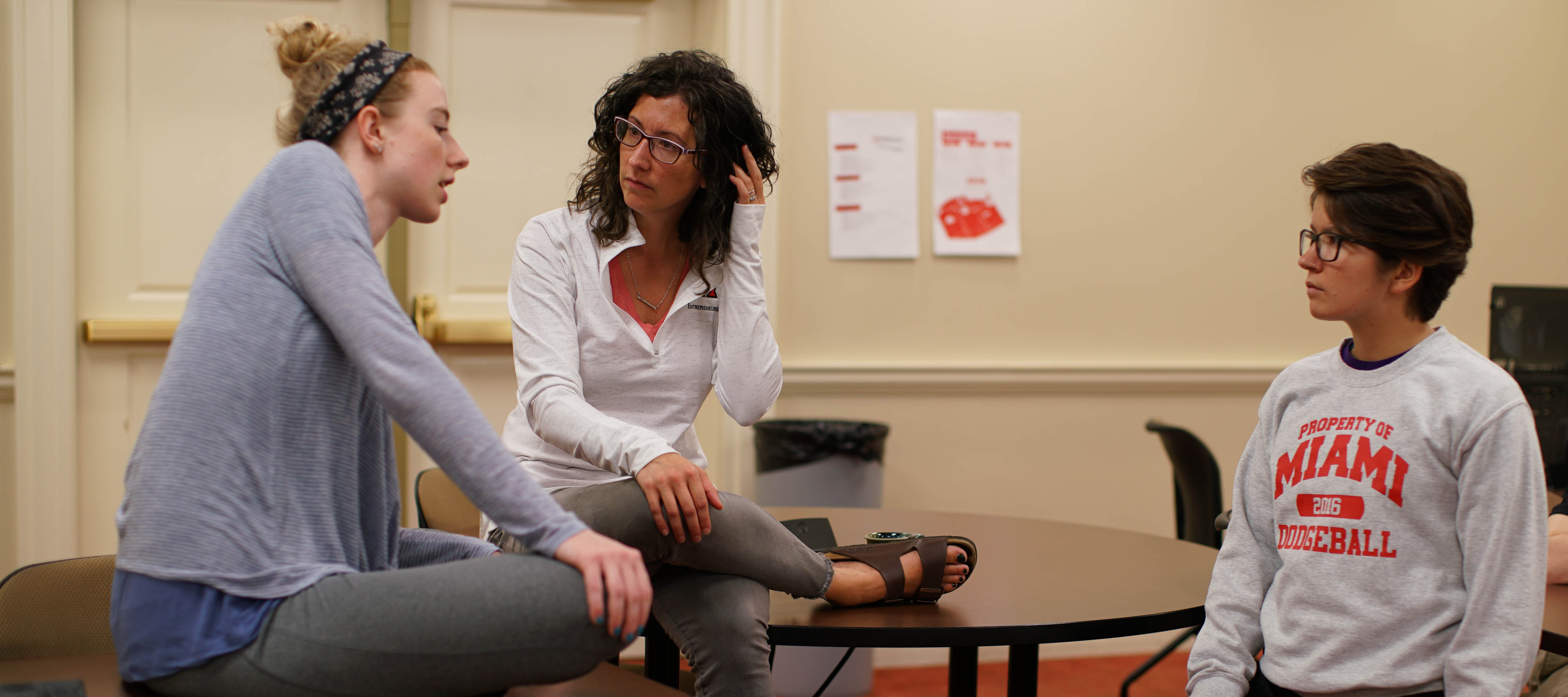 Entrepreneurs-in-Residence (EiR) Program
Miami University's The John W. Altman Institute for Entrepreneurship established the Entrepreneurs-in-Residence (EiR)
program to provide entrepreneurial mentorship, coaching, and support to Miami students, faculty, staff,
and alumni. Miami University EiRs include founders with experience in launching and running high
growth companies; investors that understand angel, venture capital, and private equity investment;
attorneys with experience in seed and early-stage investing; and other key members of the
entrepreneurial ecosystem to advise students, faculty, staff, and alumni with an interest in:
launching and/or scaling companies
developing and/or commercializing new technologies
a career in venture investing during each academic year.
EiRs schedule residency office hours 4 to 5 times per semester for 3 to 4 hours and hold one-on-one meetings with students, faculty/staff, and alumni, guest lecture on relevant topics in entrepreneurship across campus,
help facilitate The John W. Altman Institute for Entrepreneurship co-curricular programs, and work with faculty on
research and course development.
2018-2019 EiRs
John McIlwraith
POSITION: Co-Founder and Managing Director at Allos Ventures and Founding Board Chair at VentureOhio
FOCUS: Entrepreneurship, Startup and High Growth Strategy, Venture Capital, and Early and Growth Stage Funding,
John McIlwraith co-founded Allos Ventures in 2010 to focus on investments in early-stage technology companies based in the Midwest. Since then, Allos has invested in 23 high growth companies and has earned a reputation as one of the leading venture capital firms in the region.  
John started his career as a corporate lawyer with Jones Day, where he co-founded the Private Ventures Group to serve the needs of entrepreneurs and venture capital investors. After several years of representing VC firms and early-stage technology companies, he joined publicly-traded Quantum Health Resources, a provider of drugs and related therapies to individuals with rare, chronic diseases, as SVP of strategic planning and general counsel.  After leading Quantum's sale to Olsten Health Services in 1997, John joined Blue Chip Venture Company, an early-stage venture firm based in Cincinnati.
John holds a bachelor's degree in Business Administration from Hillsdale College and Juris Doctorate (JD) from Case Western University. His investment experience includes software, business service, consumer product and healthcare companies such as Cincinnati-based Assurex Health, where he served as chairman of the board.  During his career, he has been involved in over 50 venture capital investments and served on over 20 boards of directors. John has been involved in a variety of early-stage venture initiatives throughout the Midwest. He was a founding member of the Michigan Venture Capital Association board of directors; was the founding chairman of VentureOhio; and is a founding board member of OCEAN Accelerator.  John is also a member of the board of directors of publicly-traded Meridian Bioscience, a Cincinnati-based provider of innovative diagnostic tests and related technologies.
Rod Robinson
Position: Founder and CEO at ConnXus and Board Member at The Techstars Foundation
Focus: Entrepreneurship, Startup, and High Growth Strategy
Rod Robinson is the founder and CEO of ConnXus, Inc., a supplier data management software
company that enables Global 2000 companies to discover new suppliers, manage supplier
diversity tracking, supplier risk, compliance and reporting. ConnXus' cloud-based platform
provides powerful tools and analytics that enable large companies to validate, quantify and
measure the diversity within corporate supply chains.
Since starting the company, Rod has led the company through successfully raising $12 million
in venture capital, 100%+ annual revenue growth, a database of over one million diverse
suppliers and a growing list of global customers including American Express, Caesars
Entertainment, Coca-Cola, Cummins, Dell, Fifth Third Bank, McDonald's and Procter & Gamble. Rod currently serves on the Advisory Board of The Techstars Foundation and previously served as Chief
Procurement Officer at Cincinnati Bell.
Rod holds a bachelor's degree in accounting from the West Virginia University Institute of Technology and an MBA from the Wharton School at the University of Pennsylvania, where he was a Dun & Bradstreet fellowship recipient. Rod was recognized by Ernst & Young as a regional Entrepreneur of the Year finalist in 2012.
Theresa Sedlack
Position: Education Committee and past Board member at the Angel Capital Association (ACA), and past Venturing Program Manager at University of Notre Dame's Gigot Center for
Entrepreneurial Studies
Focus: Entrepreneurship, Startup, and Seed- and Early-stage Venture Funding
Theresa Sedlack is a member of the Education Committee and Past Board member at the Angel
Capital Association (ACA), which is an official industry alliance of over 100 of the largest angel
investor groups in the United States. Previously, she served as the Venturing Program Manager at
University of Notre Dame's Gigot Center for Entrepreneurial Studies and Adjunct Lecturer in Notre
Dame's MBA Program, where she designed and taught the Venture Capital Fundamentals course
for more than 10 years and coached student teams selected from this course in the VCIC.
Theresa holds a bachelor's degree in finance and an MBA from the Mendoza College of Business at the
University of Notre Dame.
David Willbrand
Position: Partner and Chair, Emerging Company Practice at Thompson Hine LLP
Focus: Venture Capital, Early and Growth Stage Funding, Technology Transfer, Corporate
Governance, Mergers and Acquisitions
David is Partner and Chair, Early Stage and Emerging Company Practice, at Thompson Hine LLP, a
full-service law firm established in 1911 with approximately 400 lawyers in Atlanta, Chicago,
Cincinnati, Cleveland, Columbus, Dayton, New York, and Washington D.C. David focuses his practice
on working with entrepreneurs and emerging companies, accelerators and incubators, early stage
investors and venture capital funds, and research institutions and BigCo corporate innovation
teams.
Prior to joining Thompson Hine, David worked in the technology industry, holding the dual role of
CFO and General Counsel at a series of venture-backed companies.
David holds a bachelor's degree in history from Harvard University and a JD from the University of
Cincinnati, where he was Valedictorian and Editor-in-Chief of the University of Cincinnati Law
Review.
David has been recognized every year by The Best Lawyers in America in the area of Venture Capital
Law from 2007-2018, and has twice been named "Lawyer of the Year" (2014 and 2017).
David lectures frequently at the undergraduate level, and he is an adjunct faculty member at the
University of Cincinnati College of Law, where he previously taught a course on Business
Associations and now teaches a course on Startups, Venture Capital & Private Equity.