7-17-20 Message to Community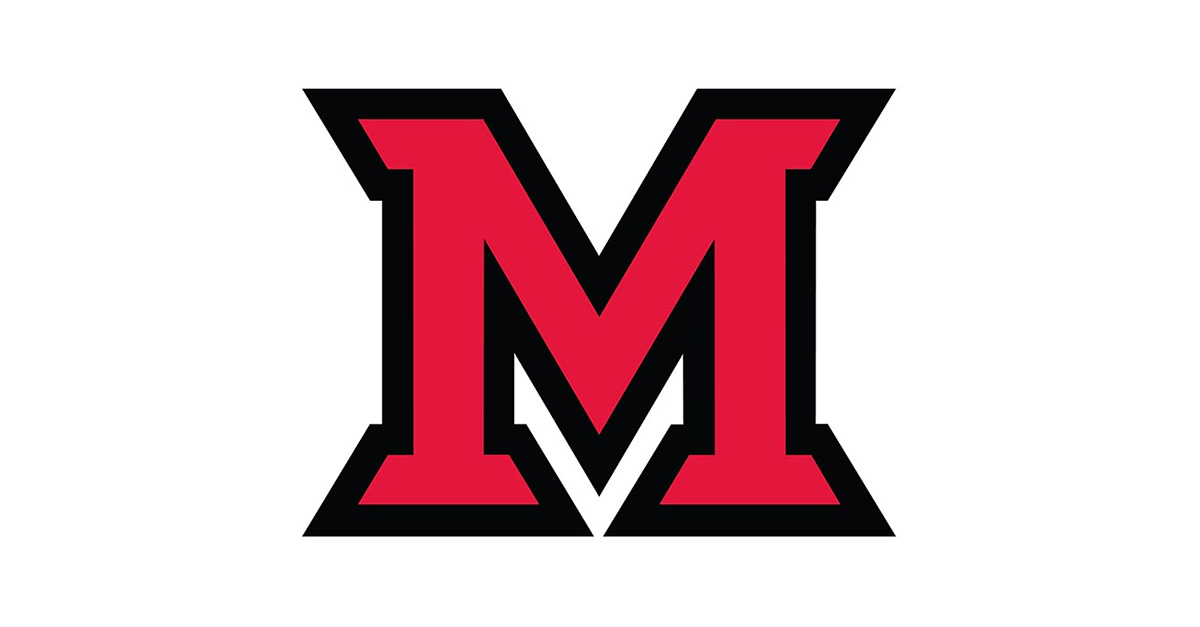 Jul 17, 2020
Colleagues,

For a Friday bit of "good news", we can celebrate yet another important way that our Myaamia Center is helping share information about the Miami Tribe with students throughout Ohio:
Starting this fall, the two Myaamia culture and imagery lessons will become part of the K-12 Ohio as America curriculum. The Ohio as America resource, provided by the Ohio History Connection, was used by more than 20,000 students in 91 school districts last year. Private and parochial schools, as well as home-school educators, also use it, said Carla Mello, department manager of school and teacher support for the Columbus-based Ohio History Connection.

"Our partnership with the Myaamia Center and Miami University has been a vital step into creating educational content that provides the perspectives of communities and cultures that have been historically marginalized by traditional textbooks and resources," Mello said.
I personally would like to see more courses offered as part of our Global Miami Plan that accomplishes the same goal with our Miami University students. Congratulations to our valued partners within the Myaamia Center.

We have other good news - Jaime Hunt will be joining Miami University as our Vice President for University Communications and Marketing. I have been very impressed with Jamie and I know she will be a transformative leader for Miami. I am sure Academic Affairs will give her a warm Miami welcome as she transitions to her new role.

Some other news you may be interested in:
COVID-19 updates
Fall Semester Updates
Diversity, Equity, and Inclusion Updates
Some quick updates on COVID-19
Some athletic conferences are announcing dramatic changes for fall sports with some playing only within their conference to limit travel and risk of exposure, while others are acknowledging the tremendous challenge of playing sports while a highly contagious virus with potentially lethal consequences freely circulates. We have not yet announced any changes nor has our MAC conference, but as more conferences make decisions, it will almost certainly impact us and we update everyone as we have more information share. In this same article, there are some announcements from colleges now realizing that the COVID-19 infection rate will quickly outstrip their ability to care for students, faculty, and staff, and are rolling back plans to open on campus for fall. So far, they are primarily in areas facing a spike in cases, or where they draw significant numbers of students from "hot spots." Some extremely prominent universities, like Harvard, Georgetown, and USC have already announced their fall will be almost fully online. Now, Emory has joined them, and understandably so given what Atlanta and Georgia is facing. Rest assured that our Return to Campus teams are watching all of these trends very carefully.
Please keep our colleagues around the country in your thoughts as they and their institutions continue to wrestle with the profound impact COVID-19 is having on them, their institutions, and the budgets. Our colleagues at Akron are the latest to make headlines, but as we have discussed in recent messages to our campus, institutions around the country are facing similar issues.
Fall is going to look different with everyone wearing masks… 

While there continues to be positive news in the development of vaccines and treatment research, it is very unfortunate that many people throughout the US and in our communities continue to resist the one thing that can make a meaningful difference and can save lives:  social distancing and mask-wearing. Many countries have returned to much more normal conditions while also limiting infection rates. We have chosen to return to normal without controlling our infection rate such as Florida, Arizona, Orange County (CA) School Board, Wilson County TN school board, and we should probably also look at Ohio, which still does not mandate face masks statewide, or actively discourages attempts at controlling it, e.g. our federal government, Georgia, Illinois, etc. I grieve for all the needlessly lost lives and for those permanently impacted by the effects of this disease.
The Miami Student reports that the Oxford City Council unanimously voted Tuesday to mandate face coverings in public. The ordinance was labeled as an emergency, which puts the mandate in effect as soon as possible. The decision occurred during a virtual special city council meeting and requires masks in any public space in the City of Oxford. Violators are subject to a $100 fine, which will be enforced by the Oxford Police Department (OPD). Businesses will not be allowed to enter into transactions with anyone without a mask, and those who refuse to wear a mask could be charged. Employees who interact with the public must also wear a face mask. "Our plan is to only enforce this for the most egregious offenders," Doug Elliott, the city manager said. Elliott said if a business refuses to post signage mandating a mask or if customers refuse to wear a mask, he asks that the OPD is called to enforce the mandate. Customers who refuse to wear a mask may be charged with criminal trespassing. "We're going to do our very best to educate the public in how important this is," Elliott said.
Scientists are beginning to understand the complex immune responses we mount and maintain for viruses, including COVID-19.

Fall Semester Updates
MUDEC is expected to welcome around 60 students, domestic and international for fall 2020. Juan Carlos and Elena Alberron are the Oxford-based faculty who will be there for 2020-21. Cheryl Young will also be spending fall semester there working with our new Executive Director Raymond Manes, and Jim Shiveley will be there for a few weeks to continue his work on curriculum. The European Union, while not opening to all US travelers, determined that study abroad students and faculty from outside the EU is essential, and we were also granted essential status from the Grand Duchy of Luxembourg.
The Liberal Education Committee has been working for the past year to develop bold new directions for our Global Miami Plan. You can see what they are considering and provide input here.
Our incoming dean of the College of Engineering and Computing, Beena Sukumaran, has confirmed her arrival from New Jersey and is busy unpacking and settling into her temporary home in Oxford. Our new Dean of the Farmer School of Business, Jenny Darroch, already on the the job for two weeks,  is currently in the process of moving across the country from her home in California to settle in Oxford. She shares, "When I made the decision to join the Farmer School of Business at Miami University, I knew that I was joining a community that placed the student experience, and ultimately student success, at the heart of every decision it makes. Without question, we are guided by these core values as we face decisions on how to safely return to campus in fall or how to adjust budgets to accommodate the economic uncertainty in front of us. What has impressed me the most is how faculty and staff have worked together for the common good at a time when uncertainty of this magnitude places considerable stress on individuals and the organization as a whole. I remain incredibly confident about our future. COVID-19 has forced us to question many core assumptions we hold about how we live our lives and so I do hope that changes for good what comes from the Covid-19 darkness. I am also extremely confident about the future of the Farmer School of Business. Our graduates go on to do great things – for example, many are partners in accounting firms, CEOs of large well-known companies, entrepreneurs of successful businesses that go public. Above all, our graduates demonstrate the virtues of a liberal arts education and are deeply engaged in the communities of which they are part of. As business leaders, our alumni pay attention to what they do to and for society. As I move into my third week on the job, I am proud of all the Farmer School has achieved so far and excited to help the School and Miami University write its next chapter in what has already been an impressive journey. "
We continue to plan on courses beginning on August 17th, with no fall break, a full week off for the Thanksgiving holiday, with reading days and finals after Thanksgiving. Week of Thanksgiving remains off so our students have time to move home. One change is that more students are requesting the option of being allowed to opt in to all remote or online classes for fall. We are going to support this for students who desire it. Students may choose to have an all remote or online semester by selecting a semester of all online and/or hybrid courses that can accommodate their needs. However, it will also be made clear that not all classes will be available online or can accommodate a fully remote semester-long experience. If you are teaching a hybrid course, and it would be possible for students to be fully remote in every class, that is fine. If your plans for the fall would not allow that, you are not expected to change anything you plan to do.
Because there is such confusion from parents and students about hybrid courses, we ask that faculty teaching hybrid courses send a brief statement to their students describing how they are planning for the fall semester, i.e., how will the class still be Miami quality even though it is hybrid.
Given the desires of some students to remain fully remote/online, if you are teaching a hybrid class that would NOT be appropriate for fully remote participation throughout the semester, it would be a good idea to include this information in the ADDITIONAL NOTES section of your course, e.g., "Not appropriate for fully remote participation." Your departmental course scheduling experts can assist with this.
ZOOM is coming! Zoom is coming! We are pleased to announce that soon Miami will be adding an additional tool to our video conferencing toolbox. An enterprise version of Zoom will be available within the next couple of weeks to all current Miami faculty, staff, and students. Standard Users can host up to 300 attendees, at any given time, fifty users will be able to host up to 500, and two users will be able to host up to 1000. We will update the community when it is ready for active use. Changes are also on the horizon for Miami's current video conferencing tools, Webex and Google Meet.   
We are seriously considering some large outdoor classrooms like Rice University is implementing.

Updates on Diversity, Equity, and Inclusion Efforts
We continue to discuss what our journey of allyship looks like, as individuals and as an institution. We recognize that we must start where we are, in the culture we live in, meeting the members of our community where they are. We cannot control the behaviors of those who seek to spread discord and hate or who act out of ignorance, but we can control how we react to these inevitable behaviors. We must have expectations that acknowledge that all of us are at different points on our journeys, and that changing culture is not easy, nor does it happen quickly. But it can happen, and we are committed to doing what we can to enable continual improvement and change at Miami. Progress is fragile and can quickly unravel, as many of us have discovered to our chagrin, watching decades of effort and apparent progress roll back in just a few years. I encourage members of our campus community to continue working toward change rather than abandoning and publicly rejecting these efforts if immediate results are not observed.

President Crawford has directed that a $1M Diversity, Equity, and Inclusion fund be set up, built on the foundation of a very generous gift from a donor to drive DE&I efforts. The leaders of the Presidential Task Force on Diversity, Equity, and Inclusion, Dr. Anthony James and Vicka Bell-Robinson, and I will provide more information next week on how these funds will be used towards meaningful improvements in this important area. We also are working on other focused DE&I efforts:  
Curriculum Subgroup of AAO DE&I Committee: this subgroup has been formed to focus on developing recommendations relating to the University's curriculum. Members include Pepper Stetler, Helane Androne, Carolyn Haynes, Madelyn Detloff, and Denise Taliaferro Baszile. Tentative recommendations under development include: (1) creating a means of providing ongoing faculty development and resources that support teaching and learning advancing DE&I outcomes and principles; (2) aligning the current Global Miami Plan and new liberal education plan with the DE&I requirement and outcomes being developed by the Ohio Department of Higher Education; (3) developing a departmental and interdepartmental grant opportunity for curricular revisions that promote DE&I outcomes and principles; (4) securing additional support (e.g., faculty fellows and transportation) to advance service-learning; (5) aligning the new One Year/One Theme Program (which will replace the Summer Reading Program beginning fall 2021) with DE&I goals and principles; and (6) ensuring that the new Honors College and Prodesse Scholars courses advance DE&I principles and goals. Please send suggestions to Carolyn Haynes, haynesca@miamioh.edu.
A Faculty subgroup and Senate will be working together to ensure we are looking at ways we can continue to support faculty experiencing challenges due to COVID-19. As higher education experiences profound upheaval, colleges, and universities need to double down on their efforts to better support faculty and their professional development, write Andrew Rosen and Jaime Lester. Jennifer Green, our incoming Senate Executive Committee chair-elect and Clinical Professor of Psychology will be working with Dana Cox, our outgoing Chair of Senate Executive Committee and Special Assistant to the Provost for Faculty Affairs to look at policies, opportunities, promising practices, peer institutions, and scholarship in this area to propose concrete steps we can take. We know from the work of Adrianna Kezar and other scholars that the pandemic has impacted some faculty far more severely than others, and we want to ensure we can do what we can to ameliorate these effects. Further, we know that women faculty and faculty from minoritized groups tend to have significantly more negative student evaluations, fewer opportunities to move into administration, perform more invisible service, and often experience uneven promotion outcomes. We are discussing ways to address this, in addition to implementing more culturally responsive mentoring, leadership and professional development, and hiring and promotion practices.
A Student-focused subgroup continues to work on initiatives that can improve outcomes and the campus environment for students with minoritized identities. Amongst the initiatives we are discussing includes an expanded, university-wide, culturally responsive professional advising team, and revisions to the Global Miami Plan that will emphasize courses that have a primary focus on racism, colonialism, subjugation of other cultures, privilege, and similar topics of particular relevance. I personally have been hoping we can also expand course offerings that emphasize not only our commitment to anti-racism, but also our important relationship with the Miami Tribe of Oklahoma, and the history of Native Americans and First Nations peoples.
Graduate students face unique challenges and our Graduate School, with the leadership of our new Dean Michael Crowder, continues discussions in this area in an effort to prioritize actions that can make an impact on graduate education. While I served as Dean of the Graduate School at Clemson, we implemented several initiatives in this area, including culturally responsive professional development and mentoring for graduate students. I am hopeful that we can mount a campus-wide effort that can benefit faculty, staff, graduate students, and undergraduate students. We will update you on these discussions as they focus on near-term actions.
The City of Oxford passed an ordinance banning chokeholds by police officers in the City of Oxford. The ordinance also required officers to take reasonable steps to intervene when they see other officers using unauthorized or excessive use of force. I celebrate this tangible signal to our community that our partners in the City of Oxford are working to support these efforts.

Strategic Initiatives
The Boldly Creative Strategic Academic Initiative is continuing to make progress. Project leaders from Round 1 have submitted annual reports and requests for support for the upcoming year, and the deans have completed their reviews of the reports. Letters to project leaders will be sent in the coming week. The academic deans are also now reviewing full proposals for Round 2 and 3 and will be announcing their decisions by the end of July. You can learn more via the Boldly Creative website which will be updated as new developments occur.
The Academic Program Enhancement, Improvement, and Prioritization (APEIP) Project, led by Distinguished University Professor Stacey Lowery Bretz, is well underway. In consultation with the APEIP Steering Committee and the Office of the Provost, data managers in each academic division have created data workbooks for each academic department. Using these workbooks and their understanding of the programs, academic deans in consultation with department chairs are developing preliminary ratings and tentative objectives for improvement for each academic program within the departments. See below for a summary of the preliminary ratings across all divisions. Departments will use these ratings and objectives to craft their curricular action plans in the fall semester. Dr. Bretz has assembled a team of consultants which department chairs can use to assist with: interpreting data relating to their academic programs; generating possible ideas for curricular action plans; or communicating with faculty about the APEIP process. Please call on this team of experts to help your program use the extensive data we have available to improve your offerings or generate new ideas.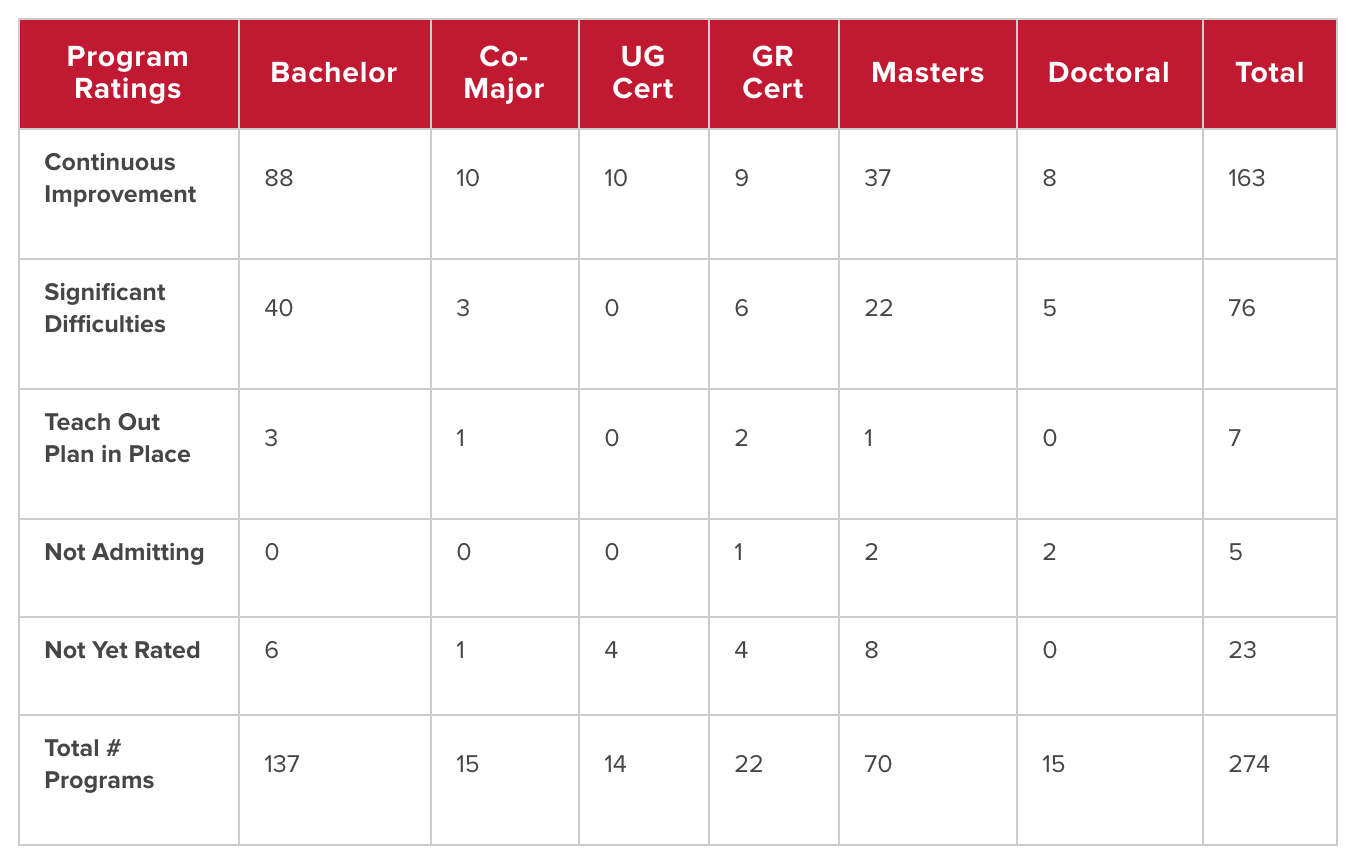 Finally, as we move into the weekend, those of you who have pets know that they can be a tremendous comfort during these trying times (or a headache during those video conference meetings). Our resident expert, Allen McConnell, Chair of the Psychology Department, recently shared his scholarship in this area. Be sure to check it out. Unfortunately, the Provost's Special Assistant for Feline Affairs, Watson, is pretty useless except as a doorstop, but we both send you warm wishes for a good weekend!

Many Thanks,
Jason Osborne