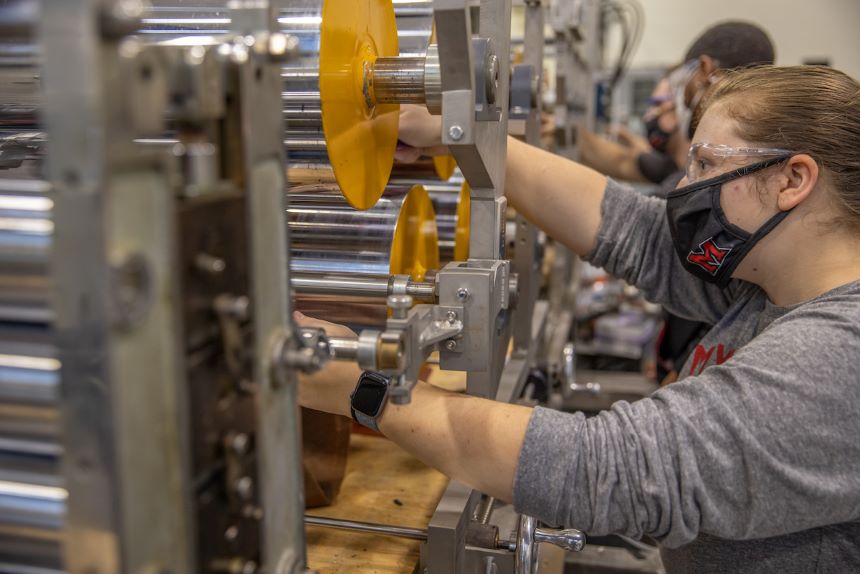 Biomedical Engineering B.S. Engineering
Student has earned at least 10 semester hours of AP or college or transfer credits in Chemistry and Math.
Advanced Writing requirement is met through ENG 313.
The student takes courses during every Summer Term.
Thematic sequence (CHM2) is met through major requirements.
*Choose CPB 326, CPB 415, CPB 416, or CPB 426. (Although CHM 242/CHM 245 is listed as an Option 3 Elective, it cannot be taken if credit received for CHM 231/231L as shown in this sample curriculum).
**Choose from among CHM 332/332L, BIO 342, CHM 432, CSE 456, PHY 421, or PHY 422 for Bioscience Elective Course.
Notes
This plan makes several assumptions and should NOT be construed as a substitute for academic advising.
All requirements are subject to change.
Students must complete all requirements in order to graduate.
Key
BIO = Biology
CEC = College of Engineering and Computing
CHM = Chemistry
CPB = Chemical, Paper and Biomedical Engineering
ENG = English
GMP = Global Miami Plan
MBI = Microbiology
MTH = Mathematics
PHY = Physics
STA = Statistics