Accessible Programming Guide
Accessibility is important when planning an event because it helps to ensure that everyone can participate and fully enjoy the event. By considering the needs of all attendees and making accommodations, organizers can create an inclusive and welcoming environment for everyone.
Why Accessibility Matters
Recognizing that attendees may have diverse access needs is crucial. Not all disabilities are apparent, so you may not know that someone with a disability will attend your event. When there are barriers to participation, it can make attendees feel unwelcome and less likely to return or recommend this event to a friend or colleague. By considering accessibility at your event from the planning stage you allow attendees to feel included and invited to the space.
Before Your Event
Early Planning Considerations
When possible, include people with disabilities in the event planning process. For specific event questions, you may contact the Miller Center.
Important considerations to minimize barriers: length of event/sessions, integrating breaks, availability of accessible transportation, size and function of venue space, and dietary options. 
In the spirit of inclusive scheduling, be considerate of any religious observances.
Accessible Marketing
Your event's advertisement creates an important first impression. It is important that your marketing strategy is inclusive and considerate of all audiences.
A good advertisement should inform attendees of the 5 W's: who is the event for, what is the purpose of the event, when and how long is the event, where is the event located, and why they should attend. Below are a few points to demonstrate your commitment to access in your event marketing:
Create accessible materials such as digital marketing with alternative text for images, appropriate document heading structures, captions on media, etc. Learn more from the AccessMU Center.
Ensure any required registration is accessible. 
List accommodations available without request (e.g., interpreting, captioning, accessible seating, etc). 
Include an access statement. Depending on the scale and reach of your event, the Miami access statement or the abbreviated statement may be appropriate. 


Miami Access Statement: Miami University is committed to providing an inclusive and equitable event experience. If you need disability related accommodations  (e.g. interpreter, captioning, materials in an accessible format) to facilitate full participation please contact the Miller Center by phone at 513-529-1541, Ohio Relay 711 or SDS@MiamiOH.edu at least three business days prior to the event.
Abbreviated Access Statement: If you have questions, need accommodations, or want to RSVP, please contact (name) at (email or phone).

Be mindful of inclusive disability language. 
Event Accessibility Coordinator Role
Designate an Event Access Coordinator as a part of the planning team for the event or meeting.
Be knowledgeable about all aspects of the event. The event planner should be prepared to field all event-related inquiries, including questions about access.
Have a mechanism to receive and track all access requests from participants.
Coordinate with appropriate parties such as the Miller Center, AccessMU Center, Dining Services, and the venue to facilitate accommodation implementation.
Be sure that everyone involved is aware of accommodation arrangements.
Identify assistants who will be available to help with access-related tasks.
Coordinate all materials for accessible distribution several days in advance.
Request interpreting and captioning at least two weeks in advance.
Venue
Conduct an early site visit to clarify accessibility and what may require additional planning related to:
Entrances (including ramp access) and elevators
Restrooms (accessible, all-gender, and transfer table availability)
A refrigerator and microwave for those bringing food
Sufficient accessible parking and transportation
Voice Amplification (microphones, listening devices, speakers)
Temperature control and lighting considerations
Quiet spaces
Ensure space is large enough
Plan for wheelchair-accessible seating and paths throughout the space.
Provide a variety of seating options
Physical Accessibility
All physical space used for the conference can be used by everybody. This includes hotels, elevators, and conference rooms. Examples of physical accessibility include:
Signs with braille that say the names of buildings, room numbers, and where accessible entrances and elevators are
Main entrances have wheelchair accessible ramps
Working and clearly marked entrance door buttons
Wide doors and hallways for wheelchair users
Clear paths in and around your venue for blind people and wheelchair users
Accessible elevators that work
Sensory Accessibility
Recognizing there may be multiple different sensory inputs at an event, it is important to consider various sensory access needs.
Examples of hearing, visual, and tactile (sense of touch) accommodations:


Image descriptions for presentations and captioning for videos
Sound devices for hard-of-hearing attendees
Microphones
CART and ASL interpretation
Alternative formats: braille, digital, easy read (plain language with pictures), large print
Noise canceling ear muffs
Sensory free rooms

Examples of accommodations for chemical and light sensitivities:

Fragrance free policies
Noise canceling ear muffs
Sensory free rooms
Working air conditioning
Allow people to move around, stim, pace, or use alternative seating styles.
Cognitive Accessibility
Everyone who comes to the event should be made aware of what to expect. Here are some items to share:


What the event is about
The schedule
Where the event is
What accommodations are available

Examples of cognitive accessibility considerations include:


Detailed schedules
Make a schedule for your event available on your website or in emails
Send easily consumable information and schedules to people in advance of your event
During Your Event
Early Planning Considerations
Provide an overview of the program. Attendees should understand what to expect throughout the program.
Provide directions and post accessible directional signage as needed.
Use an accessible check-in process (e.g. consider table height, amount of noise, number of staff, flow of people, etc.).
Set up clear and spacious paths outside and inside the venue.
Ensure seating arrangement allows for various access needs. Leave open seating spaces for attendees with mobility devices throughout the seating layout.
Communicate with all staff about accessibility plans.
Accessibility Announcement
Introduce the Event Accessibility Coordinator. See "Before Your Event" section.
Give clear directions to accessible and all-gender bathrooms.
Ask all participants to say their names before speaking.
Invite participants to take breaks for self-care and interact in ways that best fit their needs.
Invite people with dietary requests to get their food first.
Identify quiet spaces for breaks.
After Your Event
Post Event Follow-Up
Distribute promised materials and/or post them online in an accessible format.
Send accessible thank you notes and evaluations.
Include questions and ask for feedback regarding accessibility and inclusion in post-event evaluation.
Presentation Accessibility
Event planners should share this information with presenters before the event so they can ensure their presentation and materials are accessible.
Using the S.P.E.L.L. Check
A helpful way to think about accessibility for presentations as well as various events and programs is through the use of the S.P.E.L.L. Check.
S: Senses- a good rule of thumb is "If it's visual, make it auditory. If it's auditory, make it visual."
P: Participation- if you have a movement-based activity, consider alternative ways individuals who are unable to do that specific movement could still participate.
E: Environment- make sure space is accessible and check sensory inputs that the space is not overwhelming.
L: Learning- consider incorporating Universal Design for Learning.
L: Language- take a moment at the beginning of your event to reiterate your commitment to creating an accessible experience for everyone.
Before You Present
Offer accessible materials/handouts (see "Before Your Event"). Include alternative text on all images and check the order each slide element will be read by a screen reader. Learn more about creating accessible digital files.
Choose an accessible format (e.g., Microsoft PowerPoint, Microsoft Word, HTML). Consider using the AccessMU CARES tool to convert documents into formats that are more useful for you or easier to work with.
Run the accessibility checker feature when available (e.g. Microsoft Accessibility Checker, Canvas UDOIT, or Ally).
If there are presentation slides, make sure your font is easy to read from the back of a room, minimum size 18 point sans serif font when possible.
Ensure you are using good color contrast. You can check the color contrast by using a contrast checker.
All media should be accurately captions.
If there are activities, plan for various access needs and how attendees may participate equally.
Provide CART and ASL interpreting as requested.
Distribute all materials digitally in advance to all attendees. Include an agenda indicating various access considerations (e.g. the amount of walking/physical activity). 
During Your Presentation
Speak slowly and clearly.
Always use a microphone. Repeat or rephrase audience questions with a microphone for all to hear.
Describe images and explain slide content.
Color alone should not be used to communicate meaning.
Captions should be enabled.
Use the chat feature for interactive web based events.
If you have additional questions regarding planning an accessible event, the Miller Center is available for consultation by emailing SDS@MiamiOH.edu.
This guide has been inspired by the work of the University of Arizona, University of Northern Colorado, and Rutgers University.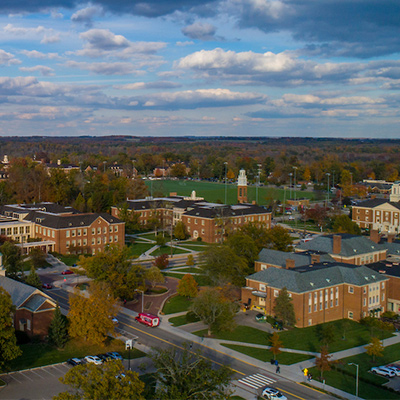 Contact Us
The Miller Center for Student Disability Services
304 Shriver Center
701 E. Spring St.
Oxford, OH 45056
sds@MiamiOH.edu
513-529-1541