If you are a student with a disability, you are not alone at Miami. We work with over 2600 students with disabilities throughout the university. Our goal is to support you in having an accessible experience in the classroom and on campus. We are committed to promoting equity and accessibility for all.
Whether you are a current, transfer, or prospective Miami student with a disability, Student Disability Services (SDS) is ready to partner in your academic success. We coordinate services and accommodations to foster an inclusive and accessible learning environment. Additionally, we connect students to support services throughout the university and support alumni in requesting accommodations for national exams.
SDS looks forward to working with you during your Miami experience!
I want to:
FAQs
Will my disability be considered in the admissions process at Miami?
Disability is a neutral factor in the admissions process at Miami University; it will neither help nor hurt you in getting admitted to Miami. In fact, Miami cannot legally ask about the presence of a disability prior to admission to the University. You are encouraged to plan a pre-admission visit to meet with the Admissions staff, as well as Student Disability Services (SDS) staff to make sure that Miami is the right fit for you. If you need a disability-related accommodation during the admission process, or to participate in a campus tour, please email the SDS office on the campus you are planning to attend.
Once I have been admitted to Miami, whom do I notify about my need for disability-related accommodations?
In order to formally receive accommodations, you need to affiliate with the SDS office on your campus.
You can contact Student Disability Services at:
Is there a deadline to request SDS services?
You may affiliate with SDS at anytime during the semester. However, accommodations are not retroactive. You are required to submit an application, verifying documentation, meet with an SDS staff member and formally request accommodations before services can begin. We strongly encourage you to request accommodations in advance of the need for them.
I want to take a national exam and need accommodations, how do I request my documentation?
Please send a detailed email to the SDS office on your campus. In this email, please include your name, Miami Unique ID, and indicate what exam you are taking. Your request will be reviewed and you will receive follow up to your Miami email account. Students may also request records or verification of accommodations for national exams. SDS maintains student records for seven years from the date of university withdrawal or graduation.
Will the accommodations of the high school IEP/504 Plans/Learning Plan that I had in high school be sufficient documentation?
SDS reviews verifying documentation as part of an interactive process to determine reasonable accommodations and student needs. You should submit documentation that meets current documentation guidelines. Your application and documentation will be reviewed by your assigned access coordinator. If submitted documentation is insufficient or additional information is needed, you will be notified by your assigned coordinator.
Are Miami campuses accessible for wheelchair users?
Yes. Miami's campuses are accessible for wheelchair users, and accessible campus transportation is available as well. Upon student request, SDS works with the Office of the University Registrar to ensure the most accessible classroom locations. Accessible on-campus housing options are also available for Oxford students.
Does SDS have any type of scholarships?
SDS does not coordinate scholarship application on behalf of students. However, we encourage you to learn more about available scholarship resources.
If I am returning from medical leave or academic suspension, how do I reinstate services?
Please contact the office as soon as you are re-enrolled in classes. Your services can be reactivated at anytime. We encourage you to meet with an SDS staff member to determine any additional services or accommodations necessary to support your academic success.  
I need to submit a financial aid or academic petition. How do I request a support letter from SDS?
Please contact your assigned access coordinator in the SDS office on your campus.
Do I need to re-affiliate with SDS if I relocate to another Miami campus?
Once you have affiliated with SDS, your affiliation carries across all of Miami campuses. All Miami SDS offices use the SAM: Students Accessing Miami portal. Please notify your current coordinator if you are relocating to another Miami campus so that a new coordinator can be assigned.
How do I transfer my services to another college or university?
If you are transferring to another university please contact the SDS office on your campus. We can provide you with a copy of your disability documentation and verifying information of your current accommodations. Universities and colleges throughout the United States are required to provide reasonable accommodations under the Americans with Disabilities Act as Amended and Section 504 of the Vocational Rehabilitation Act. You also have access to your accommodation information through your SAM Portal and are welcome to share this information. Learn more on our Requesting Records page.
Who do I contact if I feel I have been discriminated against due to my disability?
SDS works diligently to resolve conflicts in a timely and equitable manner. If you are experiencing concerns with your accommodations, we encourage you to contact us immediately. In most cases, resolution can be reached with support and advocacy from your assigned access coordinator.
As a student, you have the right to file a grievance if you feel you have experienced discrimination. For more information, please review the Miami University Student Disability Services Grievance Procedures. To report a grievance or report an accessibility barrier, please complete the Report an Accessibility Issue form.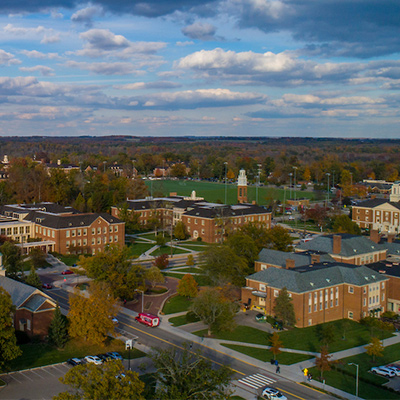 Contact Us
The Miller Center for Student Disability Services
304 Shriver Center
701 E. Spring St.
Oxford, OH 45056
sds@MiamiOH.edu
513-529-1541