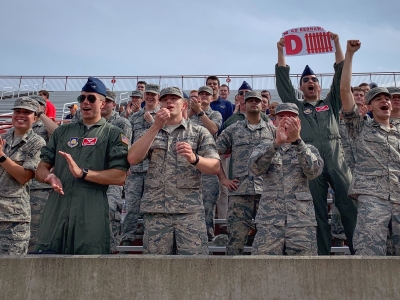 General Military Course
The first 2 years are called the General Military Course (GMC).
Freshmen learn about the heritage, values, and organizational structures of the Air Force and Space Force. Sophomores are introduced to the fundamentals of team building and leadership.
In addition, cadets attend a Leadership Laboratory (LLAB) that meets once per week for 2 hours. During LLAB you'll practice customs and courtesies, drill and ceremonies, and develop your leadership skills. You will also listen to guest speakers, participate in sports and physical fitness activities, and learn about areas of opportunity available to commissioned officers during LLAB.
The GMC will prepare you to compete for a slot in the Professional Officers Course (POC). Continuation beyond the sophomore year is not automatic and selection is based on merit. In addition, you must also successfully complete a 14-day Field Training (FT) course at Maxwell AFB, Montgomery, AL the summer prior to your junior year.