Air Force ROTC Detachment 640
The Air Force Reserve Officer Training Corps (AFROTC), in the College of Arts and Science at Miami University, recruits, educates, trains, and commissions officer candidates through a campus program to meet the needs of the world's greatest Air Force and Space Force. Browse our website and learn more about our outstanding detachment and what AFROTC can do for you.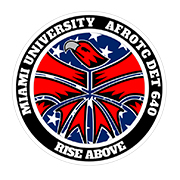 Air Force ROTC unofficially began with the passage of the Morrill Act (Land-Grant Act) in 1862, which established military training at land-grant colleges and universities. But the name "Reserve Officer Training Corps," or ROTC, was actually created by the passage of the National Defense Act in 1916.
In the 1920s, AFROTC began focusing on successful engineering schools to establish its programs. And by the 1950s, there were 188 AFROTC units with 145,000 cadets. Women began joining Air Force ROTC nationally in 1970. And in 1987, the scholarship program for high school seniors began.
Our unit has a history of producing outstanding officers for the US Air Force for over 70 years! ROTC began at Miami University following WWII, and has produced leaders such as the former Vice Chairman of the Joint Chiefs of Staff, the Supreme Allied Commander of NATO, and the first African American professor at Miami University. The Air Force is looking for qualified and motivated young people to train for tomorrow's leadership, and the opportunities have never been better.
If you are a student or the parent of a student who is already a member of our program, congratulations. You have made a wise decision. If you or someone you know is interested in serving our country as a commissioned officer, please contact us.
Mission
Vision
Region's premier officer training corps - next generation of leaders serving with Love & Honor
Detachment Priorities
Encourage and facilitate cadre and cadet professional development opportunities and promote a life-long learning environment
Preserve and celebrate the heritage, history, customs, and achievements of the USAF, USSF, AFROTC & Detachment 640
Foster an environment where innovation and efficiency is normalized through continuous process improvement initiatives
Thank you for visiting the website of AFROTC Detachment 640 at Miami University in Oxford, Ohio. Our superb cadre members take great pride in preparing cadets to serve their country as commissioned officers who embody the Air Force Core Values of Integrity, Service and Excellence. Please look around our website and explore the outstanding opportunities available in AFROTC at Miami University. If you are visiting the local area please stop by and we'll be happy to show you the detachment and introduce you to the staff. If you have any questions or would like additional information regarding AFROTC at Miami University please do not hesitate to give us a call. We look forward to meeting you!

A Message from Lieutenant Colonel Eric Cring
Alumni
We Want You ... to be an online "Redhawk Mentor" to our cadets. We are always looking for Air Force officers, particularly Miami alumni, to serve in this important role.

If you would like to serve as a "Redhawk Mentor" for Det 640 cadets, please email us; tell us your name, email address, AFSC, and duty history highlights. We'll forward your information to cadets interested in your career field. Correspondence will be limited to email unless you decide otherwise, and all contact information will be restricted to cadet use only.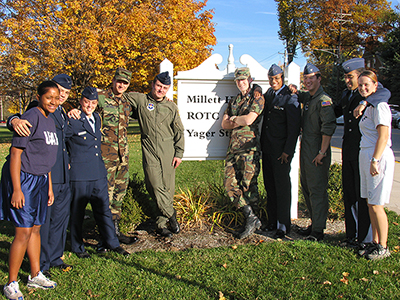 Disclaimers
This AFROTC Detachment 640 website is provided as a public service by Miami University and AFROTC Detachment 640.
Information presented on the AFROTC Detachment 640 website is considered public information and may be distributed or copied. Use of appropriate byline/photo/image credits is requested.
Information concerning visitors, use of this site is collected for analytical and statistical purposes, such as assessing what information is of most and least interest, determining technical design specifications, and identifying system performance and problem areas.
For site security purposes and to ensure that this service remains available to all users, this computer system employs software programs to monitor network traffic to identify unauthorized attempts to upload or change information or otherwise cause damage.
Raw data logs will be used to identify individual users and their usage habits for authorized law enforcement investigations or national security purposes. These logs are scheduled for regular destruction in accordance with National Archives and Record Administration Guidelines.
Unauthorized attempts to deny service, upload information, change information, or to attempt to access a non-public site from this service are strictly prohibited and are punishable under Title 18 of the U.S. Code to include the Computer Fraud and Abuse Act of 1986.
If you have any questions or comments about the information presented here, please forward them using the information requests form.
The Freedom of Information Act (FOIA) Program is mandated by Congress and applies to all governmental agencies. The program allows the public to request information pertaining to an agency's functions, practices, and future plans. Anyone may request records under the FOIA. Public disclosure is mandatory unless exempted under Title 5 U.S.C. 552. In accordance with the Electronic Freedom of Information Act Amendments of 1996, agencies have 20 work days to respond to a FOIA request. As a general rule, the Air Force will not deliver unofficial mass mailings addressed to individuals at their duty addresses.
The appearance of hyperlinks does not constitute endorsement by the United States Air Force of non-U.S. Government sites or the information, products, or services contained therein. Although the United States Air Force may or may not use these sites as additional distribution channels for Department of Defense information, it does not exercise editorial control over all of the information that you may find at these locations. Such links are provided consistent with the stated purpose of this website.
AUTHORITY: 10 U.S.C. 2101 and 8013, Secretary of the Air Force; powers and duties delegated by.
PRINCIPAL PURPOSE(S): To provide contact information of potential recruits for Air Force Reserve Officer Training Corps (AFROTC). This contact information will be used to provide information on AFROTC programs for the purposes of recruiting.
ROUTINE USES: Information may be disclosed to recruiting agencies for the Department of Defense, Reserve Components, National Guard, and other federal agencies. There is no disclosure outside the federal government.
MANDATORY OR VOLUNTARY DISCLOSURE AND EFFECT ON INDIVIDUAL PROVIDING INFORMATION: Disclosure is voluntary, however, if not provided we will be unable to contact you and provide information on AFROTC programs.
The views expressed in educational research, studies, analysis or commentary are those of the author and do not reflect the official policy or position of the U.S. Air Force, Department of Defense, U.S. Government, or Miami University.
Air Force ROTC Detachment 640
Millett Hall 50
500 E Sycamore St
Oxford, OH 45056