Support the Institute for Food
The Institute for Food was started in 2015 with seed money from a Provost Interdisciplinary Innovation Award. We are working to build an interdisciplinary food centered curriculum and research program, an organic university farm and experiential education center, and community partnerships in support of healthy and equitable food systems.
We seek to educate from the ground up, to:
prepare future leaders to imagine and enact a better food future
support local entrepreneurship, revitalize rural communities, and contribute to a more resilient local food system
foster engaged collaboration between students, faculty, community members, and industry
tackle big issues using creative problem solving to discover innovative solutions in support of healthy eating, healthy food, healthy communities, and a healthy planet
Only through the generosity and vision of donors have we been able to successfully harvest and share our first season of vegetables from the Institute for Food farm and engage students in hands-on transformational learning. Your gift will allow us to continue to build and grow the Institute for Food at Miami. Please take a few minutes to consider how valuable a resource this is to our students and our community and help us continue these efforts with a gift.
There are several ways you can help us.
Unrestricted Gifts
These gifts allow the Institute for Food to apply your gift to the area of greatest need.
Designated Gifts
These include providing the following types of support:
student internships or undergraduate research projects focused on the intersections between sustainable agriculture, local food systems, and healthy food
research projects on sustainable agriculture, local food systems, and healthy food
graduate fellowships with the Institute for Food
expansion of the Institute for Food Farm to improve plant propagation, composting, beekeeping, farm infrastructure, permaculture plantings including perennial fruit trees and berry plants, landscaping for pollinators, and more
preservation of the historic Austin-Magie Farm and Mill District
Equipment Gifts
We are transforming a field previously used for conventional seed corn and soybeans into an organic vegetable farm and experiential learning center. We would welcome new or used equipment that might be useful for farming, plant propagation, irrigation, composting, pest protection, i.e. fencing, as well as washing, harvesting, packing, transporting, and storing fresh produce.
Where Does Your Food Come From?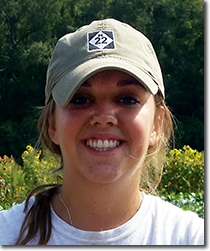 "This past semester studying food systems and sustainable agriculture has revolutionized the way I think about each meal that ends up on my plate. Have you ever thought about where your food comes from? It's pretty crazy to think about what our food goes through to get to us.
"For example, let's imagine a carrot: That carrot started as a seed whose genes were meticulously selected through years of scientists and farmers understanding what makes the best carrot. Then that seed was planted in soil that took millions of years for the earth to create. The soil was plowed, tilled, fertilized, and watered by a farmer who tended to thousands of other carrots.
"After harvest, that carrot most likely travelled over 1000 miles, was sent through a factory where it was shaped, processed, and then trucked halfway across the United States (in some cases halfway around the world). Then while still somehow maintaining it's crisp, cool, freshness, it ended up in your grocery store, in the trunk of your car, and on to your plate.
"So in a nutshell, food systems are what make this world go round. We need people who want to learn about how we can be better at what humans have always been the best at: growing and eating food. I wanted to learn through hands-on experience where I worked in the soil, with passionate students and faculty who shared in my curiosity about the way food gets to our plates. I learned that collaboration amongst diverse individuals is crucial.
"You can't just grow food. You have to market and sell it, understand the laws that empower and inhibit sustainable production, and dig deep into the chemistry and biology behind every… single…bite."
- Maggie Winstel, Class of 2017