Katie Johnson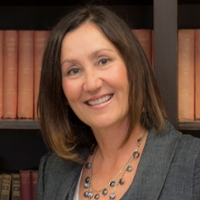 Professor of English
>>On Leave Fall 2019<<
380 Bachelor Hall
Oxford Campus
513-529-7520
johnso33@MiamiOH.edu
Education
PhD in Drama History, Theory, and Criticism, University of Washington 1996
MA in German Languages and Literatures, University of Massachusetts, Amherst 1990
BA in German and Peace Studies, St. Olaf College 1985
Teaching Interests
Drama and performance studies
Gender and sexuality studies
Film theory
Travel and literature
Research Interests
American and transnational theatre and performance
Feminist film theory
Eugene O'Neill
Performance criticism
Selected Publications
Books
Sex for Sale: Six Progressive-Era Brothel Dramas, University of Iowa Press, 2015.
Sisters in Sin: Brothel Drama in America, 1900-1920. Cambridge: Cambridge University Press, American Drama Series, 2006. Paperback issued in 2009.
Digital Archive and Humanities Project
"Prostitution & Brothel Drama in the Progressive Era." A Digital Humanities project that archives and investigates theatre, cinema, sexuality, and Progressive-Era prostitution. http://brotheldrama.lib.miamioh.edu/
Essays and Book Chapters (selected)
 "Showing the Show: Strobridge Posters and Late Nineteenth-Century Melodrama." In Showing Off, Showing Up.  Eds. Laurie Frederik Meer, Catherine Schuler, & Kim Marra.  Forthcoming by University of Michigan Press.  
"Brutus Jones Remains: the Case of Jules Bledsoe." Eugene O'Neill Review36.1 (2015): 1– 28.
" 'Anna Christie' at the Donmar Warehouse." Review Essay.  Eugene O'Neill Review 33. 1 (2012): 126 – 140.
"Before Katrina: Performative Downpours in Rain & The Deluge (1922)." Modern Drama 52.3 (Fall 2009): 351 – 368.
"From Camille to Lulu Belle: Constructing the Black Prostitute in the American Brothel Drama." Querying Difference in Theatre History.  Ed. Ann Haugo and Scott Magelssen. Cambridge: Cambridge Scholars Publishing, 2007: 94 – 105.
"The Salvation Lass, Her Harlot Friend, and Slum Realism in Edward Sheldon's Salvation Nell (1908)." Theatre History Studies 26.1 (2006): 88 –107. 
" 'Anna Christie': A Repentant Courtesan, Made Respectable." Eugene O'Neill Review 26 (2004): 87 – 104. 
"Rachel Crothers' Ourselves: Feminist Dramaturgy in the Brothel Drama."Journal of American Drama & Theatre 15.3 (Fall 2003): 101—121.
"Damaged Goods: Sex Hysteria & the Prostitute Fatale." Theatre Survey 44 (2003): 43 – 67
"Zaza: That Obtruding Harlot of the Stage." Theatre Journal 54 (May 2002): 223 – 43.  Winner of the Gerald Kahan Scholar Award
"Command Performances: Staging Native Americans at Tillicum Village." Co-written with Tamara Underiner. In Selling the Indian: Commercialism and the Appropriation of American Indian Cultures, ed. Carter Jones Meyer and Diana Royer. Tucson: University of Arizona Press, 2001.
"Televising the Panopticon:  The Myth of 'Reality-Based' TV."  American Drama 8.2 (1999): 1 – 26.  Finalist for the "Best of American Drama Essays."
"Censoring Sapho: Regulating the Fallen Woman and Prostitute on the New York Stage." ATQ: 19th-Century American Literature & Culture 10.3 (1996): 167 ­–186.
Theatre Reviews
"Transnational O'Neill" (Foreword). Eugene O'Neill Review 36.2 (2015): 229 - 231.
"Anna Christie in Paris." Eugene O'Neill Review 36.2 (Fall 2015): 235 - 238.
"Foreword, Performance Reviews." Eugene O'Neill Review 36.1 (2015): 93 -94. (with Chris Westgate).
"Strange Interlude at London's National Theatre." Eugene O'Neill Review 35.1 (2014): 113 – 117.
"Long Day's Journey Into Night at London Apollo." Eugene O'Neill Review 34.1 (2013): 122 - 25.
"Hairy Ape at London's Southwark Playhouse." Eugene O'Neill Review 34.1 (2013): 126 – 30.
"The Physicists at London's Donmar Warehouse."  Theatre Journal 65.1 (2013): 107– 109.
"When Strange is Good: A Neo-Futurist Strange Interlude." Eugene O'Neill Review31 (2009): 114 -121.
Grants and Awards
Professor of the Year Nominee, Council for the Advancement and Support of Education, 2012
Wardlaw Research Fellowship, The Texas Collection, Baylor University, 2012
Phillip Knox Teaching Award, Miami University, 2011
Research Fellowship, American Society for Theatre Research, 2011
College of Arts & Science Distinguished Educator Award, Miami University (2009–2010)
Teaching Excellence Award, Miami University Center for the Enhancement for Teaching (2010)
Nominee, Miami Alumni Effective Teacher (2007 & 2008)
Nominee, Outstanding Professor, by Miami's Associated Student Government (2004 & 2005)
Gerald Kahan Award for best essay in the field of theatre studies in North America by a young scholar in 2002, awarded by the American Society for Theatre Research
National Endowment for the Humanities Summer Stipend, 2001
Work in Progress
Dr. Johnson is working on a project called Racing the Great White Way:  a Performative Geography of Early Broadway, a book project of theatrical criticism that re-reads (or, queers) traditional histories of Broadway to allow for previously overlooked intersections of race, ethnicity, class, gender, and sexuality.
She is also assisting with a forthcoming documentary film called Re-Discovering Kate Carew with Jaffa Films.