Jason Palmeri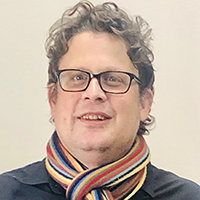 Associate Professor of English
Director of College Composition
*on leave Spring 2018*
356A Bachelor Hall
Oxford Campus
(513) 529 5221
palmerjr@miamioh.edu
EDUCATION
Ph.D. English (Rhetoric, Composition, and Literacy), Ohio State University, 2007
M.A. English, Ohio State University, 2003
B.A. Literature, New College of Florida, 1999
TEACHING AND RESEARCH INTERESTS
Composition History and Theory
New Media Studies
Multimodal Writing Pedagogies
Political / Activist Rhetorics
Writing Across the Curriculum
Queer Rhetorics
SELECTED PUBLICATIONS
Remixing Composition: A History of Multimodal Writing Pedagogy. Carbondale, IL: Southern Illinois University Press, 2012.

"Participation as Reflective Practice: Digital Composing and Feminist Pedagogy." In Blankenship, Lisa et al eds. The Rhetoric of Participation. (Forthcoming 2016 from Computer and Composition Digital Press / Utah State UP). With Abby Dubisar.

"Lessons From History: Teaching With Technology in 100 Years of English Journal." English Journal. 105.6 (2016). 18 – 24. With Ben McCorkle.

"Kairotic Design: Building Flexible Networks for Online Composition." In DeVoss, Danielle and James Purdy Eds. Making Spaces: Writing Instruction, Infrastructure, and Multiliteracies. Ann Arbor: University of Michigan Press, 2016. <http://www.digitalrhetoriccollaborative.org/makingspace/ch7a.html> With Lance Cummings, Renea Frey, Heidi McKee, James Porter, Ryan Ireland, and Caitlin Martin.

"'The Things They Left Behind': Towards an Object-Oriented History of Composition." In Boyle, Casey and Scot Barnett Eds. Rhetoric, Through Everyday Things. University of Alabama Press, 2016, 96- 107. With Kevin Rutherford.

"'Intersecting Realities': Queer Assemblage as Rhetorical Methodology." In Jonathan Alexander and Jacqueline Rhodes, eds Sexual Rhetorics: Methods, Identities, Publics. London: Routledge. 2015. 31-44. With Jonathan Rylander.

"Re-Inventing Invention: A Performance in Three Acts." In Debra Journet, Cheryl Ball, and Ryan Truaman, Eds, The New Work of Composing.  With Bre Garrett and Denise Landrum-Geyer. Computers and Composition Digital Press / Utah State UP. 2012.  http://ccdigitalpress.org/nwc/

"Palin / Pathos / Peter Griffin: Political Video Remix and Composition Pedagogy." Computers and Composition. 27.2 (2010). 77 – 93. With Abby Dubisar. 

"Disability Studies, Cultural Analysis, and the Critical Practice of Technical Communication Pedagogy." Technical Communication Quarterly. 15.1 (2006): 49-65. 
WEB PUBLICATIONS
WORK IN PROGRESS
Palmeri is extending his scholarship of multimodal composition history by employing data visualization, distant reading, and object-oriented methodologies in order to re-see the history of new media in the teaching of English in the 20th century. He also also is pursuing research projects on online writing pedagogy and queer video activism. Most of Palmeri's current scholarship is deeply collaborative (with colleagues and graduate students at Miami and other institutions).