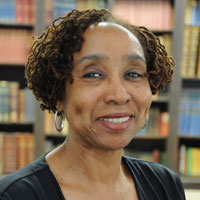 Professor of English and Director of Linguistics
Professor of Black World Studies
Professor of Women's Studies
382 Bachelor Hall
Oxford Campus
513-529-6508
etterlg@MiamiOH.edu
Education
PhD in Linguistics, University of Michigan
MA in Literature, University of Dayton
BA in Literature, Jackson State University
Teaching Interests
Introduction to Linguistics
Structure of the English Language
Varieties of English
African Literature
Introduction to Women's Studies
Black Feminist Theory
Feminism in the Diaspora
African Women Writers
Research Interests
African-American Women in the 1920s
Contemporary African Women''s Studies
Leadership and Education in African Cultures
Oral Narratives
Selected Publications
Etter-Lewis, Gwendolyn and Richard Thomas, eds. Lights of the Spirit: Historical Portraits of Black Bahá'is in North America, 1898-2000. Baha'i Pub, 2006. Print. 

Etter-Lewis, Gwendolyn and Michele Foster, eds. Unrelated Kin: Race and Gender in Women's Personal Narratives. Routledge, 1995. Print.

Etter-Lewis, Gwendolyn. My Soul Is My Own: Oral Narratives of African American Women in the Professions. Routledge, 1993. Print. 
Community Service
Co-Founder and Director of Project R.E.A.C.H., a college readiness program for under-served high school students in the greater Cincinnati metropolitan area.