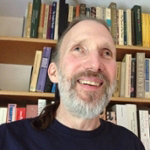 Professor Emeritus
krafftjm@miamioh.edu
3585 Freeman Avenue
Hamilton, OH 45015
+1 513 550 9114
http://www.ham.miamioh.edu/krafftjm
Education
PhD, English, State University of New York at Buffalo, 1978
MA, English, State University of New York at Buffalo, 1976
BA, English, Miami University, 1973
Teaching Interests
American fiction after 1945
Historical novels
Gothic fiction
Research Interests
Teaching Experience
Miami University, 1990–2017: Assistant–Associate Professor
Katolicki Uniwersytet Lubelski Jana Pawła II, 2012–2014: Fulbright Lecturer, Visiting Professor
Universität zu Köln, 2002, 2011: Fulbright Senior Scholar, Gastwissenschaftler
...
Selected Publications
Pynchon Notes: Co-founder, 1979; co-editor and bibliographer, 1979–2009. View or download the cumulative bibliography and PDF versions of all 35 issues here, or find individual articles at the Open Library of Humanities.

(With Luc Herman) Becoming Pynchon: Genetic Narratology and V. Columbus: The Ohio State UP, 2023.

"Chronology" and "Biography." Thomas Pynchon in Context. Ed. Inger H. Dalsgaard. Cambridge: Cambridge UP, 2019. xix–xxi, 7–14.

(With Luc Herman) "Pynchon and Gender: A View From the Typescript of V." Thomas Pynchon, Sex, and Gender. Ed. Ali Chetwynd, Joanna Freer and Georgios Maragos. Athens: U of Georgia P, 2018. 179–93.

(With Luc Herman) "Monkey Business: The Chapter 'Millennium' Removed from an Early Version of V." Dream Tonight of Peacock Tails: Essays on the Fiftieth Anniversary of Thomas Pynchon's V. Ed. Paolo Simonetti and Umberto Rossi. Newcastle upon Tyne: Cambridge Scholars, 2015. 13–30.

Biographical note. The Cambridge Companion to Thomas Pynchon. Ed. Inger H. Dalsgaard, Luc Herman and Brian McHale. New York: Cambridge UP, 2012. 9–16.

(With Luc Herman) "Race in Early Pynchon: Rewriting Sphere in V." Critique 52.1 (2011): 17–29.

(With Luc Herman) "Pynchon, Thomas." The Encyclopedia of Twentieth-Century Fiction. Vol. II: Twentieth-Century American Fiction. Ed. Patrick O'Donnell et al. Chichester: Wiley-Blackwell, 2011. 785–88.

(With Luc Herman and Sharon B. Krafft) "Missing Link: The V. Galleys at the Morgan Library and the Harry Ransom Center." Variants 7 (2008 [2010]): 139–57.

(With Luc Herman) "Fast Learner: The Typescript of Pynchon's V. at the Harry Ransom Center in Austin." Texas Studies in Literature and Language 49.1 (2007): 1–20.

(With Luc Herman) "From the Ground Up: The Evolution of the South-West Africa Chapter in Pynchon's V." Contemporary Literature 47.2 (2006): 261–88.
...
Grants and Awards
2012–13, 2013–14: Fulbright Lecturer, Visiting Professor, Catholic University of Lublin
2011: Guest Scholar, University of Köln
2011: Visiting Professor, Miami University Dolibois European Center, Differdange, Luxembourg
2002: Fulbright Senior Scholar, University of Köln