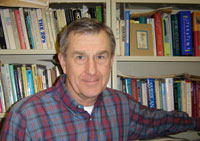 Professor Emeritus
Education
Ph.D., American Studies, University of New Mexico
Rel.D., Claremont School of Theology
B.A., Political Science, University of California Berkeley
Teaching Interests
20th century American literature
Contemporary American fiction
Research Interests
Contemporary American fiction
Selected Publications
The Fiction of E.L. Doctorow. New York: Crossroad/Continuum, 1991.
American Short Stories Since 1945. New York: Oxford University Press, 2002.
"The Need of Some Imperishable Bliss: John Updike's Toward the End of Time."Renascence: Essays on Values in Literature, Vol. LVII, 2, Winter 2005, pp. 151-157.
"Edward Lewis Wallant: in The Holocaust Novel edited by Efraim Sicher." The Dictionary of Literary Biography, Vol. 299, 2004, pp. 348-353.
"Mining and Undermining the Old Plots: Ishmael Reed's Mumbo Jumbo." The Centennial Review, 34, 1 (Winter 1995): 163-170.
"The Politics of Polyphony: The Fiction of E.L. Doctorow." Twentieth-Century Literature, 37 (Winter 1991) 4: 454-463.
"Unfit Survivors: The Failed and Lost Pilgrims in the Fiction of Robert Stone." CEA Critic, 53 (Fall 1990) 1: 52-57.
"The Grace of Suffering: The Fiction of Edward Lewis Wallant." Studies in American Jewish Writing, 5 (1985): 111-118.
"Chambers of Yearning: Shirley Jackson's Use of the Gothic." Twentieth Century Literature, 30, (Spring 1984) 1: 15-29.
"The Terrors of Freedom: Religious Crisis in Recent American Fiction." The Southwest Review, 67, (Spring 1982) 2: 182-191.
Work in Progress
Professor Parks is working on an essay of Robert Stone's last two novels and essays on other recent American writers.