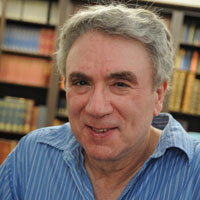 Emeritus Professor
325 Bachelor Hall
Oxford Campus
(513) 529 5261
schlosd@miamioh.edu
Education
M.F.A., Poetry Writing, University of Iowa Writers Workshop, 1967
B.A., English, Brooklyn College
Teaching Interests
Creative writing/poetry
American and World Literature (classical, modern and contemporary)
Film: history and aesthetics
Selected Publications
Group Portrait From Hell, Carnegie Mellon University Press, Pittsburgh, Pennsylvania, 2009. 96 pages.
Behind the Eyes (chapbook), Dos Madres Press, Cincinnati, Ohio, 2005. 32 pages.
Greatest Hits: 1967-2004, Pudding House Press, Columbus, Ohio, 2004. 32 pages.
Sex Lives of the Poor and Obscure, Carnegie Mellon University Press, Pittsburgh, Pennsylvania, February, 2001. 90 pages.
Legends (Chapbook), The Windmill Press, Iowa City, Iowa, 1976. 32 pages.
The Beloved, Ashland Poetry Press, Ashland, Ohio, 1973. 64 pages.
Individual poems have appeared in Antaeus, Ohio Review, Partisan Review, Poetry, Paris Review, Chicago Review, Iowa Review, North American Review, Shenandoah, Crazy Horse, Western Humanities Review, and many other literary journals. His work has been included in The Poetry Anthology 1912-2002, Best Poems anthologies, as well as many others. He has written critical essay/reviews on contemporary poetry including a lengthy one in The Cincinnati Review.
Work in Progress
David Schloss has finished another poetry manuscript, Reports from Babylon, and is working on another one, Rational Animals and Others. He is also revising a review, "God Hunger in Three Aging White Men," of the work of contemporary poets Michael Ryan, Henri Cole and Frederick Seidel towards publication.