Visiting Writer Reprises Role as Instructor of Creative Writing Course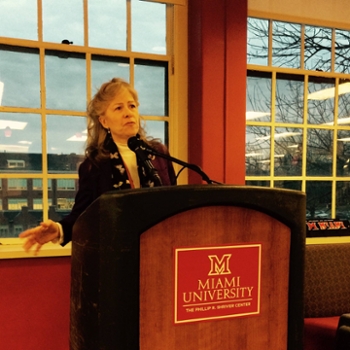 by Eric Rubeo, English Department Intern
Professor Cary Holladay of the University of Memphis' MFA program in creative writing returned to Miami University in mid-March to reprise her role as the instructor of the annual week-long intensive course for graduate students in creative writing. While in town, she also visited a number of undergraduate classes, and gave a reading from her new collection of short stories Horse People.
Known for her historical fiction, Holladay had much to share with the students she met about the universal importance of time and place in every story, as well as how to effectively develop characters with compelling desires. This was the second time she had the opportunity to share her advice on craft with Miami University, having taught the five-day graduate sprint course once before in 2009.  
This time around, the course she conducted met every day of the week (March 16-20), and involved intense discussions on technique and character. Students also submitted their own manuscripts, which she read and then responded to in individual conferences, providing a unique one-on-one opportunity to address the specific concerns of individual writers.
"There's a lot of passion and commitment about writing at Miami," Holladay wrote in response to an email interview. "I found the students highly coachable, thanks to the dedicated teaching they have received from Brian Roley, Margaret Luongo, and other faculty."
On Wednesday of her week in Oxford, Holladay gave a reading from "Seven Sons," one of the stories in Horse People. Undergraduates and graduate students as well as faculty members listened to her tell of a young woman named Nelle who sought to purchase an unlikely property—the decrepit remains of an old prostitution house—and the lengths she was willing to go to buy it.
Holladay's longstanding relationship with the university began in 2007 when her first novella, A Fight in the Doctor's Office, won the Miami University Press Novella Prize. Both this book and Horse People are available for purchase at the Miami University Bookstore.
"The level of talent among the creative writing students is extraordinary," Holladay said. "Both of my visits to Miami University have been just wonderful."