Graduate Program in Teaching
The Master of Arts in Teaching (MAT) program is an innovative degree designed for working K-12 teachers. The 32-hour degree can be completed in as few as three summers and does not require a thesis.
We offer workshops on campus, off campus, and online during the summer. Teachers enrolled in the MAT program fulfill these requirements by selecting from a combination of one-, three-, and six-hour workshops and classes, including such topics as writing and responding to texts, assigning and assessing writing, handling the paper load, multicultural literature, multigenre studies, and fiction. A final teacher research project will be conducted under the direction of faculty advisors and OWP teacher mentors.
Master of Arts in Teaching is for you if: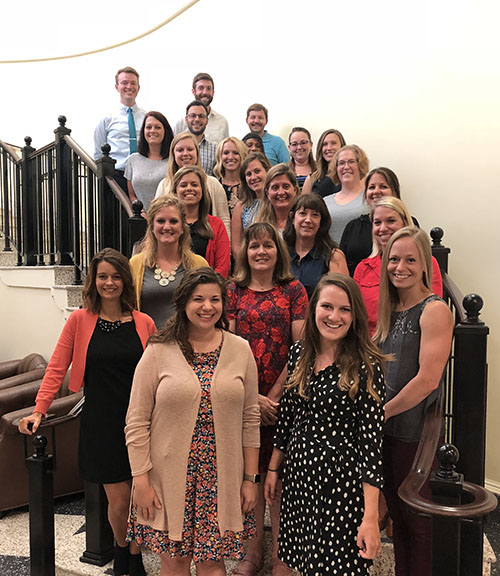 You have one year of teaching experience
You have a Bachelors Degree from an accredited school
You have a teaching certificate
What are MAT graduates saying about the program?
"I feel confident as a professional now and more of an expert in my field!" – Carrie Geers, 2nd grade teacher at Little Miami Local School District
"OWP MAT has given me a new voice and a fresh perspective on teaching and learning." – Celeste Hopkins, 6th grade teacher at Forest Hills Local Schools
"OWP has energized and renewed my passion for teaching.The idea of teachers becoming students of writing to be better teachers of writing is the key.– Cindy Wassom, 5th grade teacher at Eaton City Schools
"OWP was the best decision I have made when it comes to my education. The facility is amazing. The classes make it so that you can still have a life and do things." – Abby Alexander, 1st grade teacher at National Trail Local Schools
"My OWP MAT has changed the way I look at my classroom and the importance of observation, reflection, and research to improve my own instruction." – Rena Meyer, 5th grade teacher at Lebanon City Schools
"This MAT gave me the space and confidence to be my own teacher, ask hard questions, struggle to make changes (sometimes even failing at those changes), but always being there to help me figure out how to fix what wasn't working. It provided me with a community of like minded teachers who continue to push me as well as celebrate me. I have found my voice and I'm not afraid to use it. I can't wait to continue to grow with, learn from, and hopefully contribute to this program and these people." – Liz Reilly, high school English teacher at Mariemont City Schools
"Had it not been for OWP, I may have left teaching two or three years ago. I've gained so many professional relationships and friendships through the MAT program. I not only have more confidence in myself as a teacher, but also as a writer." – Bernadette Wayne, high school English teacher at Clermont-Northeaster
"This experience (the MAT) was liberating and empowering. Being a part of OWP gave me my teacher voice and allowed me to be an advocate for my teacher peers in my district and for myself when I have challenged the status quo. This program has made me aware of the research that I do constantly and has encouraged me to document and reflect so that I can share it with others." – Hannah Rust, high school English teacher at Olentangy Local Schools