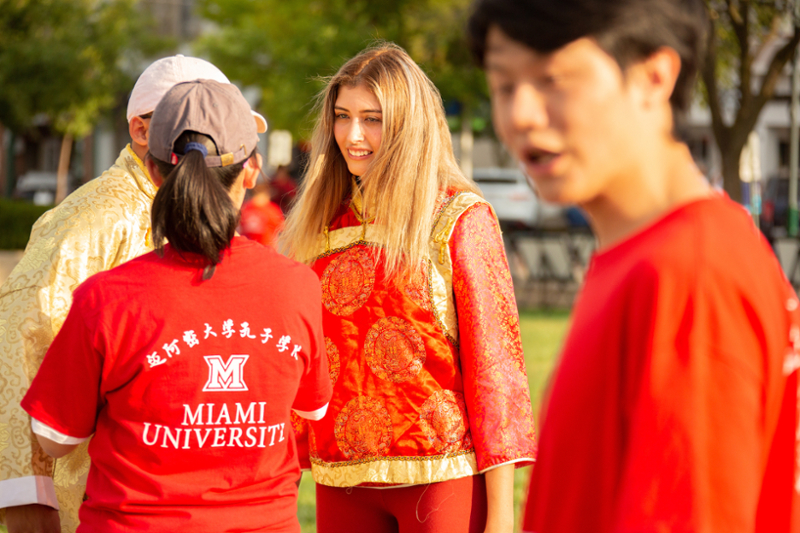 Student Resources and Opportunities
Career Opportunities
So you're learning a language and are getting pretty good at it. Perhaps you've taken the next step and declared a major or minor in the language you are learning. As you get nearer to graduation, there might be a little voice in the back of your head asking "What can I do with this language once I'm out of college?" Well, here are some starting points that may help you decide in a career using your new language skills:
Greetings from the German American Chamber of Commerce of the Midwest in Chicago! I am reaching out to you to inform you about internship opportunities for American university students and recent graduates at our organization. We offer internships in a range of fields that are excellent opportunities for students to gain practical work experience in a truly bilingual and bicultural environment as well as make valuable connections within the broader Transatlantic Business community. It is also a great way to strengthen the German language within the U.S. and further promote the German culture. There are currently immediate openings in our Consulting Services department that would start respectively in September and October, 2014. Additionally we have an open Accounting and Event internship. Please note that interns receive a monthly stipend and that the minimum duration is six months. For additional information, please visit our website: http://www.gaccmidwest.org/en/career-services/internships-at-gacc-midwest/ We would greatly appreciate if you would help us spread the word about these opportunities among your German students. We hope that some graduating seniors might 'perk up their ears' when hearing about these opportunities!  Should you have any questions, please feel free to contact me at any time.
Best regards / Mit freundlichen Grüßen,
Philip Kokott
Consultant Career Services
German American Chamber of Commerce of the Midwest, Inc.
321 North Clark Street, Suite 1425
Chicago, Illinois 60654-4714
Tel.: (312) 665-0979
Fax : (312) 644-0738
E-Mail: kokott@gaccom.org
Sie möchten wissen, wie gut Ihre Deutschkenntnisse sind? Sie brauchen für Arbeit, Studium oder Visum ein Zertifikat oder Zeugnis? Am Goethe-Institut können Sie eine Vielzahl international anerkannter Prüfungen ablegen.

The Goethe-Institut issues six levels of skill and proficiency exams. Descriptions of these are as follows:
A1

Beginning German
Can understand and use familiar everyday expressions and basic phrases. Can introduce oneself and others and can ask and answer questions about personal details such as where they live, people they know and things they have. Can interact in a simple way provided the other person talks slowly and clearly and is prepared to help.

A2

Advanced Beginning German
Can understand sentences and frequently used expressions (e.g. basic personal and family information, shopping, local geography, employment). Can communicate in situations requiring a simple and direct exchange of information. Can describe in simple terms aspects of one's background, environment and matters of immediate interest.

B1

Intermediate German
Can understand the main points in matters regularly encountered in work, school, leisure, etc. Can deal with most situations likely to arise while traveling in an area where the language is spoken. Can talk about topics which are familiar or of personal interest. Can describe experiences and events, dreams, hopes & ambitions and briefly give reasons and explanations for opinions and plans.

B2

Advanced Intermediate German
Can understand the main ideas in concrete and abstract topics, including technical discussions in their field of specialization. Can interact with native speakers without strain for either party. Can talk about a wide range of subjects and express a viewpoint on a topical issue giving the advantages and disadvantages of various options.

C1

Advanced German
Can understand a wide range of demanding, longer texts, and recognize implicit meaning. Can express themselves fluently and spontaneously. Can use language flexibly and effectively for social, academic and professional purposes. Can speak clearly and correctly on complex subjects, showing controlled use of organizational patterns, connectors and cohesive devices.

C2

Advanced German
Can understand with ease virtually everything heard or read. Can summarize information from different spoken and written sources, reconstructing arguments and accounts in a coherent presentation. Can express themselves spontaneously, fluently and precisely, differentiating finer shades of meaning even in complex situations.
For information on where to take the test and how to apply, please visit the Goethe Institut Chicago website
Departmental Scholarships and Awards
These funds are awarded annually to Scholar-Leader upper-class female students. One award given to a German major and one to a Russian, East European, and Eurasian Studies major. The students are chosen by the German and Russian faculty members in the department. There is no application process.
The 2023 award recipients are:
German – Alivia Renae O'Donnell
Russian, East European, and Eurasian Studies – Grace Ann Peconge
Preference is given to majors and minors in the Department of GRAMELAC as well as to students without access to other sources of education abroad scholarship funding. Available funds are reserved for students based on the viability of GRAMELAC programs, or, if not applicable, then for student support based on need and merit. The number of scholarships and amounts awarded are determined by the current available funds.  GRAMELAC's Student Awards, Scholarships, and Education Abroad Committee, with input from the GRAMELAC Department Chair, are responsible for determining these scholarships.
This award is given to an Outstanding Graduate in Each Department Major in East Asian Languages and Cultures, German, and Russian, East European, and Eurasian Studies.
The 2023 award recipients are:
East Asian Languages and Cultures - Nicholas Hollander Tineo
German - Jocelyn Christine Minton
Russian, East European, and Eurasian Studies - Youheng Daniel Zhou
These awards are given to faculty-nominated students who have shown outstanding aptitude in their language learning abilities. One student per level in each language taught in the Department is selected for this award.
The 2023 award recipients are:
Arabic
100 Level – Muhammad Danish Malik
200 Level – Cyle Jon-Nathaniel Ginsberg
300 Level – Megan Katherine Foster
Chinese                                             
100 Level – Sam H. Mezzapelle
200 Level – Emma Elizabeth Haupt
300 Level – Lowell Harry Hughen III
400 Level – Avery Rose Zerby
German                                            
100 Level – Madeline Kaye Northup                
200 Level – Jessica Nicole West              
300 Level – Hope Noel Nickel
400 Level – Emma Claire Bonnicksen
Japanese
100 Level – Marianna Irene Angelopoulos
200 Level – Jonathan Louis Waldmann
300 Level – Zachary Ryan Owens
400 Level –  Jisen Du
Korean
100 Level – Lan Chi 'Lily' Tran
200 Level – Matthew Robert Sweet
Russian
100 Level – Sonya Marie Flynn
200 Level – Gabriel Thomas Powell
300 Level – Katherine Alexandra Schaeffer
Founded in 2011 by native German speakers and Americans who had lived in German-speaking countries, Cincideutsch is a group of Cincinnatians that aims to promote modern German language and culture in Cincinnati.

The Cincideutsch Scholarship Program is a way to support students of the German language, therefore promoting the mission of Cincideutsch. To be considered for the Cincideutsch Scholarship Program, applicants must fulfill the following criteria.
The applicant must be enrolled full-time at the University of Cincinnati, Miami University, Xavier University, or Northern Kentucky University.
The applicant must be working toward an undergraduate or graduate degree. If undergraduate, the applicant must be at the sophomore, junior, or senior level.
The applicant must have a GPA of 3.0 or above.
The applicant must use the scholarships funds for qualified educational purposes associated with study abroad in a German-speaking countries.
Submit a completed application with all supporting materials (see below) by June 1, 2022
Applicants may not be or be related to Cincideutsch board members
The number and monetary amounts of the scholarships will vary year to year and will be based on merit AND financial need. In 2022, Cincideutsch will offer three $500 awards. Scholarships may be renewed for a second year, but a new application must be submitted every year. Applicants may apply as often as they like, but can only be awarded a scholarship two times over the course of their studies (whether undergraduate or graduate).
Applications must include the following:
A completed

 

application form, including all financial information
Official transcript from the applicant's current university
One recommendation letter
Depending on number of applicants, Cincideutsch board members may choose a certain number of applicants as finalists and then ask them to interview with the board.
Please email Cincideutsch at 
scholarship@cincideutsch.com
 with any questions and to be sure you have the most current application form.
Student Organizations, Activities, and Extracurriculars
Please Note: All organizations, activities, and extracurriculars are run by students and are listed here as a courtesy. The Department of German, Russian, Asian, and Middle Eastern Languages and Cultures does not necessarily endorse the organizations, activities, and extracurriculars below:
Arabic Club - Arabic Club is a language based club that can be used as a resource outside of the class. Meetings will have conversations, study tables, guest speakers, and occasionally a trip to an Arabic environment (i.e. restaurant, and places on campus).
MECCA Club (Middle East Cultural Club and Arts) - MECCA promotes interest in Middle Eastern language, literature, art, music, dance, fashion, food, and other cultural aspects. Sponsors speakers, hold cultural events such as food tasting, belly dancing, music, and much more.
Model Arab League (MAL) - Model Arab League is a national organization where students represent one of the Arab League's 22 member-states, and student delegates work to achieve solutions to current problems.
Asian American Association (AAA) - AAA at Miami University is one of the largest multicultural organizations on campus. We aim to promote and provide cultural awareness through bi-weekly meetings, special events, and service projects. Feel free to stop by one of our general body meetings.
China America Business Organization (CABO) - A platform for International and American students to form deep relationships and develop extensive business and cultural knowledge about China and America.
Chinese American Culture Association (CACA) - CACA aims at building a bridge which links both American and Chinese culture. We have a variety of activities help Americans and Chinese to interact with each other and explore different cultures.
Chinese Information Association (CIA) - Chinese Information Association devotes itself to help and serve all Miami students and scholars by spreading communicating across Chinese and indigenous cultures and providing the latest information and considerate service.
Chinese Student and Scholars Friendship Association (CSSFA) - Chinese Student and Scholars Friendship Association is an organization that trying to spread out Chinese culture and make Chinese student and scholars' life in Miami University easier and more colorful and diversity.
SIGNAL  - Signal is an organization which devote in providing both American students and International students a better campus life in Oxford. We are trying to build a strong relationship and interaction between Chinese students and American students.
Join fellow students and  friends of GERMAN for our weekly German coffee-hour where you will be able to:
practice your spoken German
get help with your spoken/written German (bring your textbooks if you want!)
meet other students of German
discuss current events in Germany and Europe
play ice-breaker games in German
If you have any questions please contact Dr. Cathie Grimm at: grimmcc@miamioh.edu
Delta Phi Alpha, the national honorary for students in German, honors academic excellence and commitment to the culture of the German-speaking world. Miami's Beta Kappa chapter, founded in 1935, inducts members regularly. It sponsors field trips, films, talks, and other activities in collaboration with the German section of the Department of German, Russian, Asian, and Middle Eastern Languages & Cultures.

For further information see Dr. John M. Jeep, faculty advisor.

Chapter Activities

The Beta Kappa Chapter enjoys a wide variety of activities, including Oktoberfests, sleepovers, and Ausflüge. Past excursions have been to the Oktoberfest Zinzinnati, the Oktoberfest der Donauschwaben in Colerain, and partnering with the German Language Floor in Wells Hall with various activities.

Du möchtest also Mitglied werden?

The members of the Beta Kappa chapter would be happy to have you join us. Delta Phi Alpha is open to students who meet the following requirements:
Sophomore standing or above
Minimum cumulative GPA of 2.75
Minimum German GPA of 3.25
Completion of, or enrollment in, at least three hours at or above the 300 level
Continuing interest in the German language, literature, and culture
Local membership status is available to students who do not yet meet the national requirements. If you have questions about the organization, our activities, or membership, please speak to a current member or to Dr. Jeep.
Fill out the online application to start the membership application process.
You will need to have a copy of your current DARS report to attach to the online application.
A membership fee of $40 will be required ($25 national + $15 local) if accepted in DPA.
Attend Delta Phi Alpha meetings and events, meet new people, speak German, and have fun!
M.U. Anime - To share the excitement of animation with fellow enthusiasts and those interested in knowing more about it. 
Asian American Association (AAA) - AAA at Miami University is one of the largest multicultural organizations on campus. We aim to promote and provide cultural awareness through bi-weekly meetings, special events, and service projects. Feel free to stop by one of our general body meetings.
Japanese Culture and Language Club (JCLC) - The Japanese Culture and Language Club (JCLC) of Miami University is a student organization that promotes knowledge and understanding of the Japanese culture on campus as well as in the surrounding communities.
Japanese Language Table - Improve your Japanese skills through playing games, watching videos, doing activities and speaking with native Japanese speakers by coming to JLT! All Levels are welcome! For more information, email Dr. Tomoyuki Yabe.
Korean American Student Association (KASA) - The Korean American Student Association was first started in the 2007-2008 school year. Every year we hope to continue to educate more and more people about Korea and its culture and we invite you to join us in this vision! 
Asian American Association (AAA) - AAA at Miami University is one of the largest multicultural organizations on campus. We aim to promote and provide cultural awareness through bi-weekly meetings, special events, and service projects. Feel free to stop by one of our general body meetings.
Liberty in North Korea (LiNK) - Redefining the North Korea crisis through creative storytelling, while providing emergency relief to North Korean refugees and pursuing an end to the human rights crisis.
Russian and Eastern European Club - Russian Club helps bring attention to students the colorful and rich culture of Russia. Due to Russia's event-filled past and connections with other cultures, we facilitate interest not only in Russian Studies but also Post-Soviet Studies.
Havighurst Center for Russian and Post-Soviet Studies - The interdisciplinary Havighurst Center for Russian and Post-Soviet Studies has faculty affiliates from many departments throughout the University.  The Center is devoted to joint research at Miami by Miami faculty, scholars from Russia, eastern Europe, and Eurasia, and from other American universities; to service and learning activities for the Miami student community that promote greater understanding of this region; and to programs designed to foster interdisciplinary research on the future of this area.
Russian Language Table:  Officers any student that has an interest in the Russian language and culture an opportunity to meet informally to practice speaking Russian and study the culture outside of the classroom.  Contact Dr. Brendan Mooney for more information.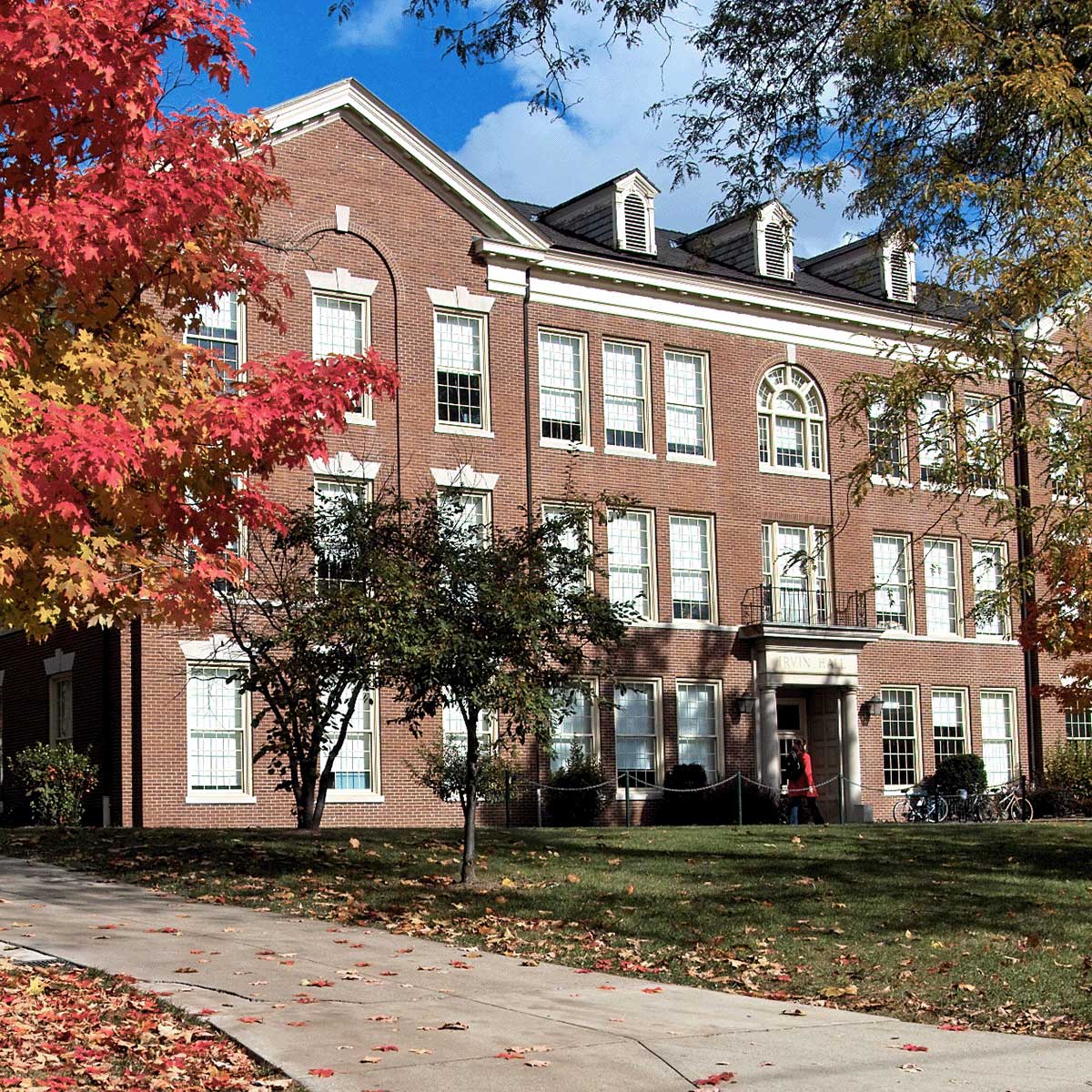 Department of German, Russian, Asian, and Middle Eastern Languages and Cultures
Irvin Hall 172
400 East Spring Street
Oxford, OH 45056-3645
United States
(513) 529-2526
 
Dr. Mila Ganeva
, Chair
General Inquiries: 
gramelac@MiamiOH.edu