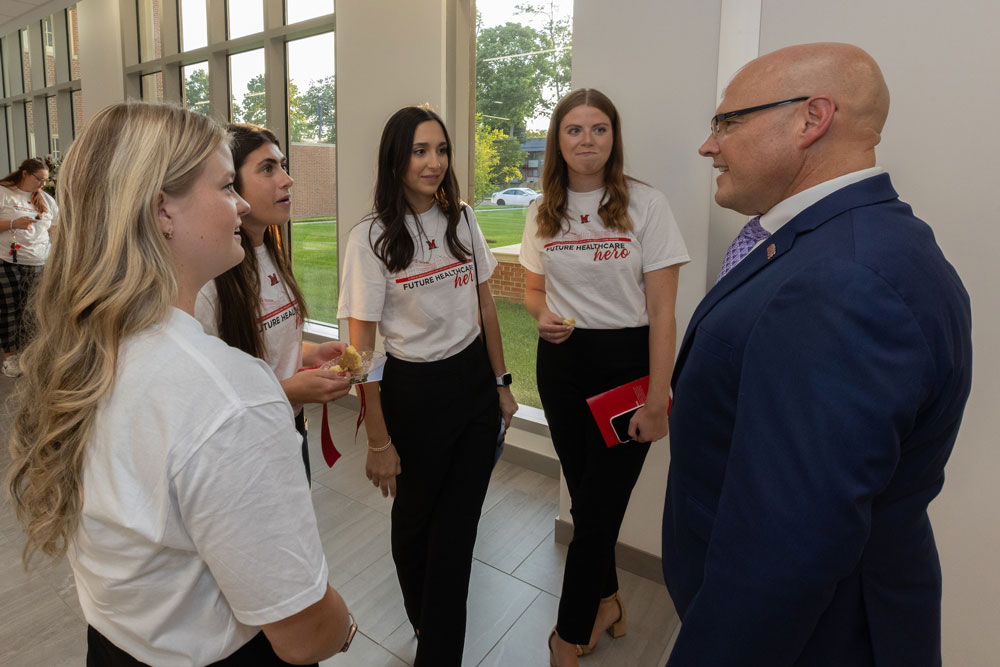 Tuition and Fees
Cost
Total Investment
Total Cost of Tuition for 27 months+
$112,000.00
Textbooks (Access Medicine, Aquifer, Osmosis, EMSono, UptoDate, and Library Access)
Included
Diagnostic medical Instrument:



Stethoscope
Ophthalmoscope
Otoscope
Blood Pressure Cuff
Tuning Fork
Reflex Hammer
Measuring Tape
Trauma Shears
Eye chart




Included
Personal Hand-held ultrasound device
Included
Lab Fees (ex. cadaver, sim)
Included
Institution fees
Included
BLS, ACLS, and PALS Courses/Certifications
Included
Medical Liability Insurance
Included
Professional Equipment:

Scrubs (two pairs)
Clinical Lab Coat
Smock (Rental)
Dissection Instruments (Rental)
Included
Professional Memberships: (ex. OAPA, ORHA, AAPA)
Included
Health Insurance++
$

4,302.00

.00
Background check/Drug Screen
$250.00

Additional Costs May Include: (Estimated)

Laptop/Software
$2937.00
Miami university Parking
$780.00
Cost of Living in Oxford, OH+++
$8,294.00
Transportation cost (included travel for clinical rotations)
Varies
Accommodations for clinical rotations (travel and lodging)
Varies
Miscellaneous Costs (ex. review courses, professional attire, self-study materials/PANCE Prep Pearls)
Varies
Total Projected/Estimated Attendance cost:
$

128,563.00
++Health insurance is required while enrolled in the program. If proof of private health insurance is not produced at the time of enrollment, the student will be automatically enrolled in the University Sponsored Health Insurance Plan (see cost above). Waivers must be submitted prior to matriculation.
+++Not included in this estimate is the cost for travel for out-of-area clinical rotations.
---
Program Academic Calendar
The Physician Associate and Biomedical Medical Studies M.MSc. programs at Miami University follow a distinct academic calendar that diverges from the university's standard schedule. Variances are observed in the coverage of holidays, with not all being included in these programs' calendars. Additionally, the programs feature unique fall, spring, and winter breaks that differ from the regular university calendar. Procedures related to course enrollment adjustments, such as drop, add, and refunding of course fees, also exhibit variations in comparison to the university's general policies. For more detailed information, individuals are encouraged to contact the respective department through email at pastudies@MiamiOH.edu.
Summer semester 1: May 15 - Aug 18 2023

Fall semester 2: Aug 28 - Dec 15 2023
Spring Semester 3: Jan 8 - May 3 2024
Summer semester 4: May 13 - Aug 16 2024
Fall semester 5: Aug 26 - Dec 13 2024
Spring semester 6: Jan 6 - May 2 2025
Summer semester 7: May 12 - Aug 15 2025
Physician Associate Studies
Miami University's Physician Associate program is designed to develop generalist, family medicine clinicians who can provide service to predominantly rural, underserved communities. It is housed in the brand-new, state-of-the-art Clinical Health Science and Wellness Center on the Oxford campus.
Related Links
Contact Us
2101 Clinical Health Sciences and Wellness Building
421 S. Campus Avenue
Oxford, OH 45056
513-529-1231
pastudies@MiamiOH.edu