First-year Miami activist campaigns against gun violence
Peren Tiemann creates local change in Oxford by starting a gun control-advocacy group and encouraging voter registration.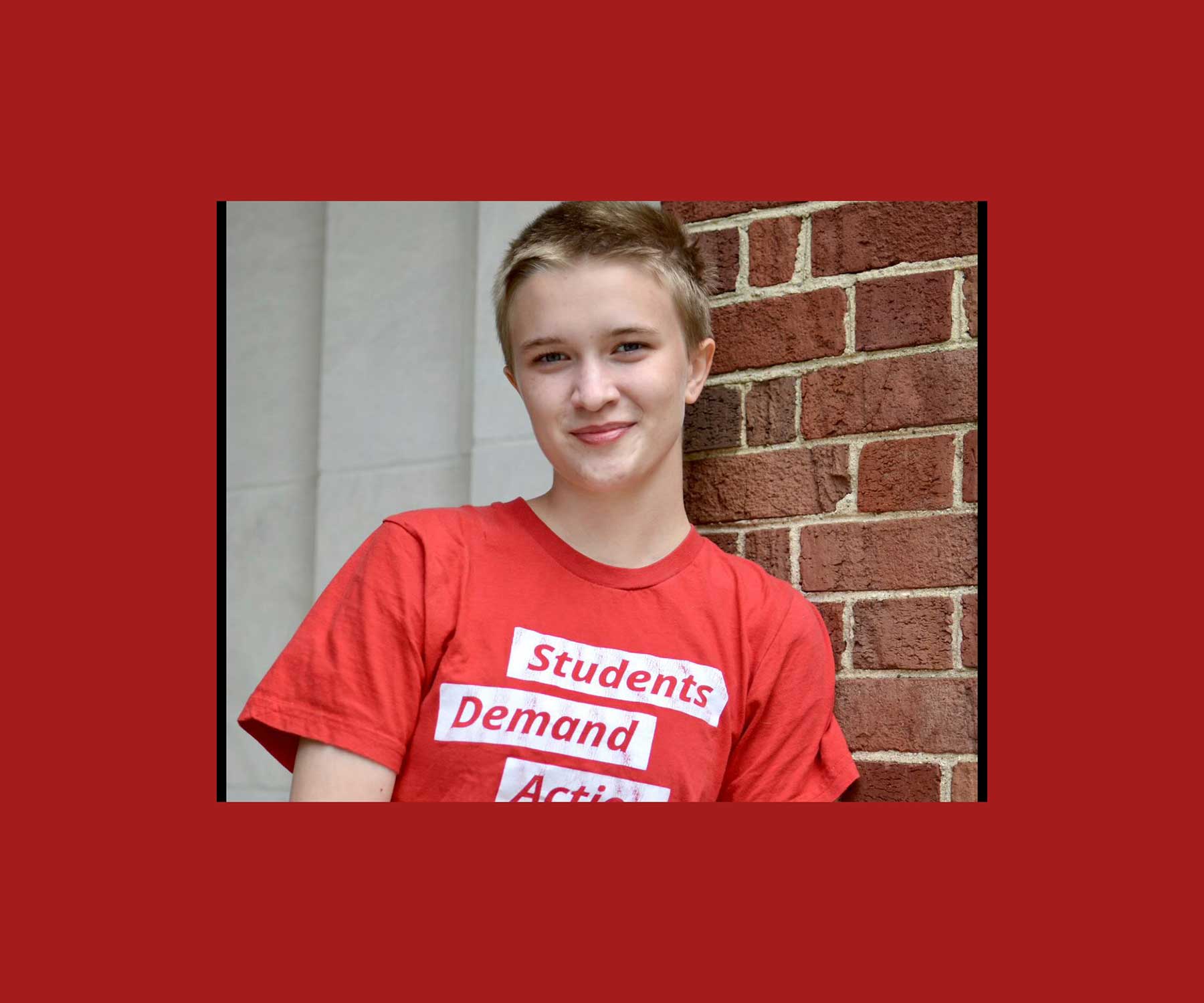 Student Peren Tiemann stands in front of a brick wall in the Upham Hall Arch.
First-year Miami activist campaigns against gun violence
Student Peren Tiemann stands in front of a brick wall in the Upham Hall Arch.
First-year student and Presidential Fellow Peren Tiemann chose activism at thirteen, after watching the nightly news and seeing coverage of the Marjory Stoneman Douglas High School shooting in Parkland, Florida on February 14, 2018. Tiemann marks this moment as the first time she started paying attention to the world around her. 
When she saw additional coverage about the March for Our Lives student movement founded by student survivors David Hogg and Alex Wind, Tiemann knew she had to act in spite of her struggles with anxiety. 
"I watched the national March for Our Lives that took place in D.C.," Tiemann said. "I, like many of the students there, was fed up, so I did a Google search on how I could do gun violence prevention work without talking to people. That's how I got started."
She discovered the organization Students Demand Action, the single largest youth-led grassroots gun violence prevention movement in the United States, and joined its text team. As a member of the text team, Tiemann sent messages to other students about opportunities to get involved.
"Sending those text messages helped me learn the information through exposure," she said. "By the time I started a Students Demand Action group at my high school, I was able to confidently discuss what information we have, what we're advocating for, and why."
Tiemann soon became a text team leader, leading her to pursue group advocacy and community outreach in her home state of Oregon. She was a leader in the Oregon Virtual Field Office and became a member of the Students Demand Action Advisory Board. 
Advocacy as a Miami student
Most recently, Tiemann went to Washington, D.C. this summer after the Uvalde, Texas school shooting to advocate for federal legislation on gun violence. Earlier this semester, she also went to New York to be interviewed at a philanthropy summit.
"We finally got federal legislation passed with the Bipartisan Safer Communities Act, which is the first major federal gun violence prevention bill that we've had in over 20 years," Tiemann said.
Tiemann continues her advocacy this fall at Miami as a first-year student majoring in Public Administration and Strategic Communication, along with a minor in Women's, Gender, and Sexuality Studies. She has already created a Students Demand Action group on the Oxford campus, with the help of the group's faculty advisor, Andy Rice, who is an assistant professor in the Department of Media, Journalism and Film. 
She is also collaborating with other volunteers to confront a recently passed law that could reduce the amount of training required to arm school teachers in Ohio. Most importantly, she encourages all college students to vote in the upcoming midterm elections.
"Even if you don't vote locally as a constituent in this area of Ohio, the elected officials here still represent us, and you should feel free to advocate with them," Tiemann said.
Although gun violence can be a polarizing discussion topic, Tiemann believes it is a necessary discussion to have. She finds that explaining certain misconceptions about common sense gun safety laws and policies helps others better understand her perspective. 
"We're not trying to take away anyone's guns," she said. "We're just trying to make sure people who have guns are able to safely and responsibly use and store them."  
Her conversation-based approach leads to shared common ground. As Tiemann progresses through her first year as a Miami student and continues her advocacy with Students Demand Action, her approach may create a more positive future for college students and Americans alike. 
"I've discussed difficult topics with veterans, responsible gun owners, and people who sometimes completely disagree with me," she said. "Finding that common ground is impactful. It has helped me grow as a person and an advocate for diversity, equity, inclusion, and gun violence prevention."
For more information about gun sense policies that Tiemann advocates, visit everytownresearch.org.