Miami welcomes stellar class of Presidential Fellows
Exceptional students in class of 2026 hail from hometowns across the country and the world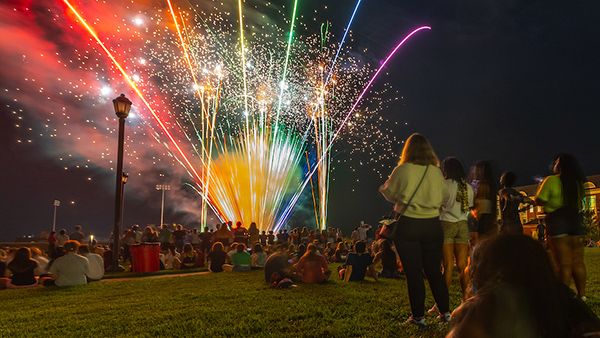 Fireworks at Cook Field during Welcome Weekend 2021
Miami welcomes stellar class of Presidential Fellows
Fireworks at Cook Field during Welcome Weekend 2021
Miami University has named 19 exceptional incoming students to the university's premier opportunity for top scholars, the Presidential Fellows Program. Joining the Class of 2026, the students come from across the United States as well as Honduras and Ghana.
The Presidential Fellows Program offers scholars a merit award to cover tuition, fees, housing, and meals, as well as a $5,000 academic enhancement fund for activities such as study abroad, independent research, public service, and professional conferences. 
As members of Miami's residential Honors College, Presidential Fellows also enjoy faculty mentorship throughout their Miami education so they can be competitive candidates for prestigious national and international fellowships and scholarships.
More than 2,600 students applied for the program, and 67 competed for the award during the Presidential Fellows Showcase, which includes a faculty-led group problem-solving activity, a design-thinking academic exercise, and an individual interview.  
"Each year, I am humbled by the accomplishments of Presidential Fellows candidates," University Ambassador Dr. Renate Crawford said. As university ambassador and adjunct professor of physics, Crawford directs the Presidential Fellows Program. "To be selected for the award, students must demonstrate not only that they are brilliant, but also that they are eager to embrace the opportunities they'll have at Miami, where they will be stretched to exceed expectations, collaborate with faculty and peers on a journey of discovery, and contribute to the greater good in whatever disciplines they choose."
As members of an overall first-year class that achieved record highs academically, Miami's Presidential Fellows stand apart. Their average GPA is 4.7 and average ACT score is 33. 
"Our incoming Presidential Fellows are outstanding," said Bethany Perkins, assistant vice president and director of admission. "Each of these students has unlimited potential, and they are joining a community of scholars who support and challenge each other to excel as they continue to explore their interests and prepare for leadership in their careers." 
2022-2023 Presidential Fellows
Taggart Arens: Webster Groves, Mo., Saint Louis University High School

Vivian Dao: Dayton, Ohio, Carroll High School

Katharine Dunn: Aurora, Ill., Oswego East High School

Noah Emmert: Collierville, Tenn., Memphis University School

Arianna Gold: Brooklyn, N.Y., Staten Island Technical High School

Kendyl Gurren: Hebron, Ky., Conner Senior High School

Ryan Hardek: Monaca, Pa., Central Valley High School

Gabe Hardman: Mentor, Ohio, Mentor High School

Emanuella Hedman: San Pedro Sula, Cortés, Honduras, Escuela Internacional Sampedrana

Grace Koo: Montgomery, Ohio, Sycamore High School

Benjamin Malek: Sylvania, Ohio, Saint Francis De Sales High School

Kevin Nettey: Accra, Ghana, SOS-Hermann Gmeiner International College

Helene Olsen: East Amherst, N.Y., Williamsville East High School

Victoria Rhodes: Rancho Palos Verdes, Calif., Peninsula High School

Jaren Snodgrass: Toledo, Ohio, Saint John's Jesuit High School

Ava Suarez: Gurnee, Ill., Warren Township High School

Peren Tiemann: Lake Oswego, Ore., Lakeridge High School

Paige Tiemeier: Wilder, Ky., Campbell County High School

Janelle Tipton: Englewood, Ohio, Northmont Senior High School
Largest, most qualified, most diverse applicant pool
This year's Presidential Fellows were selected from the largest, most qualified, and most diverse applicant pool in Miami's 213-year history. More than 31,400 students applied, and those who were admitted had an average GPA of 3.82, and applications from students of color increased 7.8% over the previous year.