Miami encourages prospective students to see their potential in majoring in sciences and engaging in research
Visitors "Discover the Sciences" and learn more about opportunities at Miami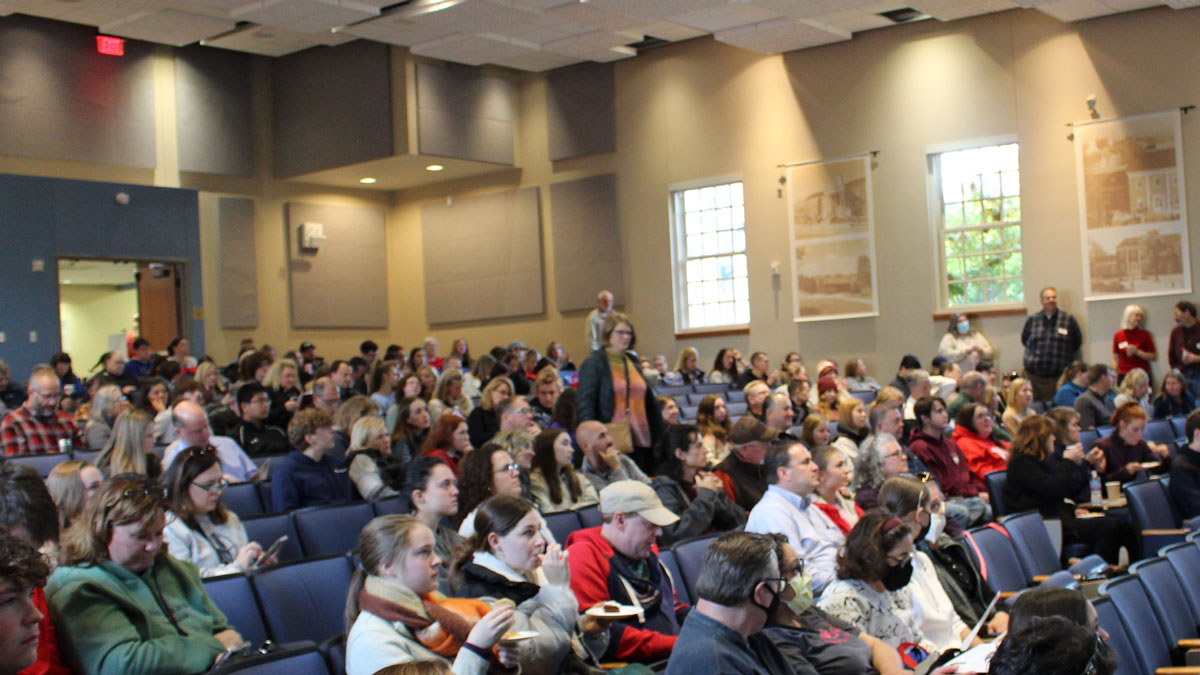 Discover the Sciences, 2022
Miami encourages prospective students to see their potential in majoring in sciences and engaging in research
Discover the Sciences, 2022
Around 400 guests made up of prospective students and their families attended Miami University's annual Discover the Sciences event on Saturday, Oct 15. 
The event has been hosted by the College of Arts and Science (CAS) for more than a decade, inviting visiting prospective students to explore their potential areas of interest in scientific fields. It spans multiple buildings on campus and showcases a variety of majors including Mathematics, Biology, Physics, and Geology. 
The morning kicked off at Benton Hall, where Chris Makaroff, dean of CAS, welcomed attendees. He was joined by Tom Crist, professor and chair of the Department of Biology, who gave an opening presentation that detailed hallmarks of student success and emphasized the uniqueness of the university.
"Here you can have access to high-end resources and facilities, but still have that small school feel," said Crist, who has been with the university for almost 30 years. "You're able to have student-faculty interactions in a way you might not get somewhere else."
A Life at Miami panel, hosted by faculty and current students, allowed guests to inquire about aspects of the various science programs, research opportunities, and CAS itself. 
Discover the Sciences 2022
Discover the Sciences 2022
Morgan Loveday, a junior majoring in Chemistry, is in her third semester of research for the Yezierski Group for Chemistry Education Research. She co-authored a paper about her work that will potentially be published. 
"I was also able to present to the Department of Chemistry and Biochemistry alumni board last month, which was an incredible opportunity," said Loveday. "My research has awarded me some awesome experiences so far."
Cassidy Waldrep, a triple major in Zoology, Neuroscience, and Spanish, was accompanied on the panel by Palmer, her dog from Miami's Paws for a Cause program.
"I want them to understand holistically what Miami University is about and make sure they understand all aspects of it," said Waldrep. 
Other students on the panel included Nico Jaworski (Anthropology),  Kyra Stillwell (Physics), and John Fazio (Microbiology).
"It was interesting to hear students talking about their own experiences," said Jade Marshall, a high school senior from Maineville, Ohio. "I learned a lot about potential opportunities, so that was really helpful."
The day continued with visitors going on tours of the labs and facilities in their potential fields. Current Miami students presented their research through posters. Topics included field research in primatology and investigating regeneration processes through the lens of the newt. Department faculty encouraged attendees to ask questions and take advantage of the event. 
"I think it's really important to nurture those little nuggets of interest," said Marcia England, the department chair of Geography.
Photos by Adrianna Parker, CAS communications assistant