Undergraduate takes on Antarctica to research microbials in frozen lakes
Eckhardt Karsten '24 traveled to Antarctica this semester to study climate change's impact on salinity and microbial communities.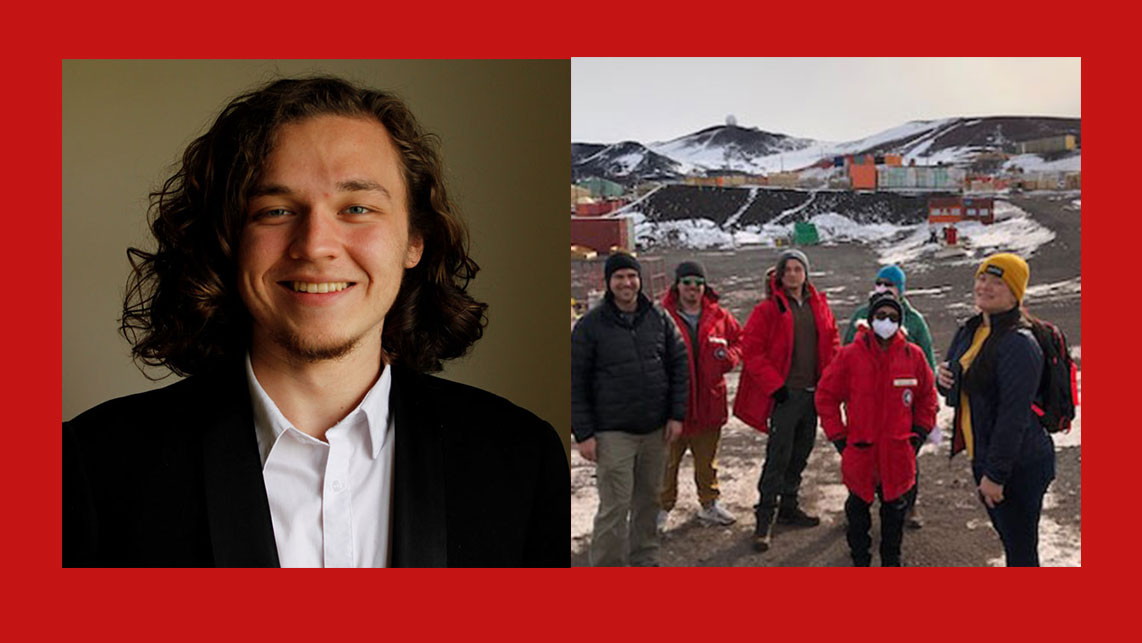 Eckhardt Karsten '24 (left) and the research team at McMurdo Station (right)
Undergraduate takes on Antarctica to research microbials in frozen lakes
Eckhardt Karsten '24 (left) and the research team at McMurdo Station (right)
Eckhardt Karsten, who studies Microbiology and Environmental Science at Miami, became fascinated by how the world works at the smallest level possible. With evolving technologies, microbiology is the latest frontier into understanding the basis of life. He is now preparing to study microbes in one of the most extreme environments on Earth.
During Karsten's sophomore year, he worked in O'Toole Family Professor of Microbiology Rachael Morgan-Kiss's ecology lab, where they studied algae and protists. Later on, Morgan-Kiss reached out to Karsten to invite him to join her field team to Antarctica, where normally only graduate students and beyond are involved.
"In Antarctica, there's a lot of these organisms called protists, which is what my lab studies," Morgan-Kiss said. "We try to mimic climate change by incubating permeable bags in the environment."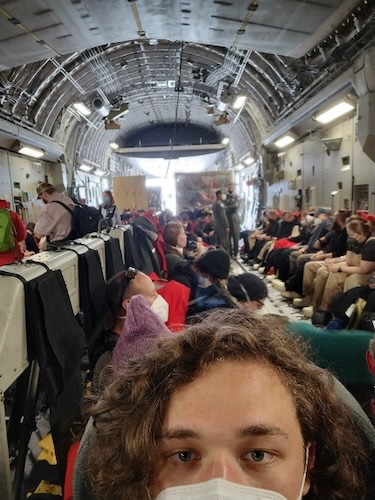 Eckhardt Karsten riding in the C-17 plane with Dr. Rachael
Morgan-Kiss and her research team
Morgan-Kiss's team, based in McMurdo Station in Antarctica, works as a part of the United States' Long Term Ecological Project, whose goal is to gather scientific knowledge to conserve ecosystems. Her research team works to understand how microbial communities function and interact in frozen lakes, with a focus on how changes in salinity, which is the dissolved salt content of a body of water, shift these communities.
The higher temperatures in Antarctica have led to excess glacier melting, contributing to lake level rise. Therefore, the team will study the impact that climate change has on the microbials.   
"We want to see how higher salinity impacts a lot of these microbes that we're already aware of and ones we might not be aware of yet," said Karsten, adding that he hopes to focus his attention on specific species of fungi and how they may be affected by the warming climate.
Beyond the research, "I look forward to waking up everyday and just kind of walking out of my tent and seeing a wide expanse of mountains, ice, and snow," Karsten said.
With Antarctica having only six days a year with above freezing temperatures, the cold will be a struggle. This is the one aspect Karsten is not looking forward to.  
"The equipment is very helpful, but it doesn't change the fact that you're talking about the coldest and driest place on planet Earth," he said.
Morgan-Kiss agreed. "We spend at least eighty percent of our time in Antarctica not doing science," she said. "We're surviving."
Karsten explained that his mentors and his field experience working in Appalachia for a national lab has helped prepare him for the trip. 
"Dr. Kiss helps me get up to that level," he said. "I have a long way to go, but they're helping me out with it."
After graduation, Eckhardt plans to pursue a masters degree in Ecology or Marine Sciences. He hopes to continue studying microbial communities in unusual environments, such as Mexico's Yucatán Peninsula. 
"My family is from there, and I've always thought that place was absolutely gorgeous," he said. "The geology is bizarre, because you had an asteroid impact there that created essentially a whole river system which hasn't been fully mapped out."
By doing research in such an extreme and remote location as Antarctica, Karsten added, "we're adding a wider breadth of research which is, of course, the whole world system, how the world climate is changing."  
NOTE: This article was written before Karsten and the research team departed for Antarctica. To learn more about their ongoing activities, take a look at their blog.