Psychology and Neuroscience student explores conditioned inhibition and PTSD in rodents to advance future treatments
Caroline Bartoszek '23 works with Dr. Jennifer Quinn to explore conditioned inhibition in female rodents and its implications for PTSD research.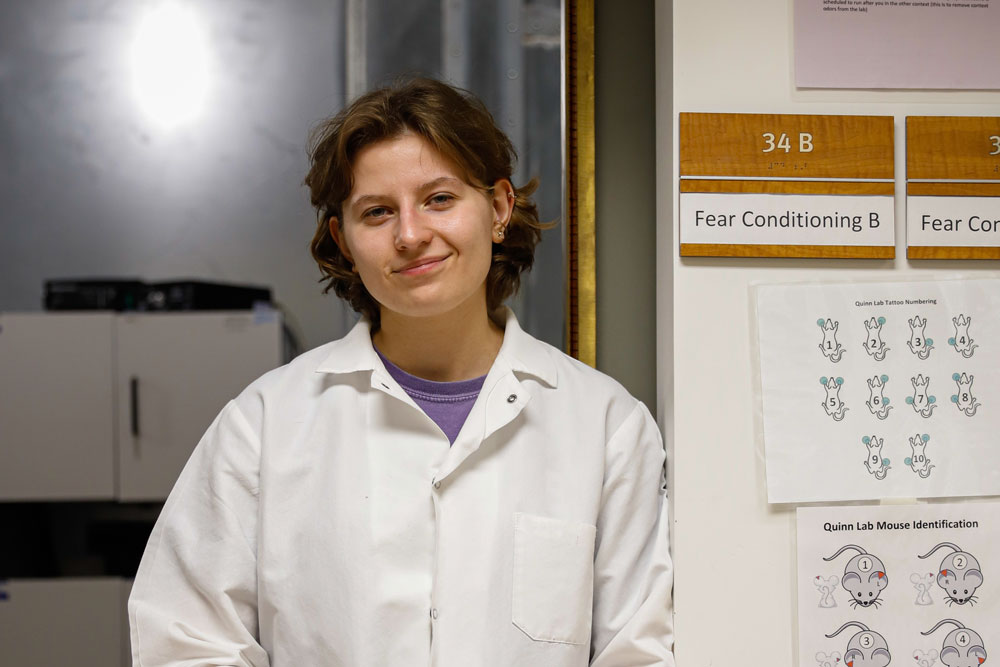 Caroline Bartoszek
Psychology and Neuroscience student explores conditioned inhibition and PTSD in rodents to advance future treatments
Caroline Bartoszek
Caroline Bartoszek '23, a senior Psychology major and Neuroscience co-major, has found the perfect balance between her passion for psychology and her desire for clinical experiences in her career. 
Last summer, Bartoszek quickly realized that she could participate in research to enhance her undergraduate experience — and make a major impact on the field of biopsychology. Now, as she prepares to graduate in May, Bartoszek is leading a pilot research study on PTSD in Associate Professor of Psychology Jennifer Quinn's Learning, Memory, and Emotion Lab.
As a participant in Miami's Undergraduate Summer Scholars program, Bartoszek hopes to discover a way to induce conditioned inhibition in female rodents who have experienced stress in early life. Her research may be used to understand PTSD and trauma responses in humans who have experienced similar stressors.
Conditioned inhibition, Bartoszek explains, is a way to signal safety in people who have experienced trauma. She uses a noise and a flashing light to teach the rodents that they are safe, even if they hear a noise that usually means they will be shocked. Then, she measures their trauma response (in this case, freezing in place after the noise is heard) to determine if she has successfully taught the rodents the concept of conditioned inhibition.
Although this concept has been researched by Quinn and others in the field, it has been difficult for researchers to establish this effect in female rodents specifically. Bartoszek is attempting to fill this gap.
"Human females have higher rates of PTSD, so it's really important to have more measures of it than just what we have now," Bartoszek said. "Having multiple measures of disorders like PTSD can be really helpful to society in learning how these disorders might develop, and it will help drug production in the future."
Aside from the societal impact of her research, Bartoszek has been lucky enough to work with a talented research team and develop leadership skills that have been an integral part of her growth as a student soon entering the workforce.
With close guidance from Quinn and Amanda Reichert, a graduate student in the lab, Bartoszek has embraced her independence and taken the lead on the project, gaining valuable skills such as literature reviewing, grant writing, and working under pressure. She also works with fellow undergraduates Lucy Chappell, Henry Beckett, Maddy Hall, Serena Gogusoglu, and Kiara Ream.
"Last spring, I had a lot of people helping me, and I had to learn how to delegate who does what," Bartoszek said. "But then over the summer, there were times when I was in the lab completely by myself the entire day. So it was really up to me to know how to handle the animals and know what to do if something goes wrong or something unexpected happens."
Although it was a challenging process, Bartoszek feels lucky to have been given the opportunity to conduct her own undergraduate research.
"In the moment, doing research can seem kind of exhausting at points," Bartoszek said. "But then at the end, when I'm analyzing my data and those important analyses or connections come up, that's where I kind of reap my reward. And especially because this is a pilot study, it is really awesome to see what I was able to get from my data because I am trying something totally new out."
Bartoszek also emphasized the importance of research in developing her worldview and plan for the future, and she wants other students interested in research, both STEM and non-STEM, to know that they should just go for it, no matter what they're interested in.
"The skills I learned from this study I will probably carry with me forever," she said. "I think the skills I learned doing this also opened up other pathways for me."