Zoology student examines how cyanobacteria may be the key to curbing climate change
Luke Croner '23 discusses the potentialities of using energy transference in cyanobacteria to combat climate change.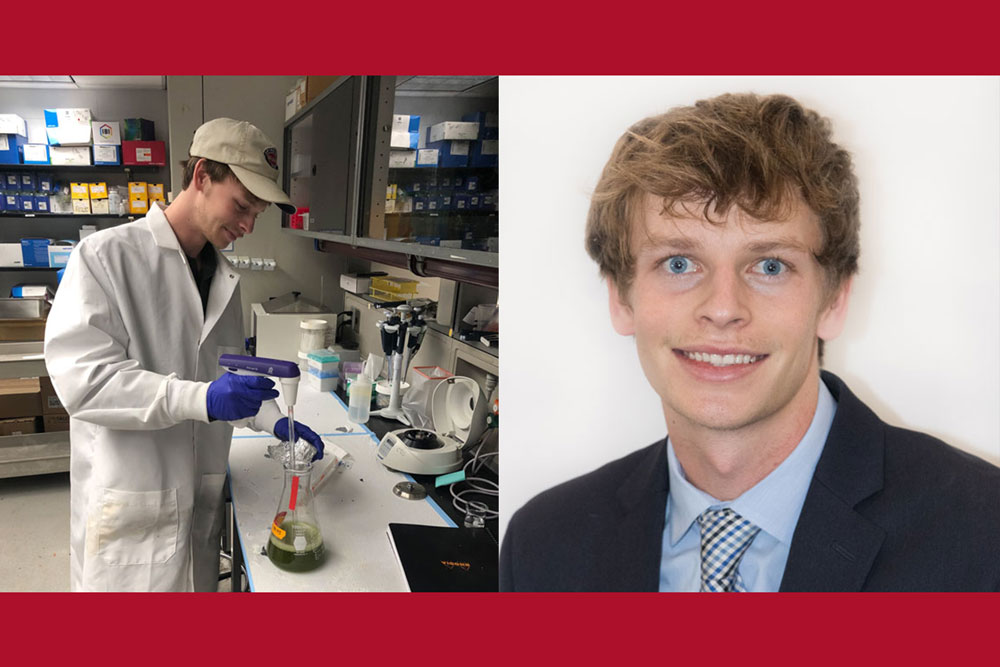 Croner working in the lab (left), photo of Luke Croner (right)
Zoology student examines how cyanobacteria may be the key to curbing climate change
Croner working in the lab (left), photo of Luke Croner (right)
Luke Croner, a senior Zoology major and Premedical Studies co-major, aimed to become an Undergraduate Summer Scholar to focus on topics that are highly relevant to modern society.  With the looming threat of climate change on vital ecosystems all over the world, he knew he had found his objective.
Just this past summer, Croner participated in a project that was almost entirely undergraduate-led, in which each group studied the Twin Arginine Transport (TAT) pathway system found in bacteria and single-celled organisms called archaea. The TAT is a protein-transporting system that, unlike most other transporters, delivers fully folded proteins rather than unfolded forms of them.
"I originally started off at Miami majoring in Biology but realized that I wanted to get more involved in biochemistry research to learn a greater range of techniques," Croner said. He plans on going to medical school once he graduates this spring.
Croner joined his group of fellow undergraduate and graduate students in the Protein Transport Lab, directed by his faculty mentor, Carole Dabney-Smith, Volwiler Distinguished Research Professor of Chemistry and Biochemistry. They closely studied plant-based cyanobacteria and how they could separate photosynthetic components found in the internal thylakoid membrane from the non-photosynthetic plasma membrane and cytoplasmic components within the cyanobacteria itself.
In essence, this project seeks to expose and synthetically separate the plasma membrane – the exterior of the cynanobacteria's cell that protects its interior – from the cytoplasm, the liquid within the cell, and the thylakoid, the membrane for photosynthesis. Liquid phase separation is the method of separating these components by their density, which then allows for determination of the proteins found in each part.
"There is a lot of literature about cyanobacteria and photosynthesis, but a lot less about protein transport in the cells," Croner said. "This is strange to me, since plants obviously could not have existed without the building blocks provided by the cyanobacteria of the ancient past. Cyanobacteria gave rise to plants. And so we're trying to figure out the beginnings of plant life and the evolution of the TAT system."
Dabney-Smith, the research project's primary investigator, is a recipient of the Distinguished Teaching Award for Excellence in Graduate Instruction and Mentoring last fall. With current grant support from the NIH, she works with graduate students in Chemistry and Biochemistry and in the interdisciplinary Cellular, Molecular and Structural Biology (CMSB) program.
Of course, even despite its immense benefits, this entire process came with its challenges. Croner mentioned his challenges of developing a new method and troubleshooting that he had to overcome in order to see the project through.
He felt encouraged by the long-term implications of his research, which may yield important insights into methods to help confront modern environmental issues, including climate change and efficient energy resources.
"We're trying to figure out more efficient ways to make energy and combat climate change," Croner said. "As global temperatures get warmer, many plants aren't able to function as well, and so by understanding the basis of the proteins that make up these plants through studying cyanobacteria, we can go forward with the idea that something is going wrong – so let's look back at the proteins and see what we can change."
Completing this project was an opportunity that allowed for not only growth in Croner's own scientific skill set, but also in learning to push through failure after failure and build a life-changing amount of mental and physical perseverance.
"Research like this helps people understand how to prevent the possibility of a greater natural downfall in the future," Croner said.