Miami's Center for the Study and Support of Children and Families of the Incarcerated encourages open conversations about poverty and incarceration
In collaboration with Think Tank, faculty asked participants to take on the role of real-life individuals in order to rethink poverty.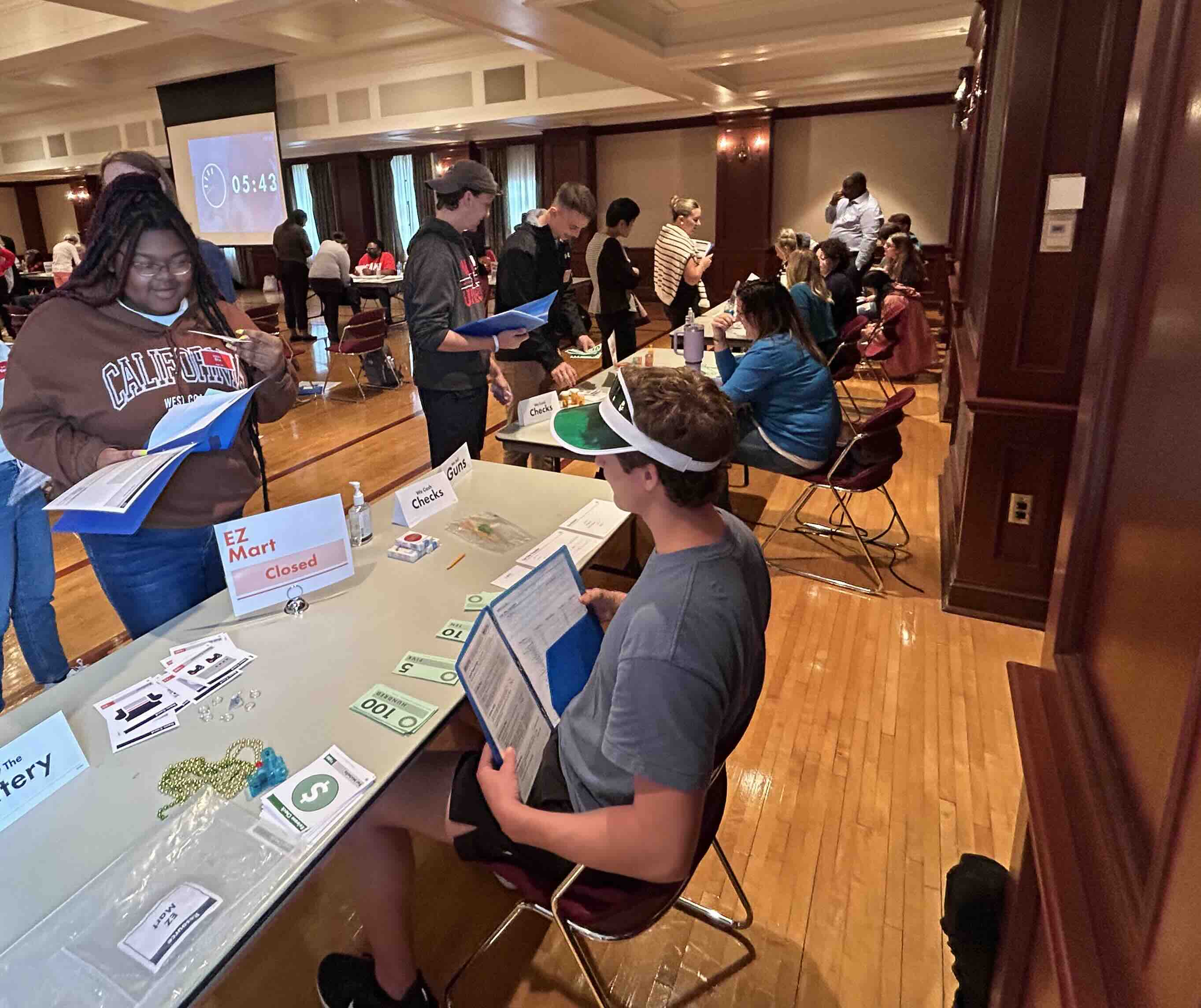 Students visiting the many different stations representing essential post-incarceration destinations during the event
Miami's Center for the Study and Support of Children and Families of the Incarcerated encourages open conversations about poverty and incarceration
Students visiting the many different stations representing essential post-incarceration destinations during the event
On Sept. 27, Miami's Center for the Study and Support of Children and Families of the Incarcerated (CSSCFI) joined with Think Tank to host an immersive event titled "Cost of Poverty Simulation: Reentry Edition." It aimed to shed light on the intricate web of challenges faced by individuals reentering society after incarceration, highlighting the often invisible struggles of poverty and imprisonment. 
The event, organized by Professor of Psychology Yvette Harris and Associate Professor of Department of Justice and Community Studies Jessica Warner, showcased a unique blend of education and empathy-building, involving 52 participants. Through the use of realistic roleplaying scenarios, students and faculty members delved deep into the experiences of those affected by incarceration and poverty.
Harris is also the director of the CSSCFI, where Warner is an affiliated faculty member. This is the third simulation event to be held on one of Miami's campuses. Warner had sponsored the event on the regional campuses as part of the Criminal Justice program. 
"The mission of the CSSCFI is threefold," Harris said. "We conduct research on children and families of the incarcerated, we provide educational programming for the Miami and Oxford community that discusses the challenges and strengths exhibited by these families while encountering barriers to their loved ones' reentry back home, and we advocate for change for these families by supporting social policy that provides funding and legislation."
Think Tank, a nonprofit based out of Springfield, is dedicated to changing perceptions of poverty and the criminal justice system. It hosts similar events across Ohio, using the real-life stories and experiences of individuals who have lived experiences with reentry to inform and shape these trainings and simulations.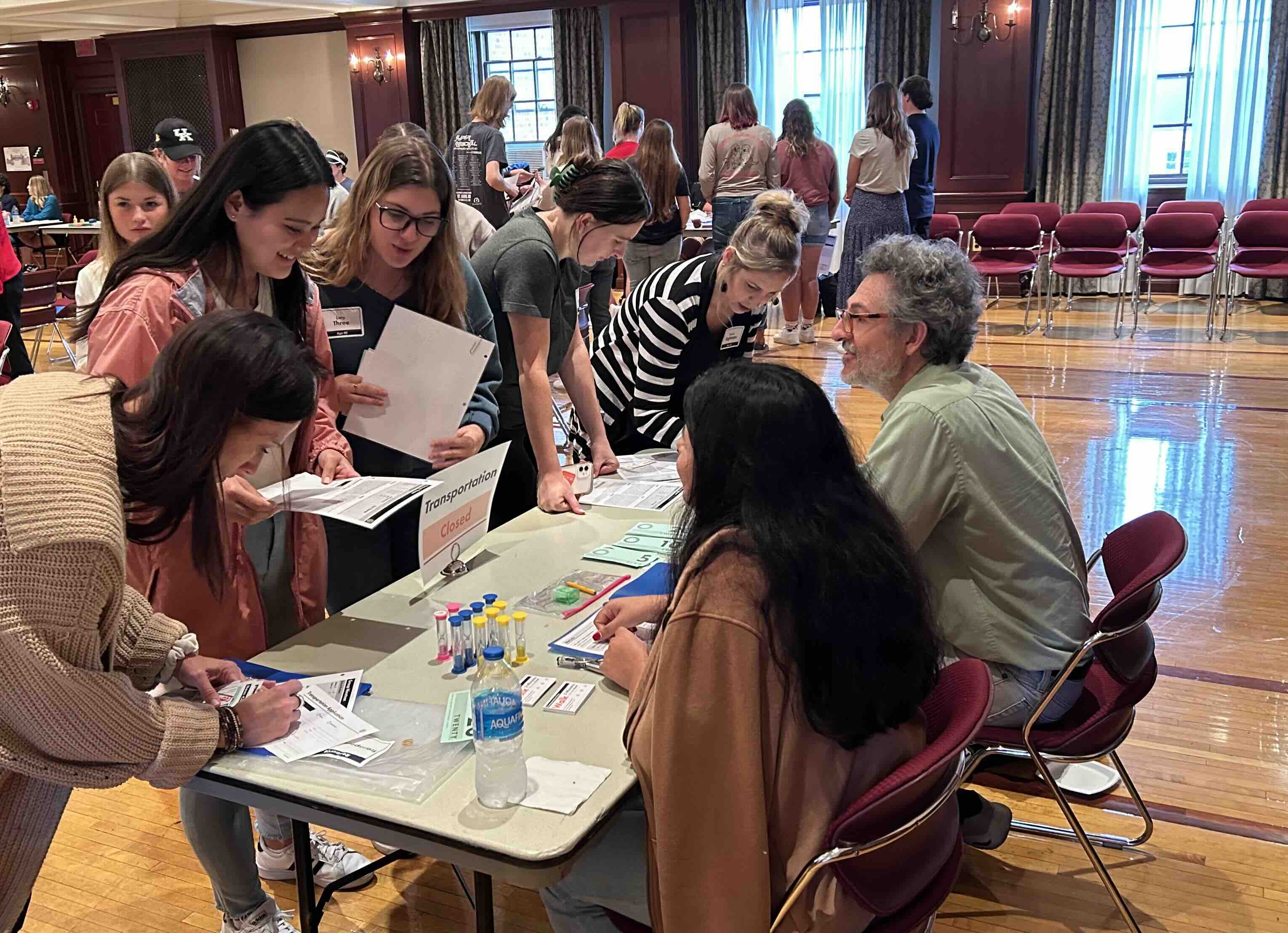 Students roleplay as various family members at the Transportation station.
Roleplaying as family members struggling to reenter society
The 90-day simulation spanned 45 minutes, divided into three 15-minute months. Participants were assigned to families of one to four people and assumed the roles of characters grappling with reentry into society, including "currently incarcerated," "recently released," children with parents who were incarcerated, or caregivers of those same children. This approach allowed them to experience the challenges faced by different family members.
Each simulated month, participants received a list of tasks they had to complete that reflected real-life responsibilities returning citizens and their families must do each month to survive. These included a reentry plan as well as basic tasks like going to work, finding housing, buying groceries, or paying rent. 
Different stations representing essential post-incarceration destinations were set up around the room, including men's and women's prisons, the courthouse, reentry services, housing, government services, family wellness, employment, supercenters, quick marts, police/jail, school and childcare, transportation, and faith centers. 
Throughout the simulation, participants encountered various challenges, mirroring real-life difficulties faced by returning citizens. 
For month one, participants focused on immediate needs like employment, transportation, and probation. Participants would report to "work" by sitting at the employment station for either four or eight minutes to simulate a full or part-time job. Transportation passes were also needed to travel to any station. These came in the form of buying gas or a bus pass or waiting two minutes for a walking card (to simulate the time and energy walking takes.) 
The second month brought new issues to the forefront, including court appearances for truancy, overdue rent, and the introduction of unexpected challenges like arrests, reflecting the unpredictability of life post-incarceration. 
Finally, for the third month, it was announced that it was summer and school was out, so families would need to find childcare. Since most could not afford this, parents had to stay home with their children, forcing the family to live off of one income on a tighter budget. Month three also saw an increase in arrests.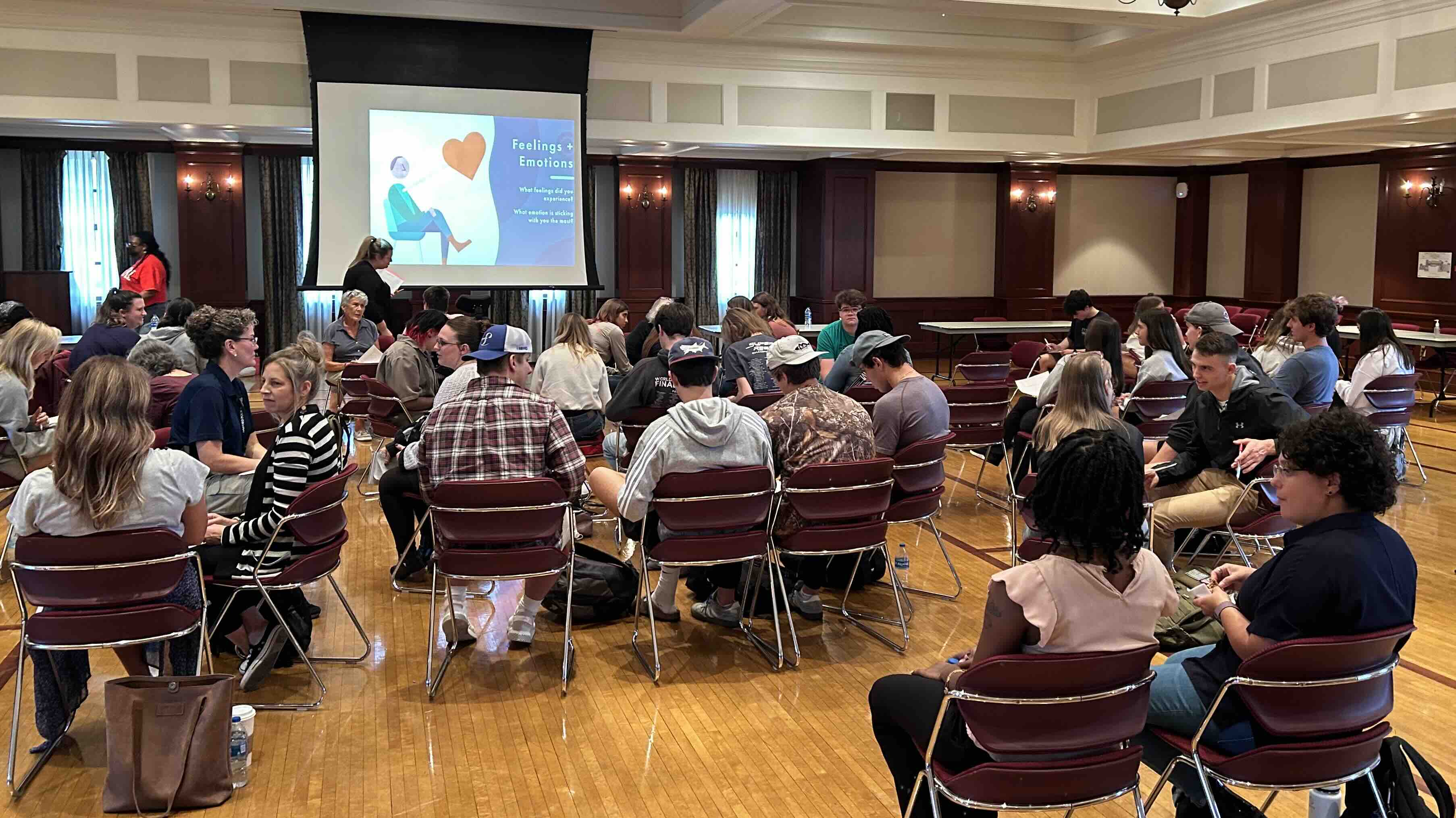 Participants discuss their experiences and provide feedback.
Emotional responses to harrowing struggles
After the simulation, participants engaged in a reflective debrief and discussion. Emotions ran high as they shared their experiences and insights, sharing feelings of frustration, stress, guilt, anxiety, and confusion. 
"It seems easier to stay in prison," said one participant. "At least you have food and a roof over your head."
Many also expressed frustration with the lack of communication between the community sectors. Some felt they did not have any help or resources, leading to lots of confusion when following their reentry plan. 
"The criminal justice system is criminal," said another participant. "There's a lot of money generated by the system, and how do we change things when there are people that are benefiting from it?" 
Having worked in halfway houses, cohost Jessica Warner is very familiar with the process of reentry.
"Reentry is not a new challenge for returning citizens or the communities they return to," she said. "While there are some resources, awareness of them and support during the process is what has been lagging in those communities."
The event concluded with a video featuring one of the individuals upon whom the simulation was based, advocating for greater support and understanding. 
"We hope that people left the event with an understanding of the challenges that families and their reentering  loved ones encounter while negotiating daily living," said Harris.
In a society that often stigmatizes and marginalizes returning citizens, events like these are an important reminder that behind every statistic is a human story that deserves to be heard and understood.
The simulation was made possible by donations from:
College of Arts and Science (CAS)
Department of Family Science and Social Work
Department of Psychology
Department of Teaching, Curriculum and Educational Inquiry
Doris Bergen Center for Human Development Learning and Technology (CHDLT)
Farmer School of Business (FSB)
Justice and Community Studies (JCS)
Menard Family Center for Democracy
Office of Research and Innovation
Miami University Libraries
School-Based Center of Excellence (SBCOE)