"Is Higher Ed Woke and Broke?" This fall's Janus Forum tackles the politics and economics of college today
Gov. Mitch Daniels and Dr. Kristina Johnson will discuss the future of higher education on Nov. 13 at Wilks Theater.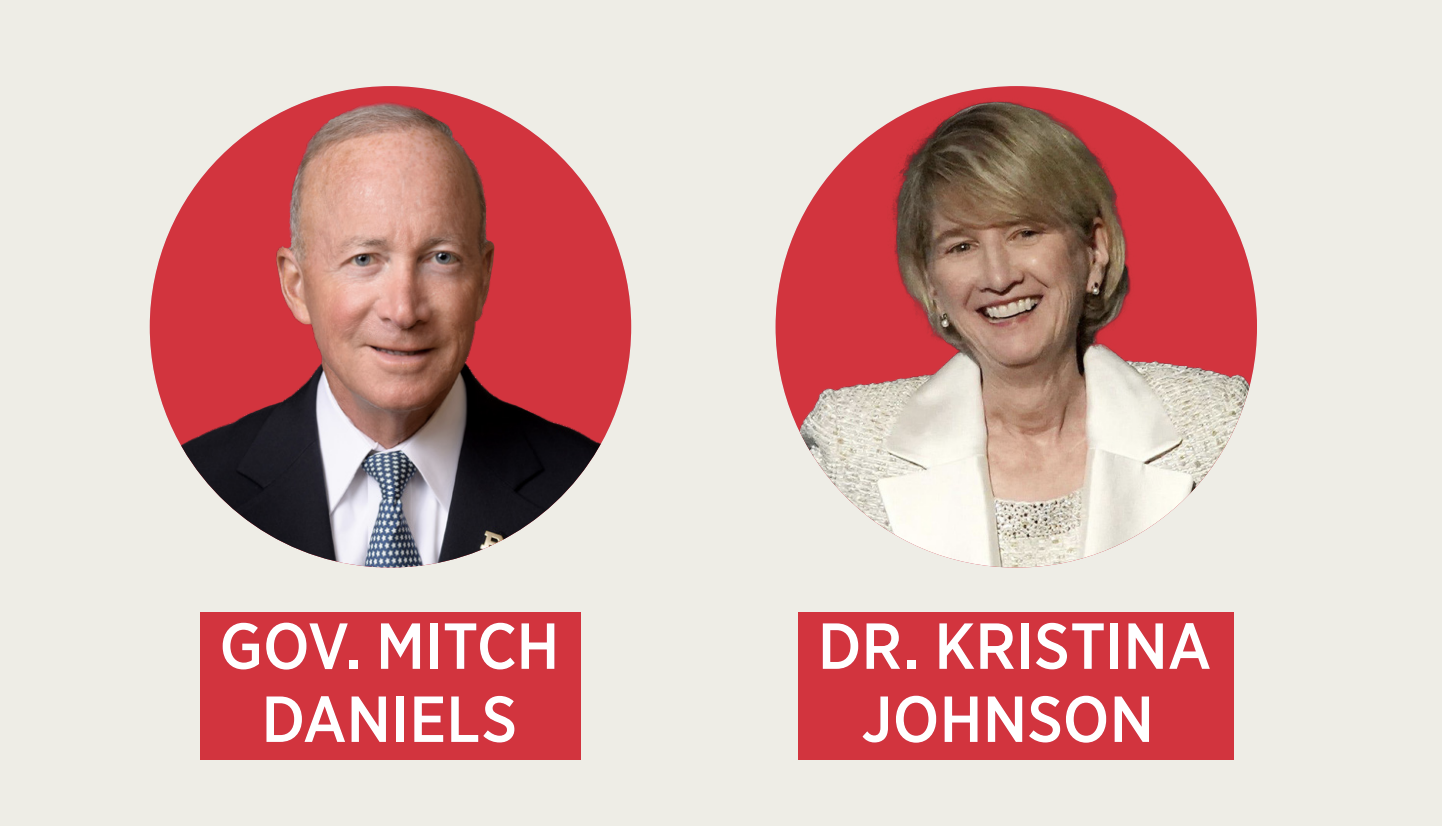 "Is Higher Ed Woke and Broke?" This fall's Janus Forum tackles the politics and economics of college today
Is the value of higher education inflated? Are state legislatures interfering with free speech? On Nov. 13, the biannual Janus Forum will welcome former Indiana governor Mitch Daniels and former president of The Ohio State University Dr. Kristina Johnson to the stage to debate the current struggles of higher education and the role it plays in America's future.
The free but ticketed event will take place at 6:30 p.m. in the Wilks Theater in the Armstrong Student Center. A public reception is set to follow. Tickets are available at the Miami University box office.
"With public support for higher ed continually dropping year after year, American colleges and universities are facing a real challenge," said Patrick Haney, Professor of Political Science. "Rising student debt, questions about the relevance of the liberal arts,  about academic freedom, about free speech, and about the value of diversity are just some of the key issues that surround higher ed today."
Mitch Daniels is the former two-term governor of Indiana and was the 12th president of Purdue University.  At Purdue he launched a series of initiatives to address some of the biggest challenges to higher ed: affordability and accessibility, transformative education, world-changing research, and STEM leadership.  
As governor, Daniels helped Indiana pass its first balanced budget in eight years and left office with a surplus. He repaid hundreds of millions of dollars the state had borrowed from Indiana's public schools, state universities and local units of government, and reduced the state's overall debt by 40 percent. 
As the 16th president of The Ohio State University, Dr. Kristina Johnson oversaw five campuses, approximately 65,000 students, and an annual operating budget of $9 billion. In three years she helped to increase research expenditures by 42%, reversed the trend of faculty attrition, and raised over $170 million for student scholarships and fellowships.
Previously, Johnson served as chancellor of the State University of New York, co-founder and CEO of a clean-energy infrastructure company called Cube Hydro Partners, LLC, and Undersecretary at the U.S. Department of Energy during the Obama administration.
Junior Political Science major Minnie Warfield will moderate the event. Cameron Tiefenthaler, a senior majoring in Political Science and Business Analytics, is this year's Janus Forum student president.
The Janus Forum is made possible thanks to the generous support of Thomas W. Smith '50 and is sponsored by the Department of Political Science and the Menard Family Center for Democracy.