Gerontology student with global perspectives
The next generation of gerontologists is filled with perspectives from all over the globe.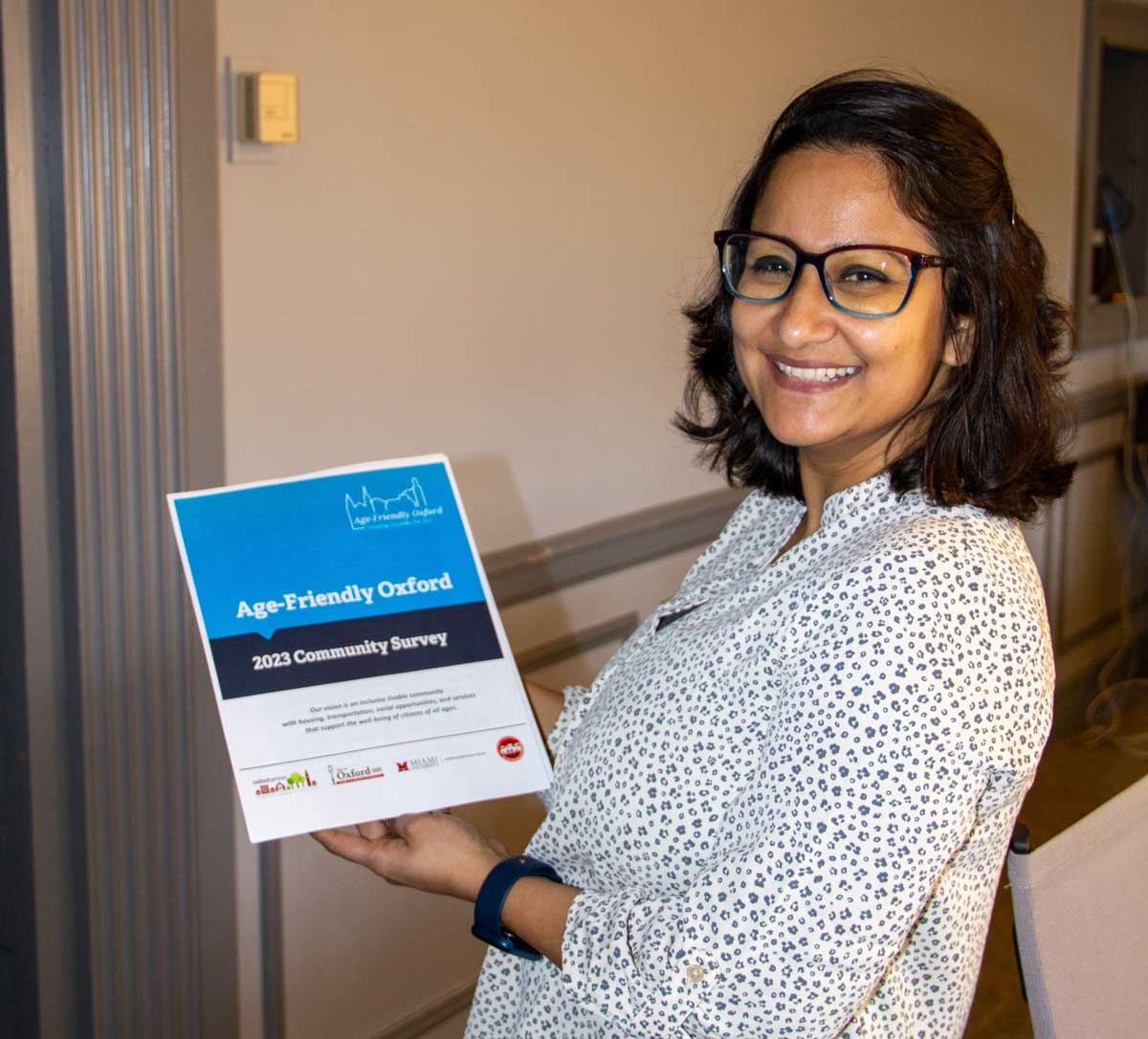 Usha Dhakal holding up the Age-Friendly survey.
Gerontology student with global perspectives
Usha Dhakal holding up the Age-Friendly survey.
Usha Dhakal is a Ph.D. student in the Social Gerontology program and was born and raised in Biratnagar, a small town in Eastern Nepal. Before coming to Miami, Dhakal gained nursing experience. She often utilized her biological perspective when contributing to class discussions while providing insight into the cultural differences in aging between Nepal and the U.S.
Usha has been involved in projects surrounding surveys and evaluation research; this includes the Ohio Department of Health Satisfaction Surveys, Ohio Person-Centered Staff Engagement Project Evaluation, and Study on ACLs Impact on the Social Determinants of Health. Usha has been a part of the Age-Friendly Oxford (AFO) project since 2018. AFO is a community effort to improve the livability within the Oxford community, creating a place where people of all ages can grow and live together. Usha's work has primarily been with the community survey that focuses on various aspects of livability, such as housing, transportation, health, communication, as well as social participation, and belonging.
"Aging is inevitable, and as gerontologists, we have the power to create an environment that fosters the safety, inclusivity, and belongingness of older adults in this world. Getting an opportunity to contribute to creating one for myself and my loved ones as we grow older draws me into gerontology."
When coming to the U.S. as an international student, Dhakal was comforted when discovering the tight-knit community within the Sociology and Gerontology department and the Scripps research center. A community that is kind, helpful, and encourages their students' growth. When describing the next generation of gerontologists, Usha shares the unique perspective that everyone brings to the table as a culture that acknowledges the growing diversity of older adults and collaborates with multiple disciplines to improve the lives of older adults.
As Usha enters her final semester, she feels confident that her hands-on experience in research and instructions has prepared her to enter the job market for a career in gerontology.
Follow the next generation of gerontology stories with the hashtag #GTYStudentStories.