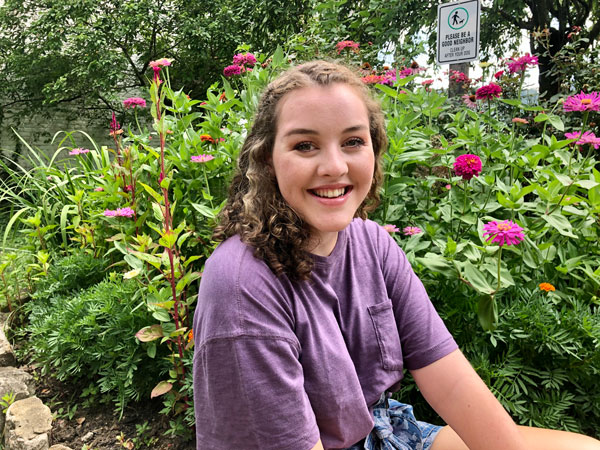 Elizabeth Music
BA/MA alumna in Philosophy
From Springboro, Ohio
Former Treasurer and Co-President, College Diabetes network — Miami University Chapter
Member, Amicus Curiae Pre-Law Society and Groupelele (Miami University student ukulele interest group) during her time at Miami
Attends University of Cincinnati College of Law
"If I hadn't had that opportunity, I probably would not have gotten my master's [degree] in anything, so to be able to do it in four or five years is just a really great opportunity."
Elizabeth Music '22
Why Miami?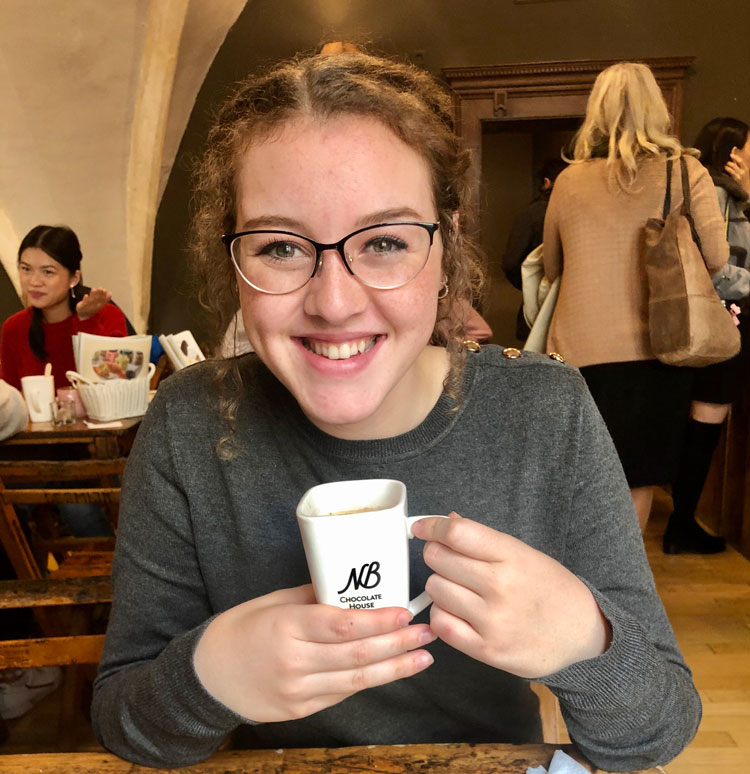 "I had applied to about ten different schools for [an] undergraduate [degree], and I wasn't sure where I wanted to go or what I wanted to do. My dad had taught briefly, and he took a lot of classes at Miami. He really wanted me to apply, so I did. We came to visit, and it just felt right. I didn't want to jump right into an urban setting, so I thought this was a very nice area.
"I think the values that the people who go [to Miami] have are important and good, and I just really like the people and the atmosphere. Whenever you see somebody with a Miami sticker or a Miami shirt on, you walk by [them] and you're like "love and honor!", and they get it.
"Actually, it's kind of funny: when I was studying abroad in Ireland, we went to a bar to watch Ohio State vs. Michigan or something. There were people on the other end of the place that were wearing Miami gear! In Ireland! It was so random — we were like "guess what, we go there too!" And it was just a very weird connection to have all the way across the world. Miami people are spread out everywhere, and I wanted to be a part of that network."
---
 Best Miami Philosophy BA/MA Experiences
"I was a little bit of a nontraditional student coming into Miami, because my high school offered "dual enrollment", sometimes called "college credit plus", so I got college credit classes in my senior year of high school. I came [to Miami] with about a full year of college credit already completed, so I had more options about what I could do. Coming into Miami, I knew that I was probably going to graduate a year early, or maybe double major in something. My senior year in high school, I had taken some philosophy classes, and the professor was very kind and very encouraging, and I figured that I didn't have any other plans and didn't know what else I wanted to do, so kind of by the process of elimination, I wound up with philosophy because it was the only thing that interested me to study long-term. 
"So I kind of knew coming into Miami that philosophy was going to be where I would focus my studies, but I wasn't a hundred percent sure until my dad and I came to Make It Miami. I met Dr. Gaile Pohlhaus, and [after talking about the philosophy program] she offered to walk us back to the department so we could meet everyone. When we walked into the department hallway, we saw a flyer that said "BA/MA Program: get it in just one extra year!" My dad was like "Hey, you could do this and still graduate in four years!" From literally that moment on, I was on track for the Philosophy BA/MA Program. Prior to Make It Miami, I hadn't really thought about graduate school; I really didn't know what I was going to do with my degree long-term. So it all just fell into place! Dr. Pohlhaus was really with me from day one: from introducing me to the department, to having classes, to doing my final defense panel for the master's program.
"One thing I would tell high school students is that you can do anything with a philosophy degree; it's a flexible enough program that you can double major — lots of people double major with philosophy — because you can curate the philosophy classes to your own research and your own interests. The professors here are really, really encouraging with wanting students to pursue their own interests and bring those interests into the classroom and into the papers they write. I'd tell high school students, even if they're not sure, to just take one philosophy class, because it can be super-interesting. Everybody I know who's ever taken a philosophy class has said "yeah, I really like that", and they usually have something pretty memorable to say about it. I think [philosophy] teaches you foundational skills that a lot of other majors miss. 
Another thing that I found really valuable is that even though I was [in the BA/MA program], I still had a really strong connection with the undergraduates, and yet I was learning so much from the graduate students. It was kind of weird — in my first semester, I was in classes with a few people who had already had four entire years of philosophy education!  But everybody was so nice and so willing to teach me, and I'd always ask the full-time master's students questions, and they were always willing to answer them and explain things, as were the professors. At the same time, I was still able to relate to the undergraduates [in the class]. It was a nice balance to push myself doing the master's work and learn so much, but also have that understanding and that compassion [for the undergraduates]."
---
 Life Outside the Classroom
"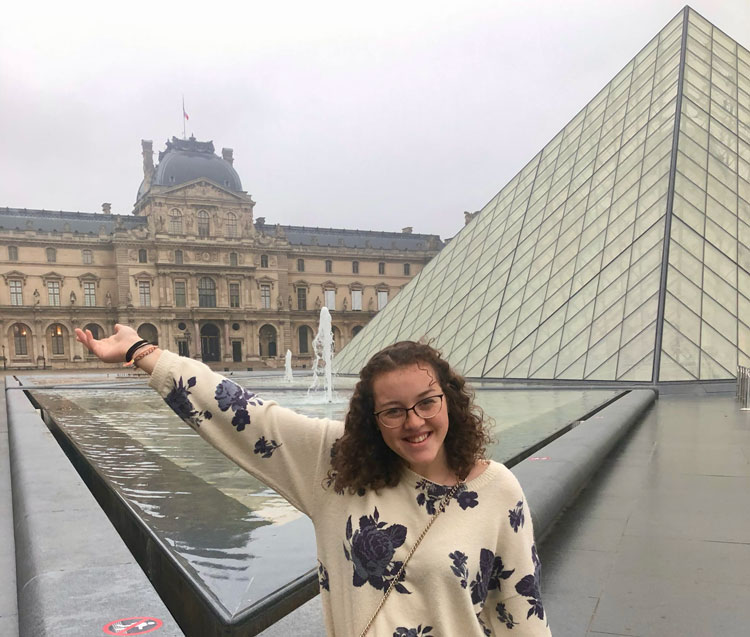 I was involved in three or four organizations pre-COVID-19, and involved in a few [post-pandemic]. I was able to study abroad for a whole semester, which was one of my goals when I came into college. I went to Luxembourg. Studying abroad, I got to talk about my major. It was fun to share my learning experience with a lot of other [Miami] people who may have had completely different experiences than me, and it was fun to just compare experiences across the programs.
"I was president and treasurer in a couple of different clubs, and I really got to know a lot of different people on campus through the organizations I was in. The people I met [at Miami] have definitely influenced my life, and I'll always hang onto the relationships that I formed there. That's definitely influenced decisions I've made, like my decision to attend law school [in Cincinnati]; I have several friends in Cincinnati that are from Miami, and we're in the same area. If I hadn't had that opportunity, I probably would not have gotten my master's [degree] in anything, so to be able to do it in four or five years is just a really great opportunity."
---
 Passion for Helping Leads to Legal Studies
"I've always been passionate about helping people, and I thought that a law career would be really interesting and something I'd want to pursue. So I started looking into that, and I just made up my mind and decided "yeah, this is the path I'm going to take". I do feel like the philosophy major really helped prepare me for that, with developing ideas, arguments and opinions, and learning to analyze different authors and different perspectives on the same topics. That happens a lot in the basic classes such as ethics, which are really helpful for a law career.
"They say that law school is so difficult because you're learning how to read legal jargon in legal writing, and I'd kind of already done that [as an undergraduate] with philosophy. Philosophy work is not just something that you can sit down, skim over, and understand completely. So I've felt very prepared for law school and learning how to read a new academic type of work. Also, at Miami in the BA/MA program, I'd written at least 30 or 40 pages per semester, probably more, so I'd gotten very good at being able to write out 500 words and not think anything about it."
---
Advice and Final Thoughts
"Just explore all the opportunities you're given, even if you don't follow through with them. Even if you're not sure about the BA/MA program, ask questions about it, and understand what kind of opportunities can come from it, because if you just think, "It's too much work!", or "I don't have time for it!", it's never going to work out. If you ask questions, people are going to be flexible with you because they want you to succeed!"